« Mandolin chord sweetness | Main | Aaron Weinstein plays "Tea for Two" »

September 9, 2014 | iReal Pro for iPad and iPhone
With the announcement of iPhone6 out later in a matter of days, we thought it timely to remind everyone about our favorite iOS music ap. Hardly a day of practice goes by that we don't use this tremendous resource. We've even taken to creating our own charts for practice purposes.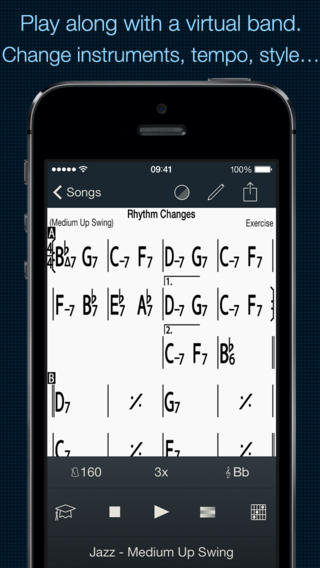 We mentioned this in a previous article, strike that, we RAVED about this nifty iPhone app that gives you literally hands-on access to now over 1,000 song chord changes (including 1300 jazz standards in the forum). In addition to releasing versions for iPad and 'Droid, there's a feature introduced in 2010 that makes it an absolute must have. Not only can you transpose to different keys and alter the chords within the song, the program features MIDI playback.
The sounds are decent, and as you can see from the demo below, you can alter the tempos and the different style presets. In other words, if you're playing slow ballad version of Autumn Leaves, you can dial in an uptempo swing and really kick it in. We've even created some files from the "Getting Into Jazz Mandolin" book into some practice files. Let us know if you're interested in using these.
View Video: iReal Pro for iPhone and iPad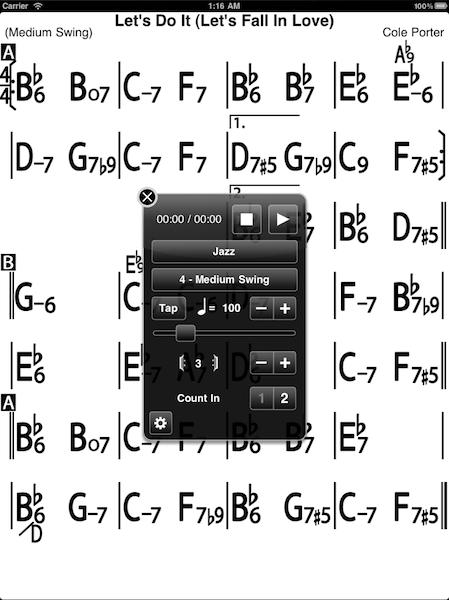 Visit iReal Book Website.
Purchase on iTunes.
Posted by Ted at September 9, 2014 8:31 PM