« Road Trip; John Reischman & John Miller | Main | Don Stiernberg "Bix in Rio" »

April 23, 2014 | Matt Flinner Trio--Music du Jour; Nebraska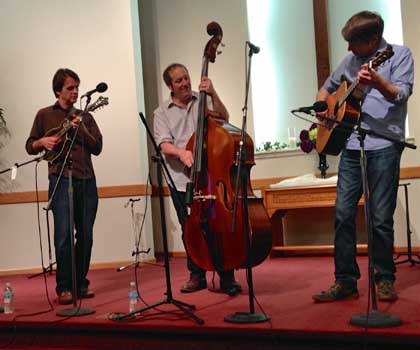 We had the recent privilege of attending a concert with Grammy-nominated mandolinist Matt Flinner and his trio in a small town, Milford, Nebraska a few miles outside of the state's capital city. Performing in a church, the atmosphere was intimate and acoustically ideal, not only for witnessing their amazing string prowess, but the chance to hear freshly composed music, literally crafted that afternoon.
If you're not familiar with their "Music du Jour" concept, it's intriguing. You think of some of the best songwriting teams like Lennon/McCartney, and you might not be aware of the intense behind-the-scenes discipline in perfecting the very art of "creating." The British team regularly carved time out of the day specifically to write songs while touring, and attacked the craft like mastering an instrument. Such is the case with Flinner, bassist Eric Thorin, and guitarist Ross Martin, who started six years ago collectively forcing themselves to compose new music for every concert, a set they called their "Music du Jour." They would sprinkle familiar fiddle tunes and some of their older recorded original material in their first set, but they will cap off the evening with entirely new music, composed that very day.
We had the opportunity to record three songs created for their virgin appearance in the state of Nebraska and want to share them with you here.
Enjoy!
Video Link: Music du Jour; Nebraska #1
"Pender" by Eric Thorin
Matt Flinner Trio, April 12, 2014, Bellwood Mennonite Church, Milford, Nebraska


Video Link:
"Untitled" by Matt Flinner
Matt Flinner Trio, April 12, 2014, Bellwood Mennonite Church, Milford, Nebraska


Video Link:
"Big Blue River" by Ross Martin
Matt Flinner Trio, April 12, 2014, Bellwood Mennonite Church, Milford, Nebraska


Artist Website: Matt Flinner
Read Mandolin Cafe article: Music du Jour
Purchase music: Matt Flinner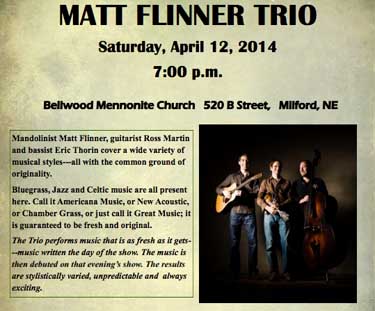 Posted by Ted at April 23, 2014 6:11 AM