« New in the JazzMando Logo Store | Main | Matt Flinner Trio--Music du Jour; Nebraska »

April 21, 2014 | Road Trip; John Reischman & John Miller
We're still spinning John Reischman's 2014 CD "Road Trip," somewhat a sequel to his jazz/Latin collaboration with Emerald City guitarist John Miller over a decade ago "The Bumpy Road." Last summer and fall were rich for new acoustic string jazz with Dave Gross' Mandology, The Eicher's "Mischievous Swing," Chris-Biesterfeldt's "Urban Mandolin, and of course Don Stiernberg's "Mandoboppin'."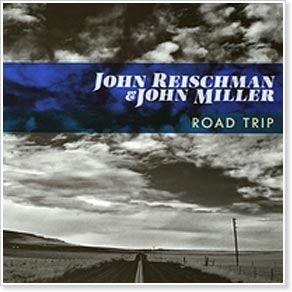 Road Trip goes wider in the sonic spectrum introduced on Bumpy Road adding some upright bass (Cary Black) and some light percussion (Joel Litwin) on several of the tracks. We're also treated with a taste of the tonemeister's mandola prowess.
The signature Reischman sound will grip you, too. His ability to extract mandolin tone is arguably unparalleled, and though he's known more for his bluegrass chops, his mandolin becomes an alluring siren with Miller's complex accompanying jazz vocabulary!
If you don't already have it in your library, be ashamed of yourself.

Purchase: Road Trip
John Reischman on tone.
Posted by Ted at April 21, 2014 8:02 AM