« Mandolin Christmas Music List | Main | More 10-string, please. »

December 21, 2014 | Will Patton Ensemble; Time's Arrow
When you pack for a long distance trip, there's an art to traveling light but including all the essentials necessary for a range of climates, special events, and simple comfort. You need your basic necessities, underwear, toothbrush, mp3 player, but a smart camper will stuff clothing layers that coordinate in color well, let alone adapt to temperature changes effectively--all this and with the least amount of bulk and weight to carry as possible.
Such is the music of perennial JazzMando fave, Will Patton. His latest project, now his 6th CD, is exactly this. A smart package of acoustic jazz "necessities," complex chord changes that expand the traditional and comfortable folk format, tuneage easily portable, a blend of color and fabric texture that treats rather than clashes. Feels good against the skin, or rather, ear.
We know what we can expect from his previous five endeavors, an assortment of gypsy jazz, French musette, bebop, American Songbook, and South American swing. The magic is how he perpetually freshens and recharges this unique acoustic blend, familiar but novel at the same time. It's distinctly Will. Light, swift and forever leaving us hungry for more.
Ever the Spartan equipment traditionalist, he wields his spectacular Gibson teens A-body mandolin through the majority of the songs, but we get a treat with a sweet Campanella 2-point (Tico), and new to his arsenal, a sporty Jbovier F5 mandolin which he tells us, "plays like butter over Bop changes." He's sonically complemented again this on two songs by daughter Anna Patton (9:20 Special & Pinxinguinha's Tico) who has developed a lovely unique clarinet voice.
Mandolin and clarinet--like chocolate and peanut butter. There's your travel snack.
There are two splendid originals, "Swing for Mondine" and "Chez Tchvalo," consummate examples of Will's crafty tunesmithery. His songs always spin around in the head pleasantly hours after listening. Personal two favorite tracks are the "Sweet and Lovely" (delicious silky swing fiddle of David Gusakov) and the catchy Mandel/Mercer "Emily."
Will introduced the CD to us with an enclosed note, "Here's the latest installment of our search for truth, beauty, and staying in tune."
Done. Done, and done!
Tracks:
9:20 Special
Mysterieuse
BirdDawgin'
Swing for Mondine
Hard Times
Opus de Funk
Tico
Chez Tchavalo
Sweet and Lovely
Limehouse Blues
Emily
Purchase CD: Will Patton Ensemble; Times Arrow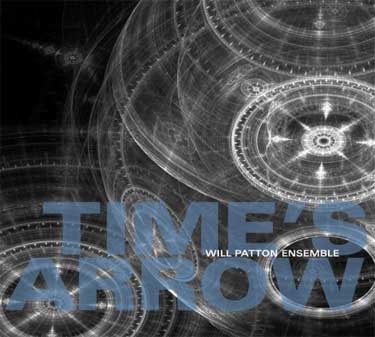 iTunes
More Will on Amazon
Artist Website: Will Patton
Mandolin Cafe Interview
Posted by Ted at December 21, 2014 2:55 PM