« April 2014 | Main | June 2014 »

May 31, 2014 | Double Eichers. Sweet jazz from the land of red dirt.
We've mentioned the Oklahoma native father and son Eicher mandolinist pair before, Shelby who also holds a Hall of Fame pedigree in fiddle and up and coming son Isaac who are also part of the acoustic truing jazz quartet Mischievous Swing. We happened upon two YouTube videos that showcase the talent of both and thought we'd share them here!
Video link: Shelby Eicher - How Long Has This Been Going On

Video link: Isaac Eicher solo mandolin, "Chega de Saudade"

Purchase CD: Mischievous Swing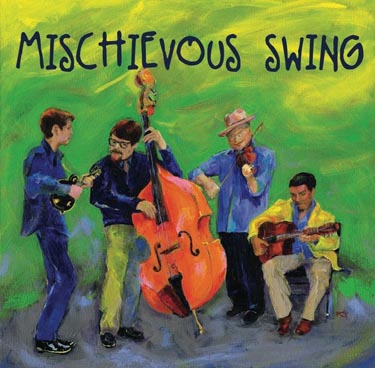 Posted by Ted at 5:40 AM

May 29, 2014 | New Maccaferri mandolin from Meredith Coloma Luthiery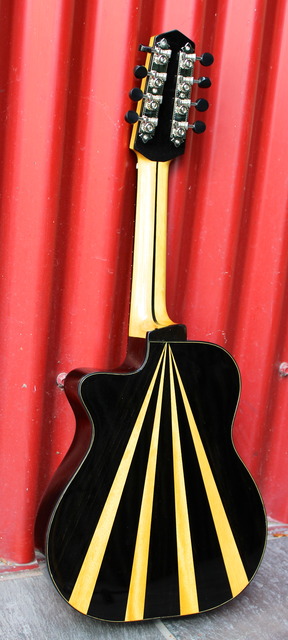 We stumbled across this unique instrument from up and coming Canadian luthier Meredith Coloma of British Columbia. The artist has fashioned a unique Maccaferri guitar-bodied mandolin with ebony & satinwood back, cedar top. Her work on the unique mandolin body style has won her international respect among builders, and is an award-winning singer/songwriter. She is a talented luthier, who apprenticed with Sadowsky in New York and currently has her own business in Vancouver.
This instrument is currently listed for sale at the Mandolin Cafe Classifieds:
Meredith Coloma Art Deco Mandolinetto
Builder website: Meredith Coloma; Singer Songwriter Guitar Builder
Facebook Page: Meredith Coloma Luthiery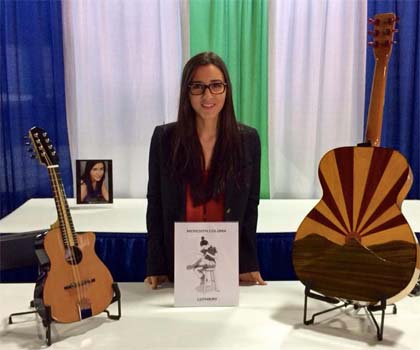 2014 Dallas Guitar Show
Posted by Ted at 6:54 AM

May 27, 2014 | Don Stiernberg talks with Mike Marshall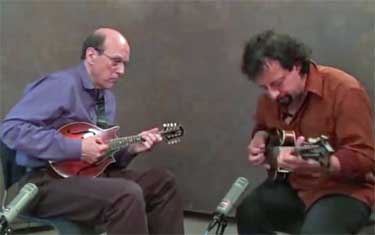 A spontaneous video session with mandolin greats Don Stiernberg and Mike Marshall, the two discuss their time(s) with the Mandolin Symposium. This recording was released on May of 2013, although it's from the 2011 June Symposium.
Discussion ends around 5:35 where playing starts, Autumn Leaves and the artists exchange solo and comping roles.
ArtistWorks Video Link: Mandolin Symposium Don Stiernberg

Purchase Don's latest book, Jazz Mandolin Appetizers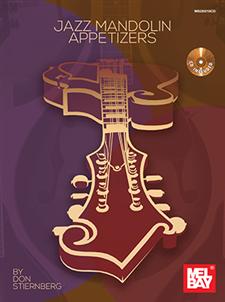 Posted by Ted at 3:51 PM

May 25, 2014 | Paul Glasse on moving from bluegrass to jazz
We appreciate the mentoring and sound advice from Austin, Texas mandolin master, Paul Glasse. Having the privilege of several interviews and a guest appearance at a local summer jazz festival, it's been great to use these opportunities to pick his brain on playing. Having made the leap from mastering traditional bluegrass and breaking new ground applying the acoustic and 5-string electric mandolin to the a unique jazz voice, he's a go-to resource for understanding jazz mandolin.
The following is an excerpt from our interview at the Mandolin Cafe:
Question: What was the catalyst that lead you to go beyond musical genres that are more commonly associated with the mandolin (like bluegrass and Old Time) and explore swing and straight ahead jazz/bop? And, in particular, how did you initially get into post-swing forms (who were you listening to, for example)?
Paul Glasse: When I took up mandolin I originally played bluegrass and Old Time music. As I explored those interests I began to love many other kinds of rural and roots musics. My discovery of western swing and the playing of mandolinists Tiny Moore and Johnny Gimble helped nudge me toward other "non-western" swing music. I fell in love with the guitar playing of Charlie Christian and the small jazz combo settings that he often played in. Really, at that point I just followed the history of jazz. Charlie Christian led pretty logically into Charlie Parker and the world of bebop. From there Wes Montgomery and Clifford Brown were not much of a stretch to enjoy.
I think that there's really quite a bit involved in understanding a style of music such as bluegrass, swing, or bebop. It takes a lot of critical listening and, at least on my part, humbling attempts at trying to play authentically and passionately within a style. For me, it really helped to expand my own harmonic ear gradually. That is, I didn't decide I liked jazz and immediately jump into the most modern thing. I've just gradually nudged myself along and tried to settle in with the parts that speak to me. It's amusing to me that, in the mandolin world, some of what I do might be considered harmonically adventurous but in the jazz world those same ideas are based in vocabulary that's over a half century old. There's so much unexplored jazz territory on the mandolin--lots of room for innovation and unique voices.
Read article: The Paul Glasse Interview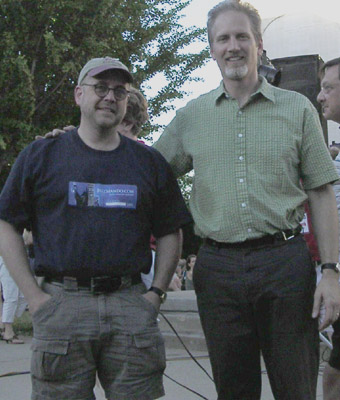 Paul Glasse on Amazon
Artist ReverbNation page
Posted by Ted at 8:14 AM

May 23, 2014 | A whole new "Enterprise?" Girouard Mandolins
We like to have our fun with Photoshop, but this recent entry from New Hampshire builder Max Girouard takes the prize. Or should we say "Enterprise?"
Welcome to the planet Maple. All we can say is "Make it so."
Read Review: Girouard A-body mandolin (jazz-voiced)
Builder's Facebook Page

Posted by Ted at 11:15 AM

May 21, 2014 | Now available; "Lucky Day" with Aaron Weinstein
In January, we offered a special audio treat from New York superstar fiddle/mandolinist, Aaron Weinstein, two complete exclusive pre-release mandolin audio tracks. The Berklee College of Music alum and former student of Chicago mandolin royalty Don Stiernberg has done well in his new east coast digs, including a recent winter tour with jazz great Dave Koz.
His recent CD project, "Lucky Day" is officially now available on Amazon and iTunes and includes two mandolin tracks, "Don't Like Goodbyes,"and "It's only a Paper Moon." Both are an excellent study in chord melody, and the remaining ten jazz fiddle tracks are a swing aficionado's dream and available through iTunes and Amazon. (See links below)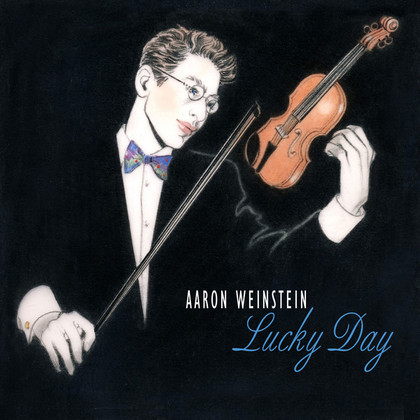 Purchase "Lucky Day" Amazon | iTunes
Read Interview: 10 Questions with Aaron Weinstein
Click for MP3
Aaron Weinstein mandolin:

I Must Be Dreaming
Aaron Weinstein mandolin:

That Warm Feeling

---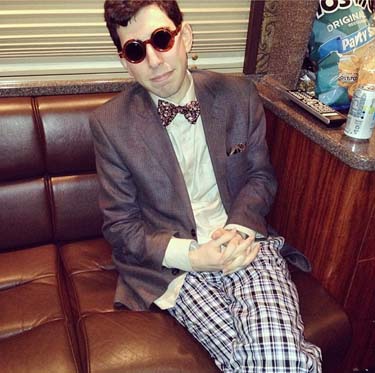 The ever stylish Aaron Weinstein on the Dave Koz tour bus


Posted by Ted at 9:05 AM




May 19, 2014 | More Reverse FFcP--Arpeggios!
We've started on a summer project already. With the global popularity of our FFcP method introduced on the site and in the Getting Into Jazz Mandolin book, we're on a quest to go deeper with the initial 8 pages.
We've added more to our index page, including minor/dorian, arpeggios, 2-octave scales, and recently, a reverse version of the original. Continuing our efforts to open your soloing ability to go both up and down, we've added another installment, the reverse arpeggio.

Read article: More Reverse FFcP--Arpeggios!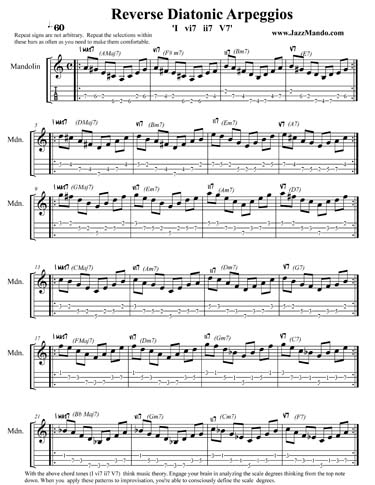 We're in the process of mapping out the table of contents of a follow-up book aimed at more than the jazz market. More FFcP. More fretboard and mind "calisthenics."
Let us know. Would you buy a 48+ page book of nothing but in-depth FFcP exercises similar to this? Comment.
Posted by Ted at 11:18 AM

May 17, 2014 | Science confirms what you've always suspected: music these days is worse than it used to be.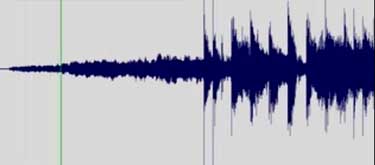 Every generation has its reservations about the state of its current pop music--if not outright disdain. We get settled on the way it ought to be, not as good as it used to be, and this determination is subjectively based purely on personal preference and emotion.
In a recent Smithsonian article columnist Rose Eveleth points to specific components that prove music is getting worse. The Scientific American report points specifically to the development of music in timbre, pitch, and loudness (variety). If you've ever groused about the state of "that music the kids listen to," this is validates your case. Songs have gotten more homogenous, louder, and less rich.
Check out this YouTube video demonstration.
Video Link: The Loudness War


Read Article: Science confirms what you've always suspected: music these days is worse than it used to be.
Posted by Ted at 5:53 AM

May 15, 2014 | May 2014; Mr. P.C.'s Guide to Jazz Etiquette

We like to pop in on the Facebook page of Seattle musician and "All About Jazz" humorist Bill Anschell with his offbeat take on the club jazz scene. His May 2014 installment aptly does not disappoint:
Dear Mr. P.C.:
Philosophical question for you: How can I be more like myself than I am?

I was at a rehearsal before a high-profile gig, and the bandleader took me aside to tell me I was playing fine, but needed to "play more like Ted."
Is this even possible?
Ted
Dear Ted:
Of course it is -- you just need to start copping your own licks! Listen to all your recordings of yourself and pick out your best lines. Transcribe them, learn them in all 12 keys, and you'll be playing more like yourself in no time.
Unfortunately if you sound too much like yourself you may wind up stealing your own gigs, which can cause resentment and self-loathing. That, of course, is what disguises are for.

---



Dear Mr. P.C.:


Why do pianists do so much more with their right hands than their left hands?


Leftist

Dear Leftist:

It's a gesture of cultural understanding. In some eastern cultures the left hand is considered "dirty" because it washes the posterior after evacuation. For that reason, it can't be used to eat food, shake hands, or play piano.

It's hardly fair for western jazz pianists -- just because they have the luxury of toilet paper--to play with their left hands. But, at the same time, the urge to play left hand chords can't be completely ignored; after all, what does a piano have to offer if not polyphony? Jazz pianists are constantly pulled in both directions, which is one of many reasons they tend to be emotionally unstable.

The compromise most reach is to focus exclusively on their right hand when they practice, rendering their neglected left hand largely inoperable in performance. Still, occasionally an essential chord simply can't be resisted, and even left hands that have lain fallow are up to the task of plopping down on the keys here and there. These chords are followed by intense self-recrimination, and are the best explanation for the current migration of pianists to the melodica.

---
Read complete
May 2014 entry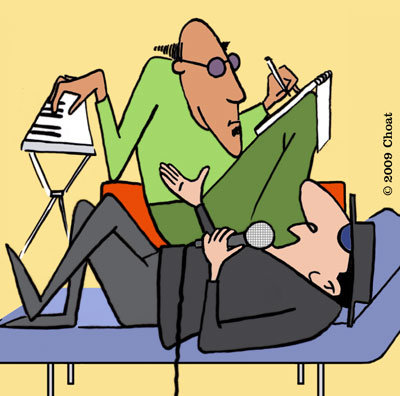 Like Bill's Facebook Page: Mr. P.C.'s Guide to Jazz Etiquette and Bandstand Decorum


Posted by Ted at 11:06 AM

May 13, 2014 | Systematic approach to pentatonic mastery in all 12 keys
Our August 2007 Mandolin Sessions archive article explored new ways to develop the use of pentatonic scales. Instead of just playing them up and down, bottom to top and back, we mixed them up by starting them in different keys and on different notes and stacking FFcP patterns into two octave scales.
If you're already on board with these, take a few moments for a fresh look and download the free PDF.
Read article:
Developing Pentatonics for Jazz
A systematic approach to pentatonic mastery in all 12 keys.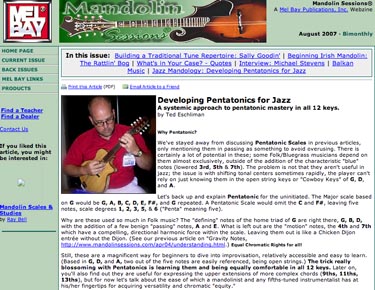 Posted by Ted at 6:14 AM

May 11, 2014 | New design at the JazzMando Logo Store
You can wear your heart on your sleeve, but wear your 'I vi ii V7' chords on your chest.
Our latest design in our Logo Store is from our 3-note chord "Playing cards." Now you can strut these chords emblazoned on a background of Paul Lestock's classic Arrow F4. Today (5/11/14) is an opportunity to take advantage of the Mother's Day 30% off sale, by posting "MOMSROCK" in the checkout code.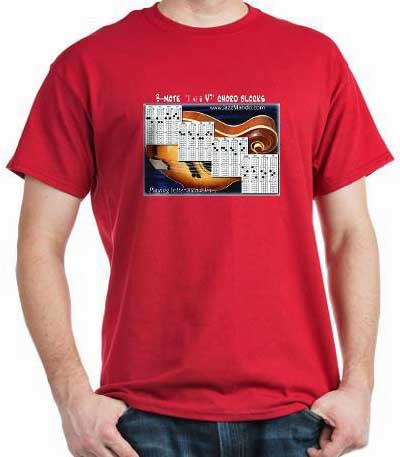 Purchase: 3-note mandolin 'I vi ii V7' chord shirt.

---

More merchandise: JazzMando Logo Store.

Posted by Ted at 1:24 PM




May 9, 2014 | A new look. Scales in reverse!
We're always looking for better ways to make our soloing more musical. We use scales and modes to access appropriate harmonic tones and fillers, and that goes to the the jugular vein of a flow of proper vocabulary of shifting key centers. Problem is, we work for hours on scales, our improvisation sounds like a bunch of scales.
The best way to get around this is to break them up into systematic variety--3rds, 4ths, arpeggios, and we've done this in our FFcP approach. The problem is we still start each exercise from the bottom, work our way up and then back down again. We're going through some of these and doing it in reverse. Start at the top of the scale and go down.
In essence, everything in reverse.
Check out our latest Tips and Tricks entry. We hope to offer some more similar variations soon.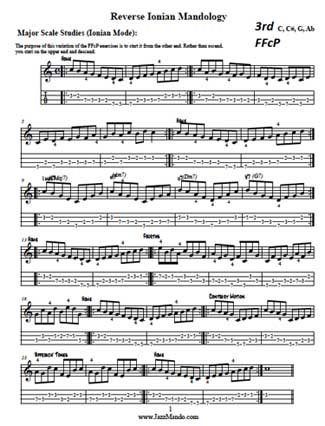 New FFcP... In reverse!
Posted by Ted at 5:48 AM

May 7, 2014 | Clark Octaves
Even his unfinished instruments are a work of art! Check out two of the latest octave mandolins from Boise builder, Austin Clark: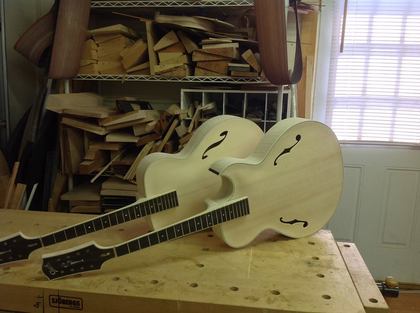 We're huge fans of Austin's talents. See more of his pictures of these and his other instruments on his Facebook page.
Past review:
Clark JM Two-point
Clark JM-5 guitar-bodied 5-string mandolin
Austin Clark Two-point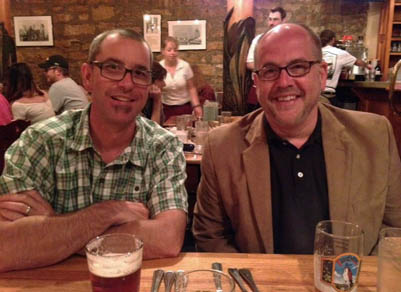 Austin Clark, builder | Ted Eschliman, Site Administrator
Click image to purchase Clark JM Mandolin clock: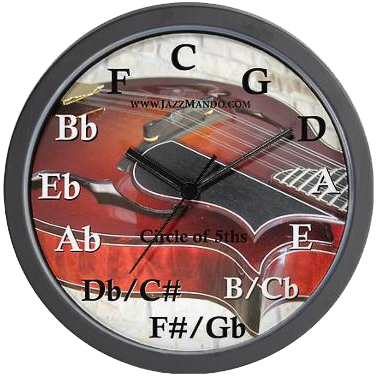 Circle of 5ths Wall Clock Cherry-Colaburst $18.99

Posted by Ted at 8:37 PM

May 5, 2014 | Blue JazzMando V-pick reprise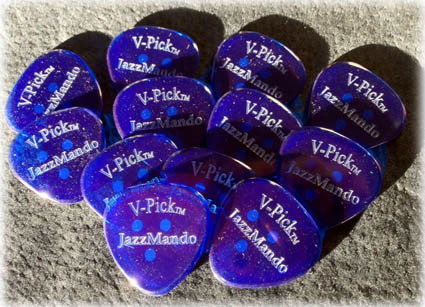 We introduced these as a limited edition pick in 2011, and they've been popular enough to keep in permanent stock, the blue version of the JazzMando Signature acrylic V-pick. Handmade in the US (Tennessee), other models of the popular V-picks have been time-tested and proven for guitar and mandolin around the world. Now they've demonstrated their success with you, the tone-hungry JazzMando aficionado, too.
"Similar to the shape and durable rigidity of the acetate cut JazzMando Signature 346 ProPlec, this profile lends a clean, pure attack because of a polished bevel found on more expensive custom-made boutique picks, yet at a fraction of their cost! The 1.5 mm. gauge thickness gives you power and fluid control over rich, meaty tone. Custom etching artwork on both sides gives the added bonus of secure grip and the exclusive geometrically placed 3-point backside reference dots help maintain an intuitive awareness of pick position while playing. The pattern lands on the thumb in a perfect, sensitive fleshy spot, and even though the acrylic packs its own tack stability; the etches yield a confidence the rounded triangle's wider real estate is gripped in the right place. Additionally, the hands of most players warm the acrylic material up in time, for additional tack a few minutes into activity. The JazzMando V-pick grows even more comfortable playing, like a pair of well-worn denim jeans."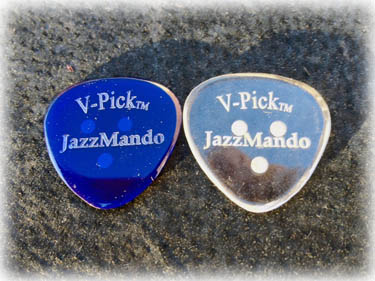 The blue version is handmade of more expensive material so the price is higher than the original clear, but for sure, they are much easier to find if you drop them! The sound and response is almost identical. We've priced them $14.95 singly or $21.95 paired with a clear (includes domestic shipping and handling).
Purchase them here or check out other options in the JazzMando Merchandise Center.
NEW
JazzMando blue V-pick single
1 blue pick $14.95 (including shipping and handling)

---
JazzMando blue V-pick with clear spare
2 picks $21.95, one blue & one clear (including shipping and handling)

---
More options and information: JazzMando Signature V-pick
Posted by Ted at 9:56 AM

May 3, 2014 | Giant Steps PDF
We posted an entertaining video of Bee Gees "Giant Steps" recently, and that prompted JazzMando staff writer Mark Wilson to submit to our readership his own incredible chord/melody version of the head. We ran this and an enlightening video on our Tips & Tricks page earlier this week. Now you have the perfect opportunity to dive quite deeply into this Bebop classic!

Mark Wilson: Giant Steps PDF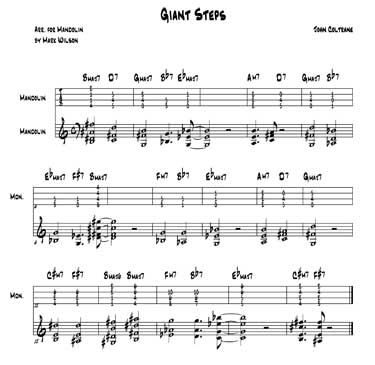 Click image for download
Go deep: Taking Giant Steps; Improv secrets!

Posted by Ted at 9:47 AM

May 1, 2014 | 10 String Fanned Fret Mandola-Giroaurd Mandolins
Mandolin building innovation is always exciting here! Other great builders have tackled the complex task of adapting a fanned fret system for a hybrid 10-string mandolin/mandola, and the latest to throw his hat (and protractor) into the ring is the New Hampshire building team of Max & Lauri Girouard.
Max has talked of this for months, if not years and he's recently posted some pictures of his CAD drawings on their Facebook Page. We can't wait to see what they come up with.
Max writes, "Finished designing it CAD. I'll admit, this one was confusing with all the strange compound angles and different scale lengths."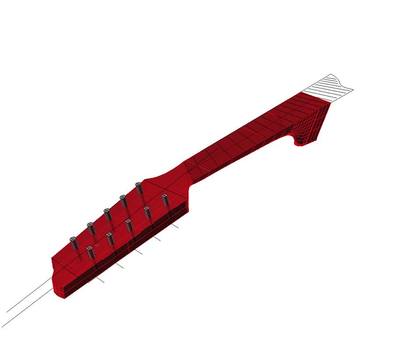 10 String Fanned Fret Mandola neck.
"Here is a shot of the peghead end. Most of our pegheads sit at a 10 - 14 degree angle from the fretboard plane. But this one is also tilted at an angle of 4.59 from left to right"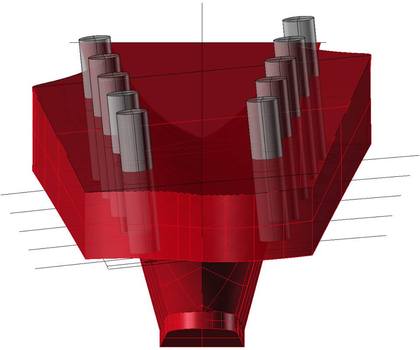 Glorious! We'll keep you posted. Meantime check out the Giroaurd Facebook Fan Page for some other beautiful instruments.
Builder contact: Girouard Mandolins
115 Spring St
Contoocook, NH 03229
603-475-7883
Read review: Girouard A-body mandolin (jazz-voiced)

---

Past 10-strings on this site:
Lawrence Smart FF10 10-string mandolin
Rigel 10-string project, part 2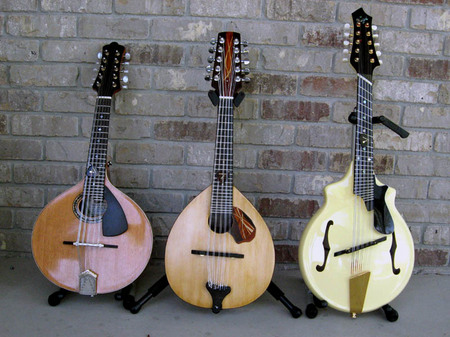 Thirty
Posted by Ted at 7:46 PM