« Clark Octaves | Main | New design at the JazzMando Logo Store »

May 9, 2014 | A new look. Scales in reverse!
We're always looking for better ways to make our soloing more musical. We use scales and modes to access appropriate harmonic tones and fillers, and that goes to the the jugular vein of a flow of proper vocabulary of shifting key centers. Problem is, we work for hours on scales, our improvisation sounds like a bunch of scales.
The best way to get around this is to break them up into systematic variety--3rds, 4ths, arpeggios, and we've done this in our FFcP approach. The problem is we still start each exercise from the bottom, work our way up and then back down again. We're going through some of these and doing it in reverse. Start at the top of the scale and go down.
In essence, everything in reverse.
Check out our latest Tips and Tricks entry. We hope to offer some more similar variations soon.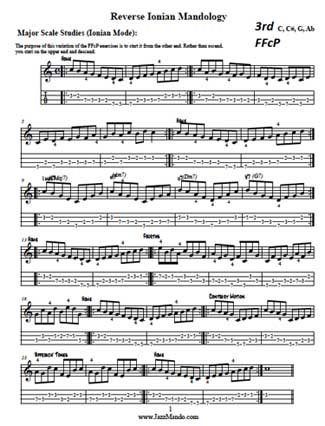 New FFcP... In reverse!
Posted by Ted at May 9, 2014 5:48 AM