« March 2014 | Main | May 2014 »

April 29, 2014 | Giant Steps and the Bee Gees
We posted this great study in 'ii V7 I' progressions in the classic John Coltrane tune, "Giant Steps" a few years ago. A virtual "rite of passage" song for the jazz student, this manifests rapid-fire 'ii V7 I' changes at light speed. It's fun to try, and even for the beginner at slower a tempo, the opportunity to see it unravel visually in action is quite an education.
This Dan Cohen YouTube video presents not only the tune, but written map of some of 'Trane's own solo riffs.
View video: Giant Steps by John Coltrane


---

Now for something completely bizarre, a downright sacrilegious arrangement.

A pop "Bee Gees" version:

View video: Giant Steps The Bee Gees

Instrumental solo by Holland trombonist, Ilja Reijngoud.

---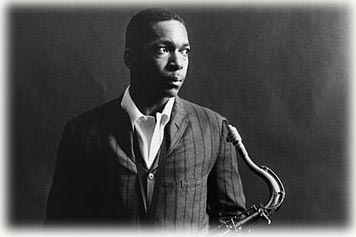 Sample and Purchase John Coltrane music
Posted by Ted at 5:55 AM

April 27, 2014 | Ovation USA shuts down
We have very mixed feelings about the recent announcement about FMIC closing down US manufacturing of the Ovation guitar factory in Connecticut. We've toured it personally, an incredible blend of old-world manufacturing with the injection of a space-age technology that revolutionized helicopter production. Ironically, the ability to "tune" helicopter blades to keep vibrations from tearing up the craft worked will in musical instrument production. Pioneered by the late Charles Kaman in the 60's the iconic bowl back guitar became a go-to instrument for high profile touring guitarists around the globe.
Music Inc Magazine Article: Ovation Guitar Factory in Connecticut to Close
The company dabbled in mandolins on a smaller scale the next four decades, and it was our understanding the project was more a labor of love than profit. The company struggled to balance acceptable real-world pricing with the unwieldy high cost of manufacturing. The US version was one of the best instruments for sonically hostile stage environments. While it wasn't the most intimate to play in acoustic settings, it had the capability of producing an excellent amplified acoustic sound when surrounded by drums, bass, and especially blistering lead guitar. The Ovation mandocello is out of this world good.
The company developed two acceptable import lines, the Applause and the Celebrity. These instruments weren't as comfortable in the hands and the pinless bridges were not made to endure or be replaced, but you would get what you paid for.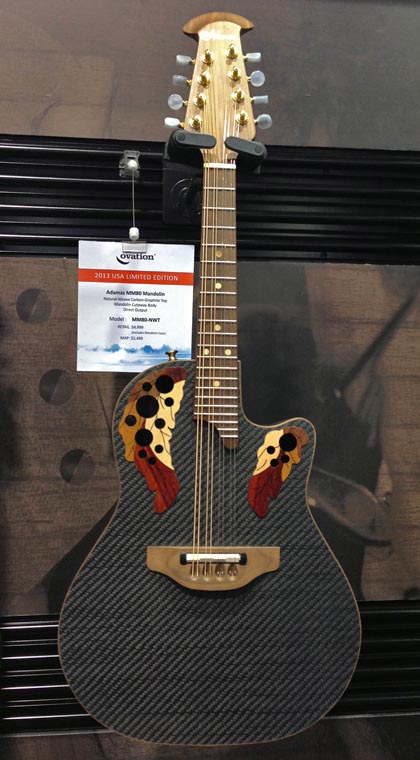 Some might see the closing as a domestic versus export issue--the cost of labor, but the truth is ultimately, the guitars had fallen out of vogue. Lack of sales across the board is what killed these. The technology to make them well still called for highly skilled labor, and the market was not supporting it with its purchasing power.
While we've already expressed our disappointment in the end of the US Made Ovation MM68 mandolin two years ago, we're even more disheartened the entire line of guitars go.
It was a good run.
Read past articles:
Ovation MM68 Not
Limited Edition MM80-NWT Carbon Fiber Top mandolin
Ovation MM68 Adamas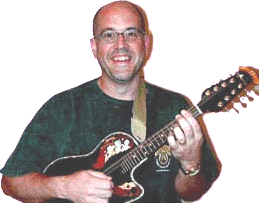 Posted by Ted at 6:38 PM

April 25, 2014 | Don Stiernberg "Bix in Rio"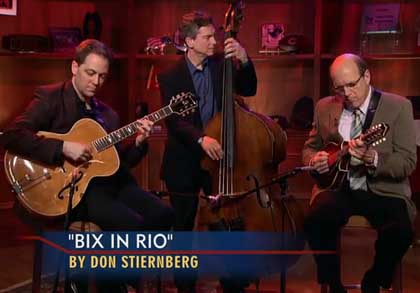 You may have already seen the great Chicago Tonight interview with jazz mandolin great, Don Stiernberg. In case you didn't get the web extra, we've embedded it below. The song is from his latest recording, Mandoboppin!
Enjoy!
Video Link: "Bix in Rio" by Don Stiernberg

Purchase Mandoboppin!:
Amazon
CD Baby
iTunes
Artist Website: Don Stiernberg

Posted by Ted at 6:16 AM

April 23, 2014 | Matt Flinner Trio--Music du Jour; Nebraska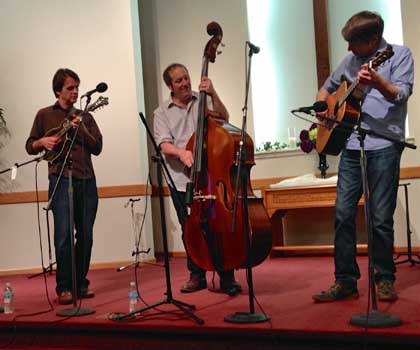 We had the recent privilege of attending a concert with Grammy-nominated mandolinist Matt Flinner and his trio in a small town, Milford, Nebraska a few miles outside of the state's capital city. Performing in a church, the atmosphere was intimate and acoustically ideal, not only for witnessing their amazing string prowess, but the chance to hear freshly composed music, literally crafted that afternoon.
If you're not familiar with their "Music du Jour" concept, it's intriguing. You think of some of the best songwriting teams like Lennon/McCartney, and you might not be aware of the intense behind-the-scenes discipline in perfecting the very art of "creating." The British team regularly carved time out of the day specifically to write songs while touring, and attacked the craft like mastering an instrument. Such is the case with Flinner, bassist Eric Thorin, and guitarist Ross Martin, who started six years ago collectively forcing themselves to compose new music for every concert, a set they called their "Music du Jour." They would sprinkle familiar fiddle tunes and some of their older recorded original material in their first set, but they will cap off the evening with entirely new music, composed that very day.
We had the opportunity to record three songs created for their virgin appearance in the state of Nebraska and want to share them with you here.
Enjoy!
Video Link: Music du Jour; Nebraska #1
"Pender" by Eric Thorin
Matt Flinner Trio, April 12, 2014, Bellwood Mennonite Church, Milford, Nebraska


Video Link:
"Untitled" by Matt Flinner
Matt Flinner Trio, April 12, 2014, Bellwood Mennonite Church, Milford, Nebraska


Video Link:
"Big Blue River" by Ross Martin
Matt Flinner Trio, April 12, 2014, Bellwood Mennonite Church, Milford, Nebraska


Artist Website: Matt Flinner
Read Mandolin Cafe article: Music du Jour
Purchase music: Matt Flinner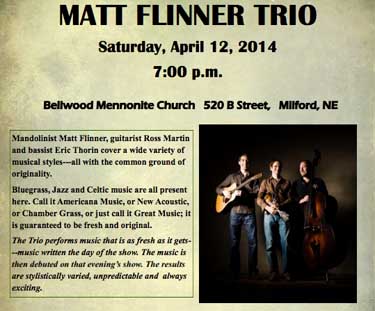 Posted by Ted at 6:11 AM

April 21, 2014 | Road Trip; John Reischman & John Miller
We're still spinning John Reischman's 2014 CD "Road Trip," somewhat a sequel to his jazz/Latin collaboration with Emerald City guitarist John Miller over a decade ago "The Bumpy Road." Last summer and fall were rich for new acoustic string jazz with Dave Gross' Mandology, The Eicher's "Mischievous Swing," Chris-Biesterfeldt's "Urban Mandolin, and of course Don Stiernberg's "Mandoboppin'."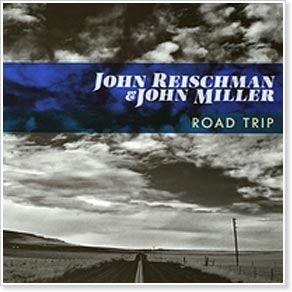 Road Trip goes wider in the sonic spectrum introduced on Bumpy Road adding some upright bass (Cary Black) and some light percussion (Joel Litwin) on several of the tracks. We're also treated with a taste of the tonemeister's mandola prowess.
The signature Reischman sound will grip you, too. His ability to extract mandolin tone is arguably unparalleled, and though he's known more for his bluegrass chops, his mandolin becomes an alluring siren with Miller's complex accompanying jazz vocabulary!
If you don't already have it in your library, be ashamed of yourself.

Purchase: Road Trip
John Reischman on tone.
Posted by Ted at 8:02 AM

April 19, 2014 | New in the JazzMando Logo Store
We've recently added some exciting new swag in our JazzMando Logo Store. Several items including the "What it means to be a mandolinist" mugs, sports bottles and shirts, a few new chord shirts, and a cool revision of our pick "pocket" shirt!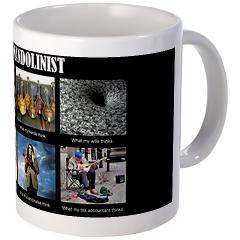 Mandolinist (wide) Mugs
What it means to be a mandolinist.
$14.99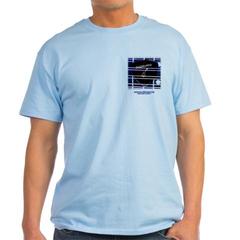 Jazzmando Pick Pocket Tee
Sport a picture of the internationally popular JazzMando signature ProPlec pick. Adored (and well-used!) across oceans, the graphic is a high resolution shot of the JM pick in all its splendor.
Natural, ash grey, and light blue
$18.99

Cafe Press runs frequent promotions, including an Easter weekend sale, 20% off your order (use code "HOP2IT" at checkout). We've recently incurred additional expense with expanding space on our server, so anything you can purchase helps us pay some of the costs of the otherwise free resources we offer here.
View even more merchandise at the JazzMando Logo Store.
Posted by Ted at 10:09 AM

April 17, 2014 | Interview with Don Julin; Mandolin Exercises for Dummies
We were given the privilege of another in-depth interview for the Mandolin Cafe recently with renowned author, musician, and clinician Don Julin prior to the release of his upcoming sequel "Mandolin Exercises for Dummies." The mandolin expert weighed in on the book's tack and some insights into his technique laden foree into mando-mastery aptly captured in the pages of this follow-up book.
Rich with audio and real-world application, the exercises are strategized to give a coordinated and well rounded "next-level" approach to unraveling the fretboard and effective picking-technique. Just on the heels of his highly successful "Mandolin for Dummies," the Wiley & Sons sequel promises to be an immediate hit.
Preorder yours now! (April 21, 2014)
Read interview: Interview with Don Julin; Mandolin Exercises for Dummies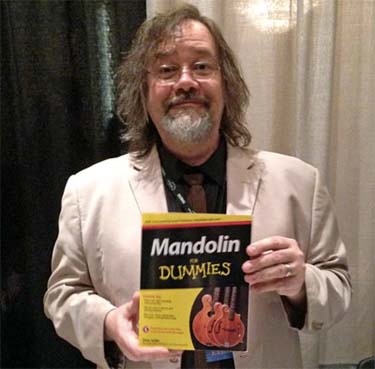 Preorder: Mandolin Exercises for Dummies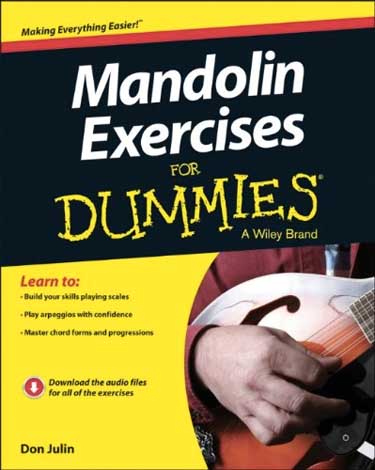 Purchase: Mandolin for Dummies
Posted by Ted at 2:57 PM

April 15, 2014 | Juicy 3-note minor chord streams up the neck
Although it's there, you don't need to know the science or theory behind them, you can just enjoy them for how they sound.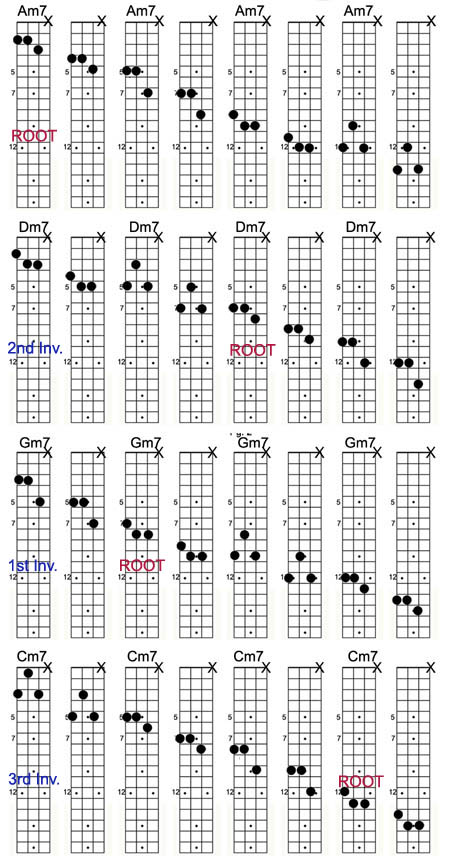 Want to know more? Check out the archive below.
Link: Minor 7th Chord Streams. Under the hood.
Posted by Ted at 5:05 AM

April 13, 2014 | Is an F-body mandolin better than an A-body in sound?
We've seen the question asked everywhere online and in person. The merits of the scrolled F-body mandolin over the Spartan A-body. We understand the structural benefit of the $500 scroll strap button, but what about tone? Some talk about the extra air in the chamber of the scroll, but rarely is this hollow. It can be argued the visual aesthetics count far more than the physical, and this intriguing video brought to our attention by guest staff contributor, Mark Wilson poses an interesting twist. (No pun intended)
Draw your own conclusion.
Video Link: The McGurk Effect

More: The McGurk Effect
For those who can't afford the scroll, we suggest the following solution. The Scroll Pedal: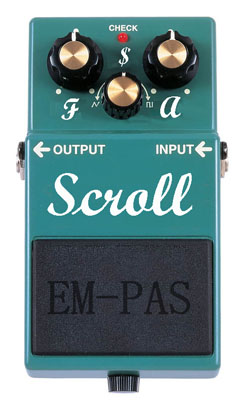 Posted by Ted at 2:43 PM

April 11, 2014 | What it means to be a mandolinist
The following meme was something we created a couple years ago and it's been making the rounds again. We thought we'd ride the train and get a little cyber traffic ourselves and repost.
Enjoy!
Feel free to share among friends and give us a little credit.
Posted by Ted at 5:38 AM

April 9, 2014 | Alan O. W. Barnes, The Wesley Project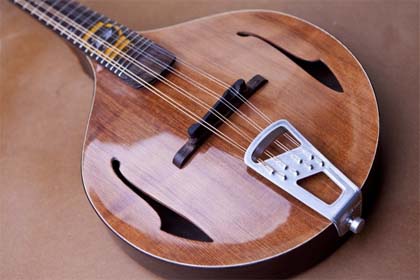 Jacobson #27
Alan O. W. Barnes, composer with a Master of Music form Belmont University and former head of the bass department at the Atlanta Institute of Music, currently teaches Audio and Animation at the Art Institute of Atlanta and has recently been afflicted with the mandolin bug. He came over our radar when discussing the work of Smyrna Georgia builder Marty Jacobson (he owns #27). To our delight, we discovered his latest project, a collection of fascinating folk ensemble styling entitled "The Wesley Project," he describes as "modern folk settings for the lyrics of Charles Wesley." He elaborates, "I did this because I'm a staff musician at the 3rd largest Methodist church in North America, Mount Pisgah UMC, where I have served since 2002. The minister of music there and I are currently trying to upgrade our visibility as a resource for other Methodist churches, and this disk is the first in a series of projects we have planned.
I wrote new settings for 9 sets of Lyrics by Charles Wesley. Arranged for a Cajon, Upright Bass, 2 Acoustic Guitars, Mandolin, Fiddle, and Voices. What I most hoped to accomplish with the Wesley project was to re-introduce 'humility' to Christian music. I feel that Christians in contemporary society spend so much time trying to keep people from looking down on us that we sometimes forget that we don't have all (or any) answers that come from us. I found it interesting and refreshing how many of Wesley's lyrics were about humility and hard work."
The project is fascinating. If you're interested in the contemporary Christian setting with lyrical content with real theological meat in it (harder and harder to find in today's shallow publisher-driven "Pocket Jesus" songs, our humble opinion), this is for you. The music packs a fresh, almost a Nickel Creek feel to it, certainly the instrumentation and the passionate female vocals and close harmony lend the folk texture. Accompaniment is sparse and open but harmonically complex.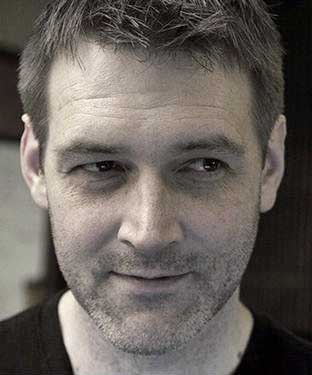 Purchase: Amazon
Purchase: iTunes
Artist Website: Alan O. W. Barnes
Posted by Ted at 5:14 AM

April 7, 2014 | Girourard mandolin family instruments
We had the privilege of a hands-on experience with a Girouard A-body instrument voiced particularly for playing jazz, a year ago. The larger, modern frets are easy to chord, modified V neck is easy to grip and the unique red varnish stain is as easy on the eyes. We were particularly fond of the burst and the no-bind aesthetic. It has an enigmatic impact of both classic and contemporary feel.
We ended up keeping it.
Max & Lauri's A-body mandolins start around $2195 (2014 pricing), which is a bargain for a high profile domestic builder with international clientele. Mandolas start at $2500, and they've recently branched out into Octave mandolins, traditional and guitar body.
Check the website for the latest pricing.

Instrument Specs:
Red Spruce Top
Red Maple back,sides and neck (one piece back)
Modified top graduation for jazz
Truss rod
1 1/8" nut
V shaped neck
K & K twin internal pickup
Modern red stain
Varnish finish
Travel lite case
The retail on this one is $2395 ($2195 with pickup of $200)

Builder contact: Girouard Mandolins
115 Spring St
Contoocook, NH 03229
603-475-7883
Facebook: Photos
Email: Girouardmandolins@yahoo.com

Posted by Ted at 10:38 AM

April 5, 2014 | Playing to your instrument's strengths
Five years ago, fellow webmaster Martin Stillion (www.Emando.com) and columnist from Worship Musician Magazine penned the following terrific interview with us. The following is a reprint (by permission) of the March/April 2009 column:

---
Playing the mandolin: Play to your instrument's strengths
(No more excuses, part 2)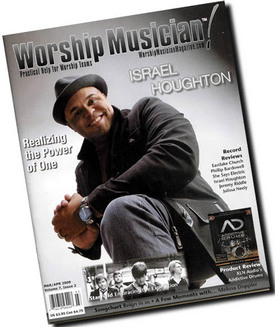 For today's column I'm joined by my friend Ted Eschliman of Lincoln, Neb. Ted operates JazzMando.com and also plays in a worship band at Lincoln Berean Church.
Martin: What are some of the barriers facing mandolinists in worship music?
Ted: One typical barrier is that it's not particularly loud, and is easily buried. That can be helped somewhat by having it set up so that it's easy to play. But the biggest barrier is that your typical worship team leader doesn't know where to plug it in--pun intended. Musically, where does it fit?
M: I don't have a universal answer for that. When someone asks, "What's a good 'strum pattern' for such and such a song?"--I can't answer that definitively, because it's determined by the instrumentation and the arrangement. Your strum pattern--or whether you should strum at all--depends on what else is happening.
T: The biggest mistake I see with guitar players who pick up the mandolin is that they play it like a guitar, and do this chunky rhythm thing. If you're not coordinating that exactly right, it sounds awful. It needs to be its own thing. The mandolin player should find a backbeat or do something that the guitar is not doing.
M: Such as?
T: Look at what a mandolin does that no other instrument can do: Tremolo. The mandolin shines during those meditative moments when you have a lovely tremolo I can play chords all I want and nobody notices, but a well-chosen tremolo just takes a song to another place. Think in terms of what it can do to add intimacy in a quiet spot. Or on a faster song, percussiveness can lend energy and timing.
M: Right, the mandolin can function like a snare drum or cymbal. Timing can be more important than a full, ringing chord.
T: Mandolins are also ideal for crosspicking.
M: Yes, and it doesn't have to be complicated. Like eighth notes, F#-E-D over a D chord--I call it "jangle." Let's say you're playing and you see a chord you don't know. What do you do?
T: I hope there's a note in it that I do know!
M: Good answer! Even if you don't know the fingering for every chord, you should be able to pick a note out of it. For instance, take the sixths and sevenths and suspensions and so forth. Each of those chords has a "color note," and it's almost always a strong choice for the so-called "color instrument"--i.e., the mandolin--to play that note. So if the chord is Gsus, play a C! If it's G6, play an E! If it's G7, play an F! If it's G9, play an A! Go for the note that defines the chord, and emphasize it.
Before we wrap up, I want to put in a plug for the exercises and instructional materials you've gathered over at JazzMando.com. You have some skill-builders that are applicable to all kinds of music, not just jazz.
T: Thanks! Worship music is the most important music that I do in terms of its significance. When you're doing stuff in church, you're doing stuff that has impact on an eternal scale. So it's worth doing to the best of your ability.
M: Amen.
Multi-instrumentalist Martin Stillion, a 20-year veteran of worship bands, plays at Seattle's Bethany Presbyterian Church. In his other lives he's a husband, father, writer, editor, Webmaster, composer, recording artist, and instrument dealer. Learn more than you wanted to know about Martin at www.stillion.com/martin or www.emando.com.

---

Subscribe: Worship Musician Magazine


Posted by Ted at 9:38 AM




April 3, 2014 | Take Your Lack of Skill to the Next Level
Just what you need to help your "sound"--a specially constructed effects pedal designed to replace talent featured in this Chicago Music video.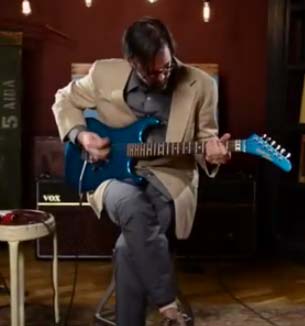 "Introducing the SaundFraud Skill Killer, a pedal that takes whatever you're playing and supplements the quality of your skill with something much more advanced. It's great for anyone who plays guitar poorly, or likes guitars, or thinks it would be cool to play guitar. Basically, if you don't have time to practice or you don't really like 'learning new things', this pedal can remove that whole tedious process and make you sound like a pro!"
Video Link: SaundFraud Skill Killer

We had our own bit of April 1st tomfoolery earlier this week. Hope you enjoyed it.
Snark SN-G 'GLASSES' All Instrument Tuner
Posted by Ted at 6:11 AM

April 1, 2014 | New from Snark: SN-G 'GLASSES' All Instrument Tuner
New from Evets Manufacturing...
SNARK SN-G 'GLASSES' ALL INSTRUMENT TUNER
THE MOST VERSATILE SNARK YET! ANY INSTRUMENT, EVEN VOICE!
Super Tight Tuning--you AND your friends
Faster Response
Vivid HD Read Display
Display Rotates 360 degrees with special 9 inch flex arm
Tap Tempo Metronome
Pitch Calibration and Transpose Features
And you thought the Google Glasses were the buzz... How about a versatile chromatic tuner that works with any instrument, INCLUDING vocals! No more scratching headstocks or fidgeting with positioning.
This new tuner comes with a variety of features. It provides vibration sensor which is more reliable in stage and studio. A feature the other SNARKs the ability to mount off the instrument!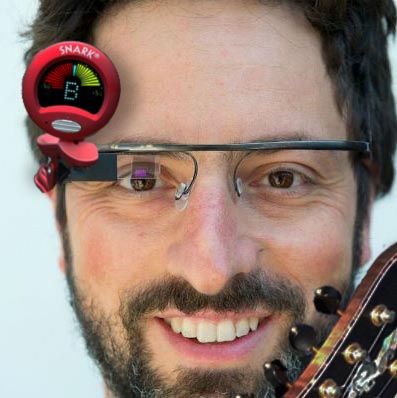 Another feature the unit has is the option to either flat tune or transpose. Both of these are useful in otherwise time consuming and mentally stressful situations. We were also pleased with the option to calibrate the pitch if needed for playing with other instruments. These features are vital if you plan on working with others in a concert setting.
The SNARK SN-G uses a 3V lithium battery which will last quite a while with a power-save option. When the tuner stops registering musical vibrations then it automatically dims the lights so as not to waste energy. Even if you manage to use the whole battery, it is not difficult to find a new one in any pharmacy or electronics store and replace it.
Video Demo: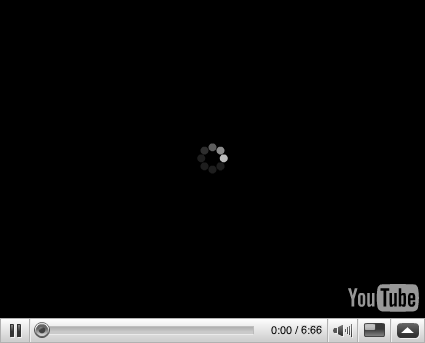 Click embedded video above. Be advised the stream is popular and under heavy use. If unsuccessful, come back and try again later.
Purchase information: Snark SN-G Glasses all-instrument and voice tuner
MSRP $34.99
Posted by Ted at 5:44 AM