Ovation Mandolin MM68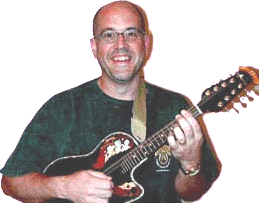 Here is my take on the US made Ovation Mandolin MM68:
This is the answer to the search for the ultimate stage mandolin. It's NOT a pre-war, Loar, F-style clone; if that's your Holy Grail your barking up the wrong tree! If you DO want a set-up that gives you the hands-down best solution to amplified mandolinning, this feedback-free, dream-come-true will blow you away.
Purists will accuse it of sounding "guitar-like," only because it's got uncharacteristic warmth, and an onboard (OP-24+) EQ that lets YOU decide what it should sound like.
I liked it so much, I had mine custom made for me with a carbon fibre-top (Adamas).
For someone better looking than me playing an MM68...
click here
.
Don't confuse this with the cheap import Applause or Celebrity you've seen frequently on E-bay. This model is made in CT, USA, by experienced American Ovation craftsman.
More trivia: The multi soundhole design is classic simplicity. The select solid Sitka spruce top is braced with the same Quintad pattern as the Elite and the soundholes are decorated with the same wood epaulets. The rosewood fingerboard is adorned with wood inlays and the vintage 'V' shape of the neck is effortless to play. This highly developed pickup uses four piezo elements -- one under each pair of strings -- in a specially designed channel. This unique design senses both string vibration and top vibration for a superbly accurate acoustic tone. But wait... there's more!!!
Its output is in the neighborhood of 12dB hotter than other designs, giving you additional headroom before feedback. Serious players rave about the string-to-string balance of the Ovation pickup in general, and how they can change string gauges, and even mix gauges, without the output level problems of other systems.
That is my personal experience. I used this twice a week in an environment where I have to balance my craving for a true acoustic (uncolored) sound over the need to cut through an orchestra, seven piece rhythm section (electric guitar, acoustic, bass drums, synth, grand piano, and a 320 pound drummer who never learned the meaning of the Latin word "tacet.") and a 40 member church choir. This, in a hall that is regularly filled by 800 to 1100 very engaged people.
These are the early stages of the custom mandolin I had made for me at Ovation, after the many months of delight I had already experienced with my standard MM68. I had abalone purfling inlaid around the body, a special gold "Adamas" logo on the blackface headstock, and a chromatic tuner installed with the pickup.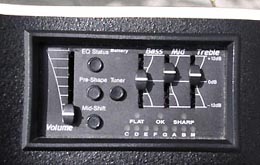 Op24+ electronics: EQ & Chromatic Tuner

Carbon fiber tops are found only on the premiere Adamas line of Ovation guitars, so this instrument is truly one of a kind. To make it an heirloom, I had them put "The Coco Ltd.," inside near the the serial number. Daughter Coco expects it to be hers someday!...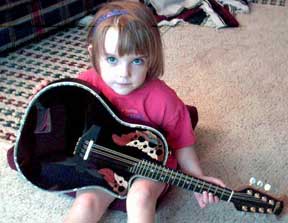 The Ovation Adamas Coco Ltd.
Jazzmando highly recommends Thomastik Ball-end Strings for Ovation mandolins.
Additional Photos: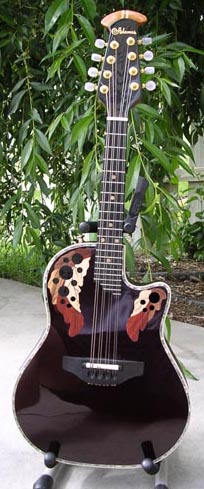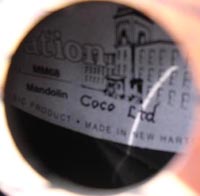 The CocoLtd (serial #)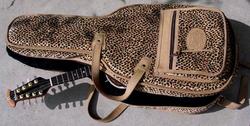 Custom Levy's Gig Bag: Cheetah Print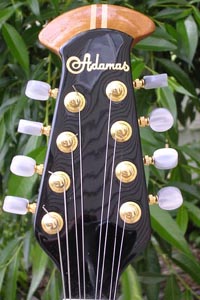 One of a Kind: Adamas Headstock