« Take Your Lack of Skill to the Next Level | Main | Girourard mandolin family instruments »

April 5, 2014 | Playing to your instrument's strengths
Five years ago, fellow webmaster Martin Stillion (www.Emando.com) and columnist from Worship Musician Magazine penned the following terrific interview with us. The following is a reprint (by permission) of the March/April 2009 column:

---
Playing the mandolin: Play to your instrument's strengths
(No more excuses, part 2)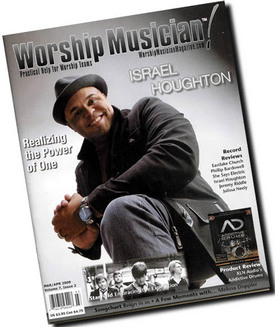 For today's column I'm joined by my friend Ted Eschliman of Lincoln, Neb. Ted operates JazzMando.com and also plays in a worship band at Lincoln Berean Church.
Martin: What are some of the barriers facing mandolinists in worship music?
Ted: One typical barrier is that it's not particularly loud, and is easily buried. That can be helped somewhat by having it set up so that it's easy to play. But the biggest barrier is that your typical worship team leader doesn't know where to plug it in--pun intended. Musically, where does it fit?
M: I don't have a universal answer for that. When someone asks, "What's a good 'strum pattern' for such and such a song?"--I can't answer that definitively, because it's determined by the instrumentation and the arrangement. Your strum pattern--or whether you should strum at all--depends on what else is happening.
T: The biggest mistake I see with guitar players who pick up the mandolin is that they play it like a guitar, and do this chunky rhythm thing. If you're not coordinating that exactly right, it sounds awful. It needs to be its own thing. The mandolin player should find a backbeat or do something that the guitar is not doing.
M: Such as?
T: Look at what a mandolin does that no other instrument can do: Tremolo. The mandolin shines during those meditative moments when you have a lovely tremolo I can play chords all I want and nobody notices, but a well-chosen tremolo just takes a song to another place. Think in terms of what it can do to add intimacy in a quiet spot. Or on a faster song, percussiveness can lend energy and timing.
M: Right, the mandolin can function like a snare drum or cymbal. Timing can be more important than a full, ringing chord.
T: Mandolins are also ideal for crosspicking.
M: Yes, and it doesn't have to be complicated. Like eighth notes, F#-E-D over a D chord--I call it "jangle." Let's say you're playing and you see a chord you don't know. What do you do?
T: I hope there's a note in it that I do know!
M: Good answer! Even if you don't know the fingering for every chord, you should be able to pick a note out of it. For instance, take the sixths and sevenths and suspensions and so forth. Each of those chords has a "color note," and it's almost always a strong choice for the so-called "color instrument"--i.e., the mandolin--to play that note. So if the chord is Gsus, play a C! If it's G6, play an E! If it's G7, play an F! If it's G9, play an A! Go for the note that defines the chord, and emphasize it.
Before we wrap up, I want to put in a plug for the exercises and instructional materials you've gathered over at JazzMando.com. You have some skill-builders that are applicable to all kinds of music, not just jazz.
T: Thanks! Worship music is the most important music that I do in terms of its significance. When you're doing stuff in church, you're doing stuff that has impact on an eternal scale. So it's worth doing to the best of your ability.
M: Amen.
Multi-instrumentalist Martin Stillion, a 20-year veteran of worship bands, plays at Seattle's Bethany Presbyterian Church. In his other lives he's a husband, father, writer, editor, Webmaster, composer, recording artist, and instrument dealer. Learn more than you wanted to know about Martin at www.stillion.com/martin or www.emando.com.

---

Subscribe: Worship Musician Magazine


Posted by Ted at April 5, 2014 9:38 AM