« Science confirms what you've always suspected: music these days is worse than it used to be. | Main | Now available; "Lucky Day" with Aaron Weinstein »

May 19, 2014 | More Reverse FFcP--Arpeggios!
We've started on a summer project already. With the global popularity of our FFcP method introduced on the site and in the Getting Into Jazz Mandolin book, we're on a quest to go deeper with the initial 8 pages.
We've added more to our index page, including minor/dorian, arpeggios, 2-octave scales, and recently, a reverse version of the original. Continuing our efforts to open your soloing ability to go both up and down, we've added another installment, the reverse arpeggio.

Read article: More Reverse FFcP--Arpeggios!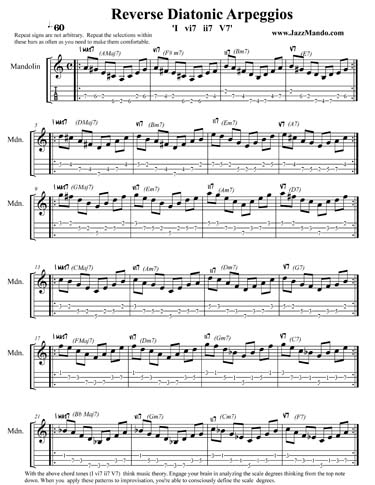 We're in the process of mapping out the table of contents of a follow-up book aimed at more than the jazz market. More FFcP. More fretboard and mind "calisthenics."
Let us know. Would you buy a 48+ page book of nothing but in-depth FFcP exercises similar to this? Comment.
Posted by Ted at May 19, 2014 11:18 AM