Austin Clark
Two-point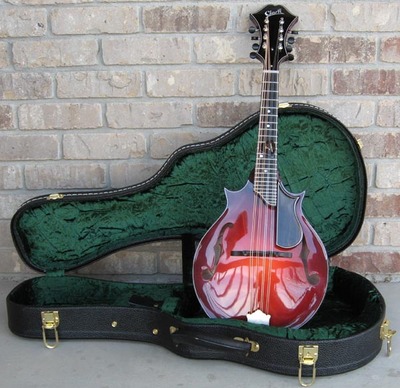 Click on any pictures for close-up.
Sweet. There's dainty sweet, like the bow-haired, lacy-dressed Kindergartner skipping her way to school. There's syrupy sweet, like the overloaded grape snow cone at the state fair. Then there's the natural, fruity sweet, a Yakima in-season strawberry, or Grandma's freshly baked apple pie. The latter are a healthy sweetness of nature, organic, carefully nurtured over time.
It's hard to put descriptions of sound into words; it's like portraying emotions with color. Some adjective commonalities work, but ultimately, the individual experiences of the reader will predispose personal interpretation of these words. When we say the Clark Two-point mandolin under review is "sweet," we want to be clear that this instrument packs a wide spectrum of the positives of sweet. Clean and never cloying, rich in harmonics without being harsh, subtle without being shallow, the Clark meets the demand for full, powerful linear sustain, devoid of smoky growl.
Yes, there's capability for percussiveness, but that's not its strength. The E and A courses from 3rd to 10th frets yield a bell-like purity, soft on "ping" but potent with sustain. Milk chocolate melody is effortless with this instrument, and Clark seems to understand the mechanical elements of wood and string that capture and deliver this.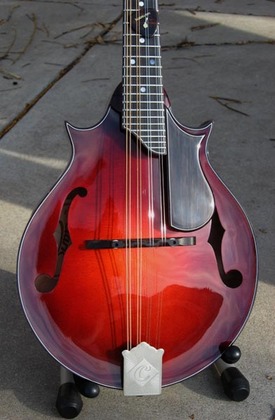 Step back and go through our stages of observing the instrument. The first time out of the case, one can't help but be affected by the unique Cherry-Cola finish. An earthy ruby color, bounded by a complementary (or complimentary, if you will) tortoise binding on body and neck, it is indeed red, but without the associated harsh aesthetic alarm. A thin white inlay helps the binding leap out on closer inspection, similarly completing the abbreviated ebony pickguard.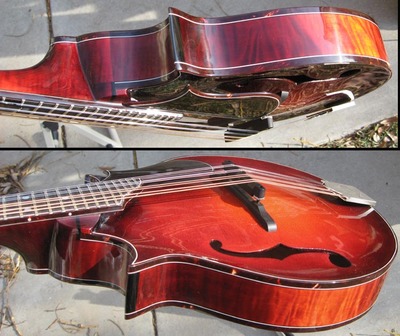 No cosmetic detail gets by this promising upcoming Boise, Idaho builder. Fit and finish are as perfect as any we've seen of seasoned, world-class masters. His 'burst, honey-amber to red to licorice-black dances in the light; coloration gradiant is reminiscent of a classic three-color Les Paul Electric Guitar. The coal-colored headstock overlay completes the Ebony peg brushed-silver Waverly Tuners. He's even used a unique Mother-of-Pearl nut which lends a utilitarian stability with a sparkling understated, cosmetic panache. Even the bold signature "Clark" headstock inlay swoosh proudly proclaims the builder's prowess in bold asymmetrical Nike swagger.

We should point out the headstock angle is pretty standard but the neck angle is a little steeper because he uses a slightly higher arching in this model than a typical F5. (We thought the headstock angle was sharper, but it was in fact, the neck itself.) A related subtlety, the recessed trussrod cover is yet another cosmetic touch. Austin has always felt covers looked out of place, and notes if he could ever figure out a way to make these screwless (and still accessible) he would do it.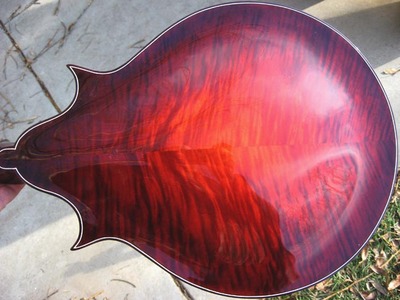 Of course, the Big Leaf Maple back and sides hardly need mention. The marvelous wood specimens dazzle in both bright and dim light, undulating in visible and aural splendor.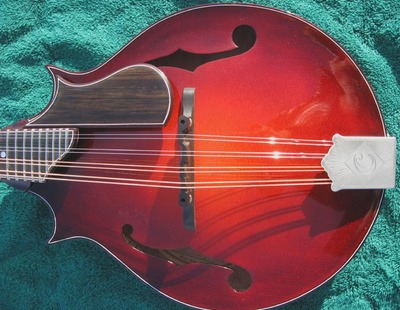 One could hardly call the finely-grained Englemann Spruce top "plain;" strutted with a reliable Cumberland Acoustics Bridge and bejeweled with a cutting-edge engraved Bill James tailpiece, the instrument is as sound cosmetically as it is first-class functional. Again, the ebony pickguard is simply stunning up close. It is finished, as the rest of the mandolin in nitro cellulose, thick enough to protect, but thin enough to not restrict body vibration. (Back is quite lively!)
We've extolled its ornamental virtues, let's talk function. For an instrument to sound "sweet," it has to play comfortably well. The compound radiused fingerboard allows player comfort and lack of hand tension. You can always tell a premier instrument by its ability (and pardon the cliche) to play itself. There's no other way to describe this; anytime you don't have to fight an instrument, radiant tone and superior accuracy are exponentially easier to produce. Perhaps our only objection (and a mostly personal one at that) was the slight V-shape to the back of the neck; depending on your own playing this can be a plus or minus. Not being used to it caused undue lower thumb pressure, but there is a large contingency of players who actually prefer to have this for better fret grab.
Conclusion
Speaking of "grab," Clark is a relative new-comer, and if you ever wanted the opportunity to acquire an instrument of an up and coming builder BEFORE he gains global notoriety and his/her prices become stratospheric, this is a craftsman to take advantage of. His insight into what makes a mandolin, and his eye for cosmetic detail will certainly not be under the radar much longer. He has a nice collection of pictures of his A, F, and 2-point instruments on his website, prices way lower than they should be.
Pick out something sweet...
View website: Clark Mandolins
Phone: 208.342.4396
Email Austin Clark


NEW!!! Read about our recent collaboration:
The Clark JM Signature Series Jazz Mandolin

---
Read up on other world class mandolin builders: