Jazz in June, Lincoln, NE
Tuesday, June 6, 2006
Paul Glasse with the Nebraska Jazz Orchestra
Founded in 1975 the Nebraska Jazz Orchestra is one of the Midwest's premier big bands. The ensemble's concerts feature a variety of traditional big band compositions by jazz masters such as Woody Herman, Duke Ellington and Count Basie, reflecting the rich legacies of the Mississippi Basin territory bands.
The Nebraska Jazz Orchestra tours extensively throughout the Midwest and has also performed in England, Scotland, Germany and France. In 1997 the ensemble played at the Montreux International Jazz Festival in Switzerland.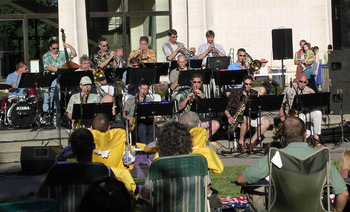 Featured with the N.J.O., cutting-edge Jazz Mandolin virtouso Paul Glasse. Having spent the decade honing his technical picking prowess in the late-1980s, he morphed his interests from Texas Swing into the rapid-fire compendium of Bebop Jazz. Rooted in Austin, Texas, where he is currently rooted in the live music scene.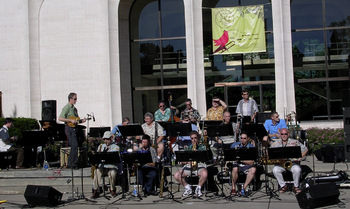 A gorgeous late Spring Nebraska evening, over 5,000 attended the outdoor concert to enjoy the blazing sounds of winds, rhythm and the unique style and snappy sophistication of crystal-clean Glasse electric mandolin. Paul played his signature Michael Stevens 5-string electric.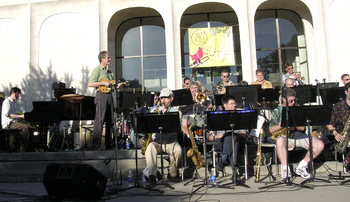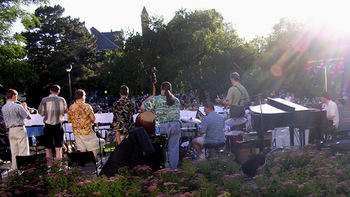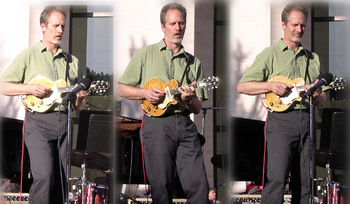 Read more about Paul Glasse: Artist info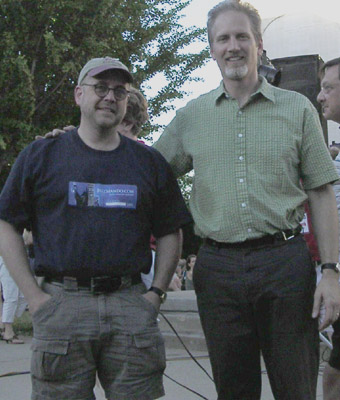 This concert was underwritten in part by JazzMando.com. Above, Site Author Ted Eschliman, poses with Paul. Look for JazzMando to sponsor similar national events in the future.
Read the article: Jazz in June Attracts 5,000