« Extra audio for you. JazzMando "Webtracks!" | Main | Girouard Mandola on the Cafe Classifieds »

June 2, 2013 | The Eichers' new release "Mischievous Swing"
It's not just tornados that blow big in Oklahoma. The nation's southwest plains has received a lot of attention about this recently, and we think it's time to notice something far more positive and creatively powerful. The Eicher family of U.S. plains powerhouse acoustic string jazz players have turned in another brilliant release in the Django incarnation of their band, Mischievous Swing, and aptly self-titled "Mischievous Swing."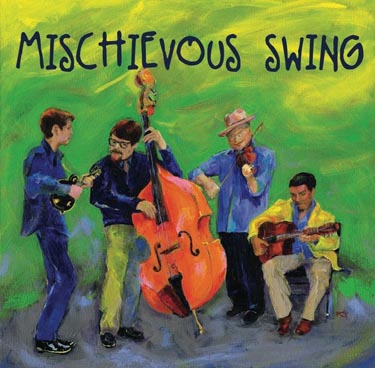 Father Shelby and sons Isaac and Nathan have teamed up with guitarist Ivan Peña to bring up some of the best acoustic swing we've heard this side of the river Seine with a mixture of classics (Avalon, Honeysuckle Rose, Indiana), a couple progressive jazz (Take Five, Spain), and some well-crafted originals penned by Shelby (fiddle) and Isaac (mandolin). Sans percussion, the ensemble still cooks in the textbook Django style quartet, driving bass (Nathan) and le Pompe of crunchy, pulsing gypsy guitar. The four trade caffeinated energy tightly like, well... family!
The high quality playing of the Sooner troop is clean, well recorded and polished. It's less Texas swing this manifestation, smaller ensemble, pure gypsy quartet. We were surprised to see this follow so closely on the heels of their successful September 2012 release, Dance of the Gypsies, but impressed none the same. It's obvious the crew has been putting in a lot of time together.
This is the first of this summer blockbuster recordings to add to your jazz mandolin bucket list.
Highly recommended!
Listen and purchase: Mischievous Swing
Tracks
1. Honeysuckle Rose
2. Faux Nouveau
3. Swing Al Fresco
4. Take Five
5. Indiana
6. Spain
7. You Know Dat's Right
8. Valenciana
9. Night in Paris
10. Avalon
Artist website: Mischievous Swing
Previous release: Dance of the Gypsies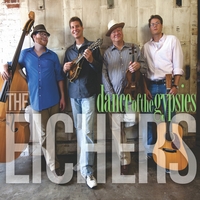 Posted by Ted at June 2, 2013 6:57 AM