« Chordbot. Muse assistant. | Main | The Eichers' new release "Mischievous Swing" »

May 31, 2013 | Extra audio for you. JazzMando "Webtracks!"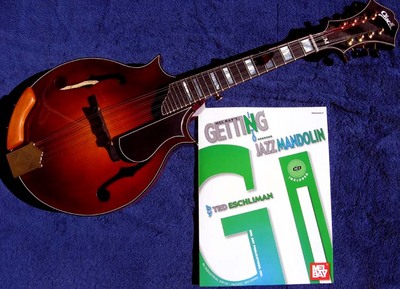 Do you have a copy of "Getting Into Jazz Mandolin?" If so, we want to remind you of the extra audio material on the site. We just had a customer who found these first, and bought the book because he liked the tracks so much...
These are a terrific resource, extended accompaniment tracks for learning 'ii V7 I' patterns and turnarounds. Our good friend, talented New Orleans multi-instrumentalist, John Eubanks has recorded some terrific background tracks with bassist Jesse Boyd for working out the riffs in the "Getting Into Jazz Mandolin" book, or simply inventing your own.
Sample (guitar accompaniment only):

Page 63: 2nd FFcP Bb Major 'ii V7 I'
What happened was in producing these tracks, we were unaware of the 70 minute audio capacity of the whole book project; we had produced way over the limit. In trimming the CD down to size, we made the decision to offer these as web freebies, as well as possible enticement to buy the book. Either way, these are great for you to download into your computer or favorite MP3 player and have around.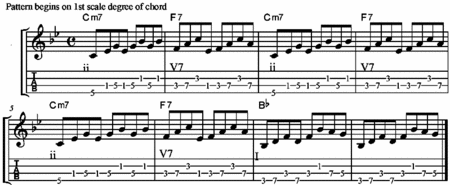 Look for these and sample audio on the page from terrific mandolinists, including Don Stiernberg, Will Patton, Jamie Masefield, and a host of others to help understand the end results of digging into these materials.
Enjoy: Webtracks Page

Posted by Ted at May 31, 2013 5:25 AM