Girouard
A-body mandolin (jazz-voiced)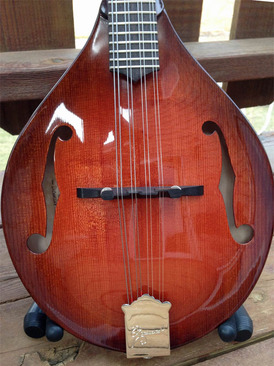 The New England Girouard husband and wife building team have an intriguing pedigree of finely hand-crafted instruments with a unique philosophy in wood selection. Max and Lauri tell us not all of the instruments are fashion model cosmetically perfect woods; the emphasis on the build is on tone rather than appearance, so their instruments not only sound good, they can be obtained at affordable prices.
We've had the privilege of a hands-on experience with a fresh A-body instrument voiced particularly for playing jazz, and it's a been a sweet ride. The larger, modern frets are easy to chord, modified V neck is easy to grip and the unique red varnish stain is as easy on the eyes. We were particularly fond of the burst and the no-bind aesthetic. It has an enigmatic impact of both classic and contemporary feel.
Of course Max is capable of producing mandolins to a variety of styles and player tonal tastes. It's only natural one with a jazz bent would end up in our hands for evaluation.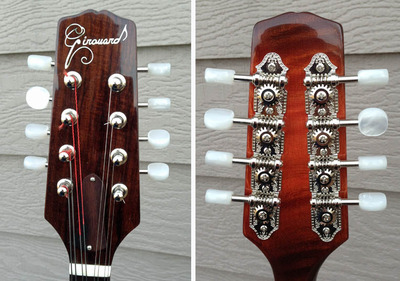 First, a word about "jazz-voiced," something builder Max was quite intentional in crafting. If your ensemble tends toward fast paced, blistering loud Gypsy jazz, the acoustic demand will likely be for an instrument with piercing highs and bright overtones. That's not the direction of this instrument. If your tastes are more serene, tempos slower and the goal is lush, long sustain, the lyrical warmth of this mandolin will be what you're looking for.

The vocalise demands of the Amercian Songbook, pop/ballad music of Broadway or even Bossa Nova call for a warmth, likely sacrificing the bite of the Bluegrass (or exclusively Django style ensemble) mandolin. With the more complex harmonies of the extended chord vocabulary (#9, b13, m7b5 chords you really need more string fundamental, less conflicting overtones. Max has achieved this with a sound chamber (top) premeditatively carved for emphasis on lows and warmth. Flatwound strings (JM11 in this case) can also shape the sound in this direction. The F-hole (vs oval) will help punch the sound a little more, and we feel he's achieved a truly jazz appropriate result. For any concerned about volume, the built in K&K Twin pickup will help in a sonically thick environment of a larger ensemble. It has a respectfully healthy sound on its own, but any wanting to play outside of the intimacy of their own studio or porch, the pickup should be considered standard.
Though not everyone needs one, we'd add a pickguard for finger reference, as well as a strap button, but the mandolin is ready to roll. It came well-adjusted, optimally low action for comfort and speed. An instrument of the quality for under $2K is an exceptional value; we feel as the builder's reputation is more widespread, the prices won't like stay this low. It's a good time to get a Girouard.
Instrument Specs:
Red Spruce Top
Red Maple back,sides and neck (one piece back)
Modified top graduation for jazz
Truss rod
1 1/8" nut
V shaped neck
JM-11 strings
K & K twin internal pickup
Modern red stain
Varnish finish
Travel lite case
The retail on this one is $2195 ($2345 with pickup of $150)

Builder contact: Girouard Mandolins
115 Spring St
Contoocook, NH 03229
603-475-7883
Email: Girouardmandolins@yahoo.com
Read up on other world class mandolin builders: