« New design at the JazzMando Logo Store | Main | May 2014; Mr. P.C.'s Guide to Jazz Etiquette »

May 13, 2014 | Systematic approach to pentatonic mastery in all 12 keys
Our August 2007 Mandolin Sessions archive article explored new ways to develop the use of pentatonic scales. Instead of just playing them up and down, bottom to top and back, we mixed them up by starting them in different keys and on different notes and stacking FFcP patterns into two octave scales.
If you're already on board with these, take a few moments for a fresh look and download the free PDF.
Read article:
Developing Pentatonics for Jazz
A systematic approach to pentatonic mastery in all 12 keys.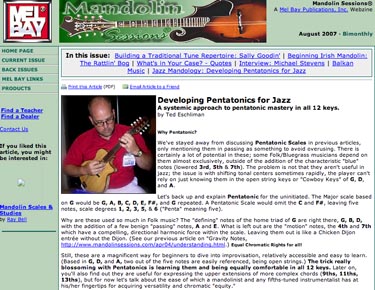 Posted by Ted at May 13, 2014 6:14 AM