« Rest in Peace, Joe Carr | Main | Mandolin Christmas Music List »

December 17, 2014 | Burgundy-burst Rigel Q-95 mandolin
Block pearl fret inlays, burgundy-burst, tortoise pickguard, one of the coolest Q-95 mandolins we've seen just popped up in the Mandolin Cafe Classifieds for a reasonable ask of $1725 US. Not many were made in Rigel's sunset days, but we were responsible for the introduction of an A-body instrument with a lap corner, a simple but ergonomic alteration of the company's best-selling A+ Deluxe model.
This would make a lovely "self" gift for anyone in need of an instrument easy to play and enjoy. No financial interest here, but we'll vouch the seller is reputable and reliable.
View ad: Burgundy-burst Rigel Q-95 mandolin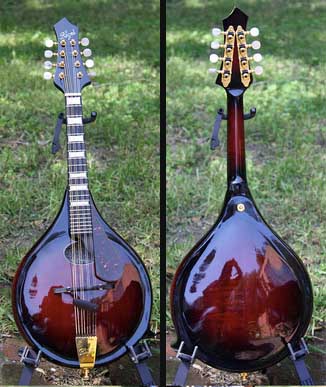 More about the Rigel Q-95
Want...
Posted by Ted at December 17, 2014 6:02 AM