« Gently used Weber Gallatin D-Hole Mandola w/pickup | Main | TAB and audio for "Christmas Time is Here," Shelby Eicher »

December 11, 2014 | D'Addario introduces new Chris Thile influenced EXP string set.
Though we generally prefer flatwound strings, any time we have an instrument that is already too warm or tubby, an oval hole instrument for example, we suggest the brighter tone and longevity of the phosphor bronze D'Addario coated EXP series for mandolin (and guitar). The global leader in string production has worked with mandolin legend Chris Thile to come up with a sort of hybrid set, gauges 11.5, 16, 26, and 40.
The new EXP74CM features their new environmentally friendly packaging with corrosion resistant packing. The latter is especially important for those who support and purchase strings from their local dealer. Mandolin sets don't sell as fast as guitar, so shelf-life is an important consideration.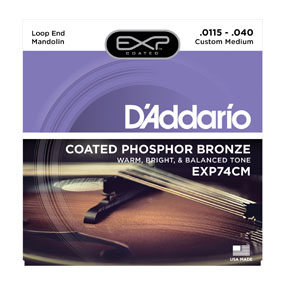 From the website, "D'Addario's new custom medium coated mandolin set, is a custom gauged combination of the EXP74 and EXP75 sets. Warm and bright phosphor bronze tone with the optimal blend of tight playing tension and strong projection." We knew about development of this set a couple years ago and are pleased to see it finally come to market. The strings are not an official signature Chris Thile set, but his feedback was instrumental (pun intended) in determining string size and tension. He has had a long history using their products.
If you've had experience with the Elixir strings, bear in mind the EXP are a different feel. They aren't wrapped around the string where it can flake off over time, rather the string winding itself is microscopically coated before wrapped around the core. It's hard to even notice it's there, and despite the higher selling price, you ultimately save money in fewer string changes.
View product description
Posted by Ted at December 11, 2014 7:21 AM