« November 2012 | Main | January 2013 »

December 31, 2012 | The Pete Martin Interview
We had the unique privilege to publish an interview with Seattle mandolin/fiddler Pete Martin on the Mandolin Cafe website. We've introduced some of his materials on the JazzMando Tips and Tricks section, and have been a huge fan of his writing (and playing) for years, including a regular column at Mandolin Magazine. Take the time to read through some of his personal thoughts on the mandolin and its place on the world, approaches to playing, and philosophies on the importance of music theory and effective playing.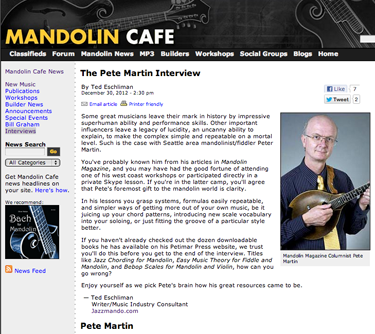 "I look at theory this way: music theory takes sounds we hear and places terms to describe that sound. When this is done, it lets us study these sounds and apply them to other places. It can allow us to discuss these sounds with others and exchange ideas.
I also think theory knowledge by itself does not make a player great. However, theory knowledge CAN allow a player to have more confidence in what they are doing, and that confidence almost always comes across in your sound. A confident player sounds better, more assured. I tell students if you fall into this category, then theory study will help you."
Read article: The Pete Martin Interview
Petimar Press Books and Materials
Posted by Ted at 5:24 AM

December 29, 2012 | Viral mandolin graphic of the year
We had some fun with the pie chart below last February. It became our all-time viral Facebook post on the JazzMando Page. We couldn't finish the year out without one last reprise: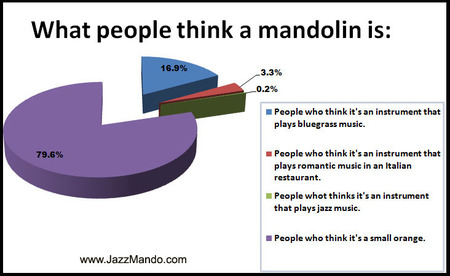 The point can't be lost in the humor though, that our funny little instrument hasn't followed the same popularity path as the piano or guitar. Even the ukulele seems to be going mainstream faster than its older 8-string sister.
The arguable sonic limitations of the mandolin are probably why, it's narrow alto/soprano range doesn't make it the greatest accompaniment instrument, but there's still a ton of aural potential left in the world for more mandolin that goes beyond bluegrass, sappy movie soundtracks, and classical solo and ensemble literature.
We remain dedicate to greater mandolin exposure, and this website is dedicated to its expansion. Our challenge is to put the sound of the mandolin further into the ear of the public through advanced playing techniques and new ways to approach tone.
By the way, if you'd like a 3x5" rectangular sticker of your own, feel free to pick one up at our CafePress store. Meager profits from these and the rest of the merchandise on the site help cover the costs and mainetenance of the JazzMando site.
Purchase:
Mandolin Perspective Sticker (Rectangle) 3" x 5"
$4.99
More items: JazzMando CafePress store

Posted by Ted at 5:29 AM

December 27, 2012 | 2012 JazzMando news in review
Every December we like to pause and take a look back at the year, all the highlights of news and events that shaped our little world. We started in January with another bout of string issues, the D core mainly being the problem. We think this has been permanently resolved but we always like to remind everyone in case you have a recurrence. Labella has been kind enough to provide replacements, so if you're JM11 D string courses aren't tuning properly, drop us a line. It's probably the string, not your instrument. See article: January Strings Revisited.
We continue to see digital delivery of educational materials expand, and this includes our own Getting Into Jazz Mandolin method available in ebook format as a growing alternative. Between that and the iReal B app for iPhone and Droid, and some of the other stage apps like the unReal Book, it's increasingly common to see performers embrace this new media.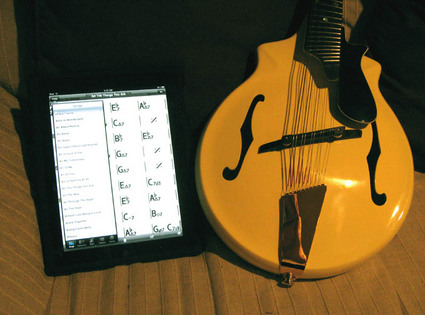 We participated in several articles on the Mandolin Cafe, including a terrific resource for the older instrument, Great Vintage Mandolins Under $1,000. It's always nice to go into a buying transaction armed with a healthy amount of information about the variety of alternatives whether it be your local brick and mortar showroom, ebay, or larger vintage instrument specialist. Speaking of specialist, a favorite experience was our April trip across the pond to Trevor Moyle's little slice of mandolin heaven "The Acoustic Music Company. Some of the best instruments (literally) in the world in this tiny, unassuming storefront a block from the English Channel in Brighton. Trevor's instruments were a delight and our time with him engaging and informative.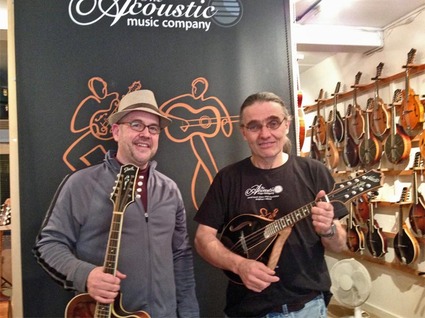 We had some sad news this spring with the passing of Berklee professor John McGann. It shook the mandolin world to bid adieu to this pedagogical giant. We are fortunate to live in an age where so much of his materials and recordings are readily available study and enjoy. We'll forever be Remembering John McGann.
We also said goodbye to Mel Bay's Mandolin Sessions with our final column Tips on improvising from the Pros; The Muse Continuum. Where do good solos come from? We've been told the archives will remain for the time being, but there will be no new issues. Still, nine years is a lot of material to go back and dig through.
On a brighter note, a new 5-string guitar-bodied mandolin from Idaho builder Austin Clark graces the JazzMando studio. This is a chord melody dream come true, the solid accompaniment timbre of a mandola (CGDAE) with the upper register great for lead lines. Check out the pictures, Introducing: Clark JM5 guitar bodied 5-string mandolin!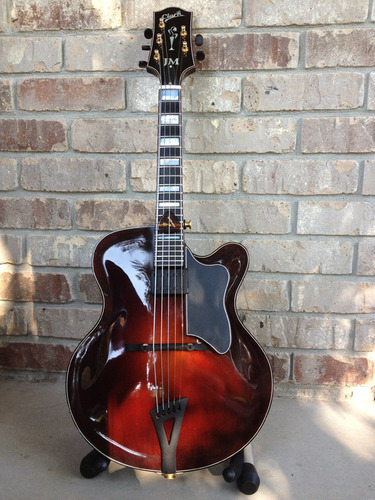 Fingers, Ears, Brain
This summer we did some internal housekeeping around the site. Besides sprucing up the menu categories and submenu arrays, we put a little order to our "Finger Ears Brain" pages. So much of the site is topical and not necessarily methodic, it's a bit like herding cats to put them in some kind of sequence. We did our best to grab 9 years of highlight titles and line them up in an "Animal, Vegetable, Mineral" strategy.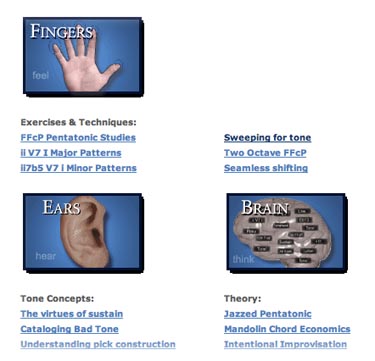 For new materials, we introduced a library of chord blocks you could use in motion, Dominant 7th chord streams and Minor 7th chord streams. Be sure you've printed these off in your library, along with the five part series on vamps later reprised September in the Lesson Archive at the Mandolin Cafe.
We are back in blue again, after commissioning the work of California builder Steve Sorensen in a muse inspiring asymmetrical 2-point mandolin, our own Sprite JM. How appropriate for it to arrive the week of Christmas. Be sure to check out some of the other pictures.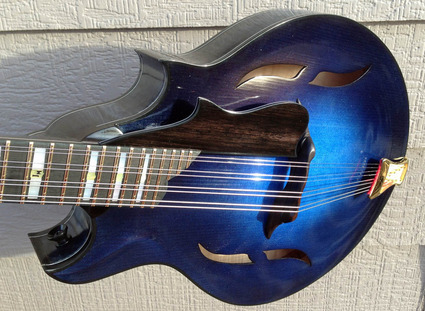 Posted by Ted at 5:36 AM

December 25, 2012 | One last Christmas song for 2012
Time to put away the Christmas music for the year, but before we do, checkout this lovely archive Yuletide demo of his 2009 Jonathon Mann electric octave mandolin posted on YouTube, actor/musician Michael Johnstone treats us to a clever rendition of the seasonal classic, "Have Yourself a Merry Little Christmas." Multi-instrumentalist Michael has been mentioned on the site in the past for his role in the critically acclaimed HBO Series "Deadwood," and the rave reviews of his Rigel Gypsy Q.
The electric octave mandolin is tuned an octave below the traditional mandolin, pitched between a mandocello and a mandola.
Enjoy: Have Yourself a Merry Little Christmas

See more about the work of the Tennessee builder, one of our faves, in our Builder's Showcase: Jonathon Mann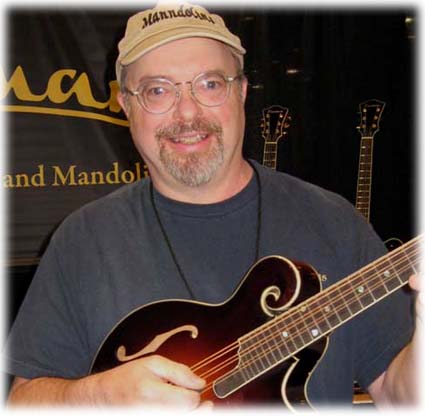 Posted by Ted at 10:15 PM

December 23, 2012 | New NS Mini Tuner "Twin Packs"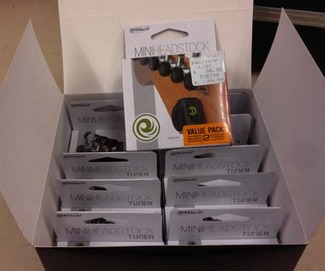 The Planet Waves NS Mini Headstock Tuner introduced two years ago has recently undergone an unannounced change. The old ones are being worked through distribution networks in single unit packages, but the just released Twin Packs already include a pair of the new version. With a third color (yellow for almost in-tune), they precisely react with a wide variety of stringed instruments while its low-profile design blends with the aesthetics of your instrument, concealing it from your audience. It's also possible to remount and reverse the screen 360 degrees. The highly sensitive piezo transducer and backlit display allow for even easier and accurate tuning in noisy, dim or well-lit environments..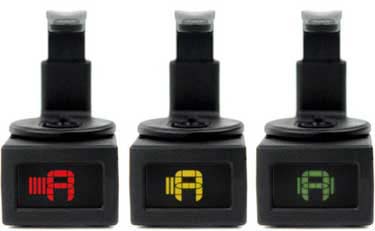 In our opinion, the no-contest best clip-on tuner for mandolin.
*Improved software for faster response and improved accuracy
*Reversible screen allows mounting in front or behind the headstock
*Tri-color backlit LCD screen makes it easy to tune in dark environments
*Built-in piezo transducer picks up instrument's vibration rather than sound
*Compact design blends into the aesthetics of instrument while adding considerably less weight than other headstock tuners
*Tunes acoustic and electric guitars, basses, mandolins, banjos and other stringed instruments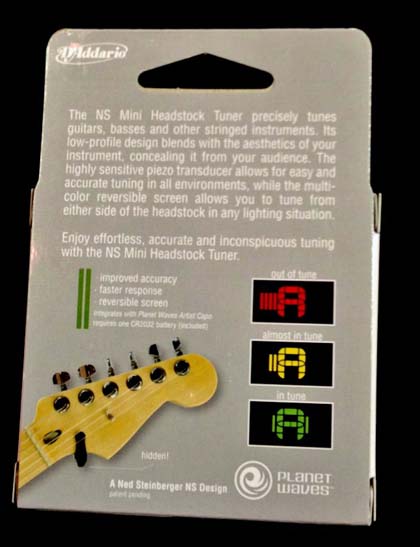 You have more than one instrument, right? We recommend leaving the tuner clipped, even when you have your instruments in the case. Now you can get them two at a time.
Purchase Information: New NS Mini Tuner "Twin Packs" Retail $58.99; Sale ($29.99)
Mention "JazzMando Free Shipping" in the comment field for free domestic shipping. (Canada and other International will be manually changed to $7.00 before CC is processed)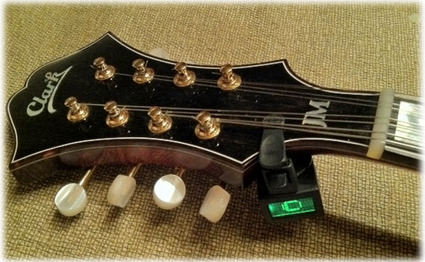 Posted by Ted at 6:38 AM

December 21, 2012 | Mandolin Cafe Ball Caps back!

Folks have had to wait for months while these have been out of stock, but just arrived at the MC warehouse in Kansas this week is the new shipment of Mandolin Cafe Ball Caps. Three fashion colors, Khaki, Charcoal, and adrenalin racing Red. Each order ships with complimentary Mandolin Cafe case stickers.
You'll see quite a few of these being worn around the JazzMando office. Most of the guys have at least two; we prefer the relaxing Khaki for outdoor activity, the darker elegant Charcoal for evening formal wear. Sometimes the red even makes one walk with a little spring in one's step.
Only $15.00 plus shipping, you'll want to demonstrate your affection for the instrument and this incredible online resource, the Mandolin Cafe Website, by donning one of these. They probably won't arrive in time for Christmas, but if you order soon enough, you can have them for your New Years Eve party!
Order information: Mandolin Cafe Ball Caps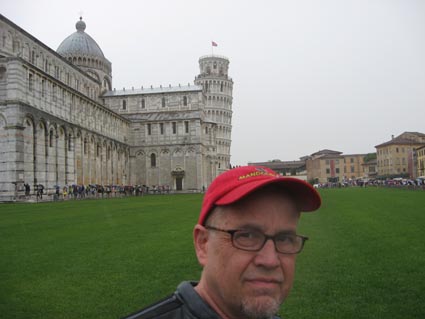 Seen around the world!
Posted by Ted at 5:01 AM

December 19, 2012 | Austin City Limits - Grisman, Marshall, Burns, Moore, Gimble
There weren't many times the great mandolin legends of the 20th century Johnny Gimble, Tiny Moore, and Jethro Burns shared the stage. Possibly the best video documentary was a 1981 appearance "Mandolin Special" on Austin City Limits. The first 27 minutes of "warm-up" act with the David Grisman Quintet (including a very young Mike Marshall and Darol Anger) is also an incredible treat with the Dawg himself paying an endearing treat to the powerhouse fret trio.
Map out about 60 minutes to take this in. It's well worth the time to listen, study, and/or simply enjoy!
Video Link: Austin City Limits; Mandolin Special 1980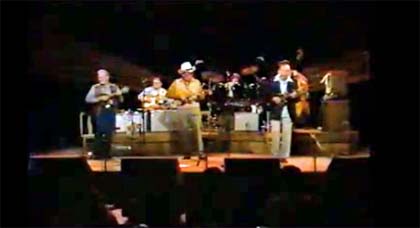 Download the classic Jethro Burns/Tiny Moore CD, "Back to Back" from Amazon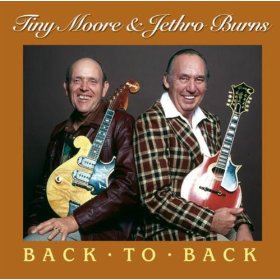 .
Posted by Ted at 5:12 AM

December 15, 2012 | Blueburst Sorensen Sprite JM mandolin
Steve Sorensen
Blueburst Sprite JM mandolin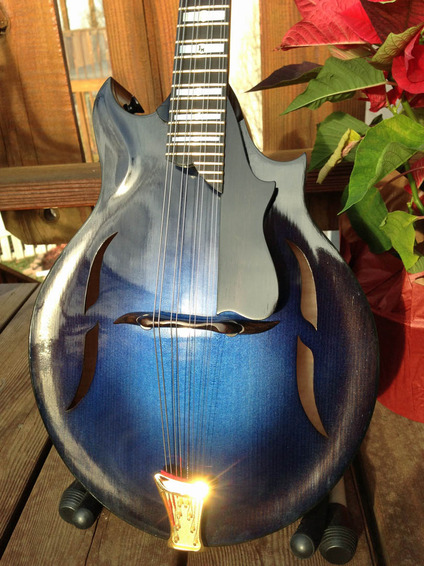 Call it a blue, blue Christmas, but only in the most positive sense. On our doorstep this week, a unique custom build, an asymmetrical 2-point Sorensen "Sprite JM" mandolin with the same basic dimensions of the instrument we reviewed last April and some cosmetic personal touches, including a dynamic Blueburst finish and ornate fretboard inlay. In the initial dialogue on the project, we requested the same basic dimensions, but other than the blue finish, Steve was invited to inject his own additional personal aesthetic on the adornments.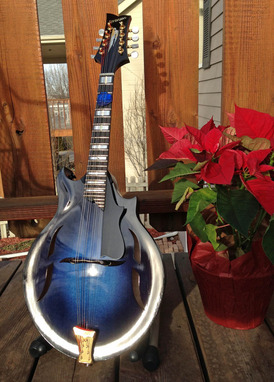 We were not disappointed! Many custom builds have come through this site, and we always anticpate a few weeks of settling with wood and steel. It's a good idea for a customer of a new instrument to allow for these changes, but this one came very much ready to play. Surprisingly, it's already in immediate performance stage rotation.
Sustain is exceptionally strong, action smooth (optimal low) and comfortable, easy to move around, and there's considerable power and clarity in the upper frets, warmth in the lower register. Effectively balanced string to string and across the fingerboard, but having been so impressed with experience with last spring's Sprite, we would have expected nothing less.
His basic Sprite models start at $5650, ours was naturally naturally higher with the custom features such as fretboard inlay and K&K pickup. It's an exceptional "bang for buck," worthy of consideration of an elite group of high profile world class builders.
Instrument Specifications
Top - Book matched Red "Adirondack" Spruce.
Finish: Blueburst, a combination of hand-rubbed base and airbrush.
Tone Bars - vertical grain Red Spruce.
Back and Sides - Maple - (one piece back)
Neck - Scale length - 13 7/8". Curly Maple. 12" radius fingerboard with Jescar Silver 0.43 frets. 1 1/8" nut width and a "V" profile inspired by a pre-Loar F4. Double carbon fiber truss rod. Deco D'Angelico style block fingerboard inlay, JM logo at 12th fret
Tuners - Schaller gold A-style 16:1 gears
Bridge - Sorensen Desert Ironwood "Killer Bridge".
Tailpiece - Custom James tailpiece with "Sorensen" logo.
Finish - TruOil base followed by ultra-blond shellac French Polish.
Headstock inlay: AeroDeco Sprite in gold and white Mother of Pearl
Pickup: K&K Twin
Binding: Black-White-Black sidebound
Sound holes: "Double Slash" cut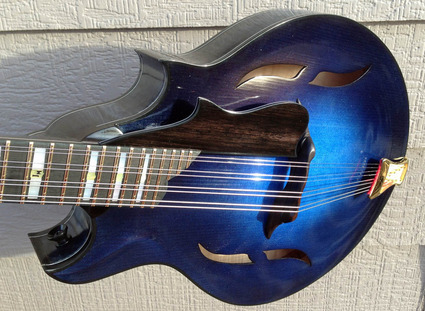 Builder's Website: Sorensen Strings
Review: Sorensen "Sprite" Asymmetrical 2-point mandolin
Contact: steve@sorensenstrings.com
Phone: 661-345-6684
More pictures (click all for close-up):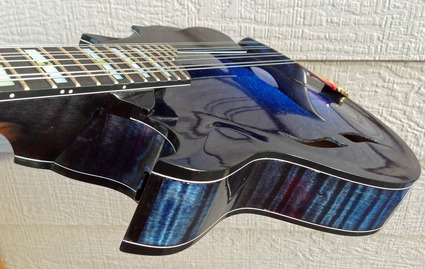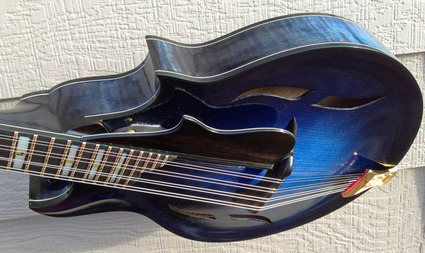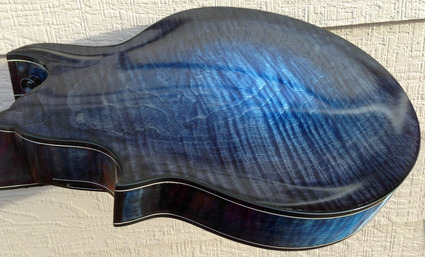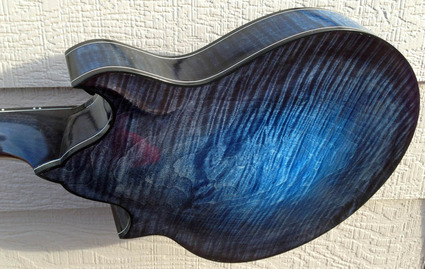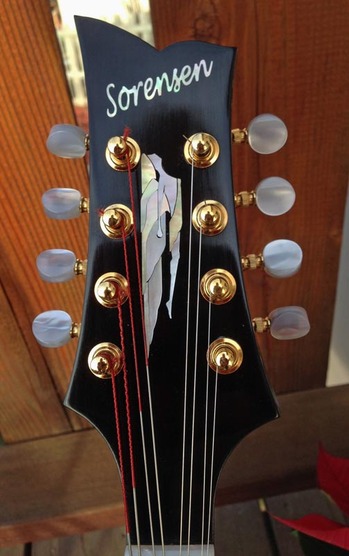 On our Facebook Page? "Like" if you haven't already

.
Posted by Ted at 5:15 AM

December 13, 2012 | Mandolin. Jazz vs. Bluegrass
We've discussed how bluegrass and jazz are similar, but it's very important to understand the nuances of how they are different. Sometimes they aren't even subtle.
In last week's Tips and Tricks articles, we discussed the particulars. Comping, articulations, tone emphasis, the harmonic language, these are all ways the mandolinist needs to address to properly fit within the style of the ensemble. Worry too much about line and articulations finesse, you'll be drowned out by the acoustics of the other members of the bluegrass band. Drool endless self-indulgent pentatonic pyrotechnics in the jazz ensemble, you'll be laughter off the stage.
It's not an attack on either genre, it's a matter of knowing what you need to know to fit. We go into detail.
Read article: December 6, 2012 | Mandolin considerations. Jazz vs. Bluegrass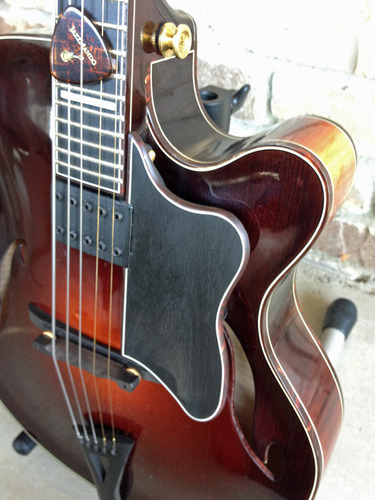 Posted by Ted at 5:47 AM

December 11, 2012 | Brian Oberlin; Solo Swing Christmas
Brian Oberlin:

Sleigh Ride MP3
We've been impressed with the 2011 solo Christmas album project of Oregon based performer, teacher and River of the West Mandolin Camp administrator, Brian Oberlin. Few are up to the challenge of vocal solo with mandolin accompaniment, and for any wanting to use the instrument in this way, Oberlin's recent CDs are an authoritative study of how to get it done. We asked him to tell us more: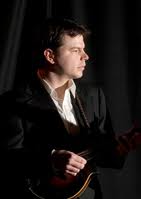 "My Christmas album is part of a double album I recorded in 2011. The first being 'Solo Swing' and the second being 'Solo Swing Christmas.' There are plenty of solo mandolin players out there but I wanted to add something different to the act by adding vocals and playing the mandolin with a "band" approach. Meaning, interspersed with the vocals, I like to add what the guitar, bass, and piano might play. Sometimes, I even think about playing a soli cadenza from a horn section. I can mostly get away with these ideas by adding color tones in the chord, different rhythms, plenty of passing tones in-between chords, and using double stops based on the melody or an improvised line.
Another trick I use in my solo act is to play short lines and/or arpeggios while I am singing that would emulate a bass player or accompanist doing fills. This technique is pretty tough because my voice tends to lean towards what I'm playing rather than what I'm supposed to be singing.
I have taken on the endeavor of a solo swing/vocal approach for the reasons listed above and because it is a huge challenge. Because it is swing, 90% of the stuff I'm playing is fresh and unique to the venue/day while the other 10% are rehearsed, chord progressions or lines that fit a particular song. It's the 90% that keeps me going and striving for more ideas on the fly.
I recorded the Christmas album because I love swing music and the melodies and changes for some of the Christmas music are fantastic. You can take a tune like "Let it Snow", "Silver Bells", or "Sleigh Ride", add a few substitutions and you've got yourself one hell of a swing tune."
Listen to more samples of Solo Swing Christmas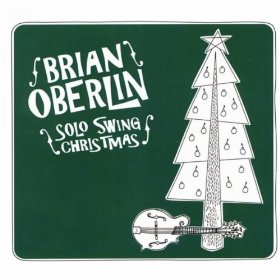 Purchase information: Brian Oberlin; Solo Swing Christmas
Artist Website
The River of the West Mandolin Camp will be June 6 - 9, 2013 and the instructors are Don Stiernberg, Carlo Aonzo, Radim Zenkl, and of course Brian Oberlin. Expect an official release all of the information for the camp in January.
Information about the 5th Annual River of the West Mandolin Camp

Posted by Ted at 5:13 AM

December 9, 2012 | Planet Waves PW-CT-05 Practice Workstation
If you're looking for great "all around" Christmas gift for any musician-in-progress, might we suggest the Planet Waves PW-CT-05 Practice Workstation, the ultimate all-in one musicians practice tool.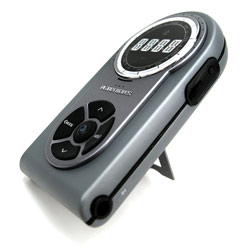 PW-CT-05: $24.99
An intuitive, patent-pending rotary LED interface is combined with a precision dual-mode sweep/strobe chromatic tuner and professional multi-function metronome. The double wallet-sized lightweight, durable metal enclosure includes a pull-out easel for desktop use. These are on a limited clearance pricing of only $24.99 which is a huge deal, as manufacturer list price was $119.95 when they were first introduced.
Even if you were to buy just a metronome, the loud audible click (adjustable volume), tap function, and multiple subdivision option are features you'd find in a unit twice this price. Throw in a tuner with immediate response and visual clarity, PLUS strobe tuning, you're really getting a bargain.
You won't want to wait. Not only is Christmas just around the corner, these won't last long at this price. Click on the link to get to the shopping cart, and load "JazzMando Free Shipping" in the comments and you'll get a credit for free US domestic shipping and handling. At this price, you could buy several for family and friends!
Purchase: Planet Waves PW-CT-05 Practice Workstation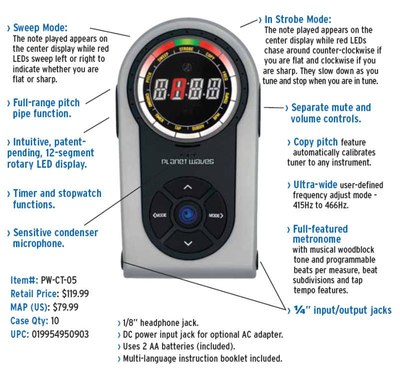 Features:
*Intuitive patent pending 12-segment rotary LED display
*Sweep and Strobe Mode Tuning
*Full-featured Metronome
*Full-range pitch pipe function
*Sensitive condenser mic
*1/8 headphone jack
*DC power input jack for optional AC adapter
*Seperate mute and volume controls
Posted by Ted at 6:43 AM

December 7, 2012 | Getting Into Jazz Mandolin. Success!
Now this is the kind of feedback we love the best!...
"Ted,
I am proud to say that I finished "Getting into Jazz Mandolin." Finished means that I can play the lesson at 120 bpm. I started 11/02/2009. I know because I write the date in the corner when starting a new lesson.
This was a great book and it is so easy to go up the neck. I always know what key I am playing. The fingerings are the best part and the lessons really reinforced the idea."
Ed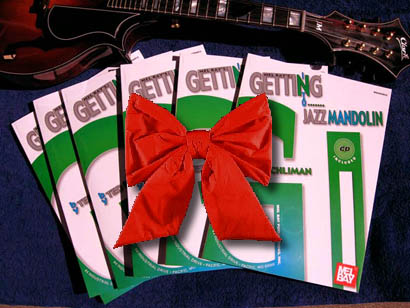 Don't feel like a failure if you aren't able to get all the way through the book, though. Even if you master a few of the pages, you can be a better player. The FFcP alone is enough to justify getting the book.
If you haven't tried, maybe you should ask for it for Christmas. Or buy one for a friend.
Buy Amazon: Getting into Jazz Mandolin
ebook: Getting into Jazz Mandolin
Purchase direct from author: Getting into Jazz Mandolin
Also:
Find a mistake? Getting Into Jazz Mandolin "errata"
Additional audio: GiJM Webtracks
Posted by Ted at 4:50 AM

December 5, 2012 | The Real Christmas Book; now in Kindle and iBook
Want to bang out a few Yuletide favorites on the mandolin? We mentioned this a year ago (paper edition actually four years old), if you're good with chords and can read a little traditional notation, we highly recommend checking out the Hal Leonard "Real Christmas Book." According to publisher, Hal Leonard, "This unique fake book features 150 custom arrangements of carols and contemporary holiday songs featuring sophisticated jazz chord changes in the popular, user-friendly, contemporary Real Book format (melody, chords, lyrics). Players will enjoy putting the cool back into these Christmas classics."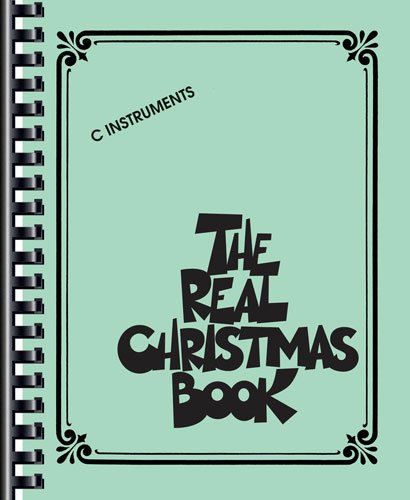 We'd pull back on describing it sophisticated, really these are more of an American Songbook approach to melody and chords, and not all that esoteric or outside. It would be great literature to add to your library and each year, add a dozen or so songs to your arsenal of pop and traditional favorites.
You can preview some of the contents here: The Real Christmas Book
Amazon Purchase information link
Need it electronically? This year, it's finally available in electronic format:
Purchase Kindle $23.75
Purchase iBook $25.99
Another hint, if you have the iReal B app on your iPhone, iPad, Droid or Mac, you can use some of the Holiday playlists from the User forum and get MIDI accompaniments that are relatively close. We've found most of the keys to be the same (and you can transpose on the app).

HL #00240306 Song List:
* All I Want For Christmas Is You
* Almost Day
* Angels From The Realms Of Glory
* Angels We Have Heard On High
* As Long As There's Christmas
* Auld Lang Syne
* Away In A Manger
* Baby, It's Cold Outside
* Because It's Christmas (For All The Children)
* Blue Christmas
* The Boar's Head Carol
* Brazilian Sleigh Bells
* Bring A Torch, Jeannette, Isabella
* Burgundian Carol
* Carol Of The Bells
* A Caroling We Go
* Caroling, Caroling
* The Chipmunk Song
* Christ Was Born On Christmas Day
* C-H-R-I-S-T-M-A-S
* Christmas Is
* Christmas Is A-Comin' (May God Bless You)
* Christmas Is The Time To Say I Love You
* The Christmas Song (Chestnuts Roasting On An Open Fire)
* Christmas Time Is Here
* The Christmas Waltz
* Cold December Nights
* Coventry Carol
* Dance Of The Sugar Plum Fairy
* Deck The Hall
* Ding Dong! Merrily On High!
* Do They Know It's Christmas?
* Do You Hear What I Hear
* Feliz Navidad
* The First Noel
* The Friendly Beasts
* From Heaven Above To Earth I Come
* Frosty The Snow Man
* Fum, Fum, Fum
* Gesu Bambino (The Infant Jesus)
* The Gift
* Go, Tell It On The Mountain
* God Rest Ye Merry, Gentlemen
* Good Christian Men, Rejoice
* Good King Wenceslas
* Grandma Got Run Over By A Reindeer
* Grandma's Killer Fruitcake
* The Greatest Gift Of All
* Greenwillow Christmas
* Grown-Up Christmas List
* Hallelujah Chorus
* Happy Christmas, Little Friend
* Happy Hanukkah, My Friend (The Hanukkah Song)
* Happy Holiday
* Happy Xmas (War Is Over)
* Hard Candy Christmas
* Hark! The Herald Angels Sing
* He
* Here Comes Santa Claus (Right Down Santa Claus Lane)
* Here We Come A-Wassailing
* The Holly And The Ivy
* A Holly Jolly Christmas
* (There's No Place Like) Home For The Holidays
* I Heard The Bells On Christmas Day
* I Saw Mommy Kissing Santa Claus
* I Wonder As I Wander
* I'll Be Home For Christmas
* I've Got My Love To Keep Me Warm
* It Came Upon The Midnight Clear
* It Must Have Been The Mistletoe (Our First Christmas)
* It's A Big Wide Wonderful World
* It's Beginning To Look Like Christmas
* It's Christmas In New York
* It's Christmas Time All Over The World
* It's Just Another New Year's Eve
* Jesu, Joy Of Man's Desiring
* Jingle-Bell Rock
* Jingle Bells
* Jingle, Jingle, Jingle
* Joy To The World
* June In January
* Last Christmas
* The Last Month Of The Year (What Month Was Jesus Born In?)
* Let It Snow! Let It Snow! Let It Snow!
* Let's Have An Old Fashioned Christmas
* Little Saint Nick
* Lost In The Stars
* March Of The Toys
* A Marshmallow World
* Mele Kalikimaka
* Merry Christmas, Baby
* Merry Christmas, Darling
* The Merry Christmas Polka
* Merry, Merry Christmas, Baby
* A Merry, Merry Christmas To You
* Mister Santa
* Mistletoe And Holly
* The Most Wonderful Day Of The Year
* My Favorite Things
* My Only Wish This Year
* The Night Before Christmas Song
* Noel! Noel!
* Nuttin' For Christmas
* O Christmas Tree
* O Come, All Ye Faithful (Adeste Fideles)
* O Come, O Come Immanuel
* O Holy Night
* O Little Town Of Bethlehem
* Old Toy Trains
* Parade Of The Wooden Soldiers
* Pretty Paper
* Rockin' Around The Christmas Tree
* Rudolph The Red-Nosed Reindeer
* Santa Baby
* Santa, Bring My Baby Back (To Me)
* Santa Claus Is Comin' To Town
* Shake Me I Rattle (Squeeze Me I Cry)
* Silent Night
* Silver And Gold
* Silver Bells
* Sing We Now Of Christmas
* Snowfall
* Someday At Christmas
* Somewhere In My Memory
* The Star Carol
* Still, Still, Still
* Suzy Snowflake
* Tennessee Christmas
* That Christmas Feeling
* The Most Wonderful Time Of The Year
* This Christmas
* This One's For The Children
* Toyland
* 'Twas The Night Before Christmas
* The Twelve Days Of Christmas
* Up On The Housetop
* We Need A Little Christmas
* We Three Kings Of Orient Are
* We Wish You A Merry Christmas
* What A Merry Christmas This Could Be
* What Are You Doing New Year's Eve?
* What Child Is This?
* When Santa Claus Gets Your Letter
* While Shepherds Watched Their Flocks
* The White World Of Winter
* Wonderful Christmastime
* The Wonderful World Of Christmas
* You Make It Feel Like Christmas
* You're All I Want For Christmas
Posted by Ted at 5:18 AM

December 3, 2012 | JL Smith. Kind of Blue.
John Smith is back with a new color and we had to bring it to your attention.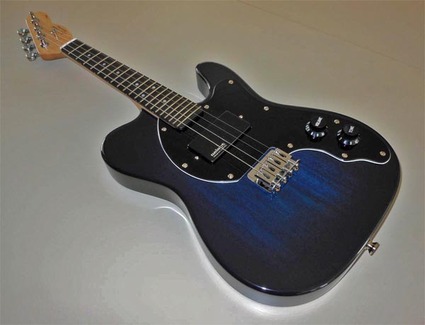 The Florida builder took a little time off in 2010 but is back in the swing again (pun very much intended) and making some great mandolins, and still at a very competitive price. he Tele body extremely well. His 4-strings start at $799, and you can choose from a number of pickup options.
We find the pure tone of his craft so good, we don't even use any effect pedals on the Sea Foam Green JL Smith 5-string we own, just a hearty Fender Blues Junior tube amp for some Porterhouse steak meaty sound. Smith enjoyed a glowing review in Vintage Guitar Magazine in October 2009.
If you've been looking for "next step" electric up from a Mandobird or Saga especially with a Telecaster like sparkle and crack, this would be a great choice.
Builder website: JL Smith Mandolins
Read JazzMando Review: JL Smith 5-string Electric
Posted by Ted at 4:48 AM

December 1, 2012 | Intervals Roasting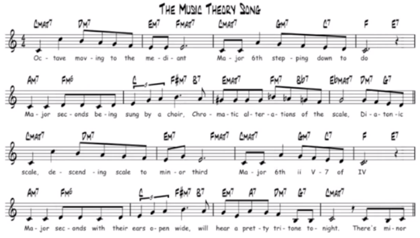 If you haven't already seen this on the internet, you fellow music theory geeks are in for a treat! The catchy, clever reincarnation of a traditional Christmas favorite, "The Music Theory Song" is not only good for a few chuckles but an astounding insight into the nature of interval labels and some harmonic functions. Kudos to David Rakowski and Dave Swenson for this delight.
The Music Theory Song (Intervals Roasting)

May all your supertoncs be prolonged and bright.
Posted by Ted at 5:54 AM