« One last Christmas song for 2012 | Main | Viral mandolin graphic of the year »

December 27, 2012 | 2012 JazzMando news in review
Every December we like to pause and take a look back at the year, all the highlights of news and events that shaped our little world. We started in January with another bout of string issues, the D core mainly being the problem. We think this has been permanently resolved but we always like to remind everyone in case you have a recurrence. Labella has been kind enough to provide replacements, so if you're JM11 D string courses aren't tuning properly, drop us a line. It's probably the string, not your instrument. See article: January Strings Revisited.
We continue to see digital delivery of educational materials expand, and this includes our own Getting Into Jazz Mandolin method available in ebook format as a growing alternative. Between that and the iReal B app for iPhone and Droid, and some of the other stage apps like the unReal Book, it's increasingly common to see performers embrace this new media.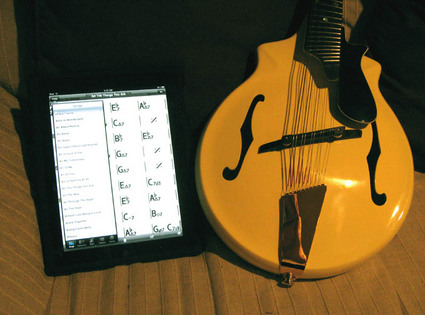 We participated in several articles on the Mandolin Cafe, including a terrific resource for the older instrument, Great Vintage Mandolins Under $1,000. It's always nice to go into a buying transaction armed with a healthy amount of information about the variety of alternatives whether it be your local brick and mortar showroom, ebay, or larger vintage instrument specialist. Speaking of specialist, a favorite experience was our April trip across the pond to Trevor Moyle's little slice of mandolin heaven "The Acoustic Music Company. Some of the best instruments (literally) in the world in this tiny, unassuming storefront a block from the English Channel in Brighton. Trevor's instruments were a delight and our time with him engaging and informative.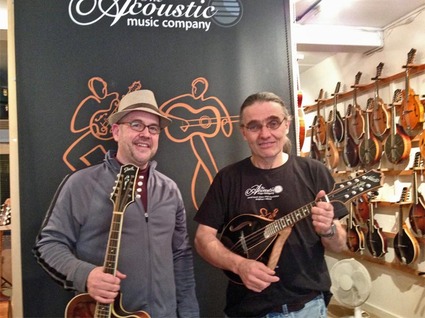 We had some sad news this spring with the passing of Berklee professor John McGann. It shook the mandolin world to bid adieu to this pedagogical giant. We are fortunate to live in an age where so much of his materials and recordings are readily available study and enjoy. We'll forever be Remembering John McGann.
We also said goodbye to Mel Bay's Mandolin Sessions with our final column Tips on improvising from the Pros; The Muse Continuum. Where do good solos come from? We've been told the archives will remain for the time being, but there will be no new issues. Still, nine years is a lot of material to go back and dig through.
On a brighter note, a new 5-string guitar-bodied mandolin from Idaho builder Austin Clark graces the JazzMando studio. This is a chord melody dream come true, the solid accompaniment timbre of a mandola (CGDAE) with the upper register great for lead lines. Check out the pictures, Introducing: Clark JM5 guitar bodied 5-string mandolin!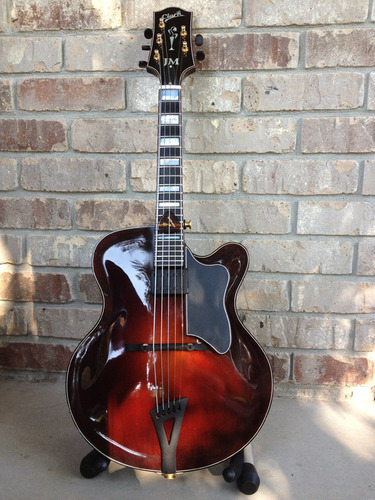 Fingers, Ears, Brain
This summer we did some internal housekeeping around the site. Besides sprucing up the menu categories and submenu arrays, we put a little order to our "Finger Ears Brain" pages. So much of the site is topical and not necessarily methodic, it's a bit like herding cats to put them in some kind of sequence. We did our best to grab 9 years of highlight titles and line them up in an "Animal, Vegetable, Mineral" strategy.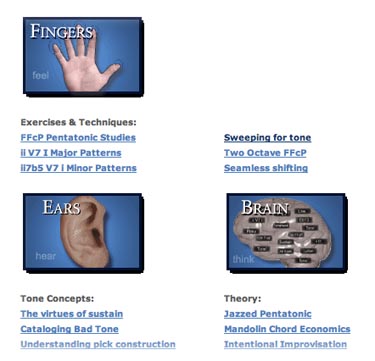 For new materials, we introduced a library of chord blocks you could use in motion, Dominant 7th chord streams and Minor 7th chord streams. Be sure you've printed these off in your library, along with the five part series on vamps later reprised September in the Lesson Archive at the Mandolin Cafe.
We are back in blue again, after commissioning the work of California builder Steve Sorensen in a muse inspiring asymmetrical 2-point mandolin, our own Sprite JM. How appropriate for it to arrive the week of Christmas. Be sure to check out some of the other pictures.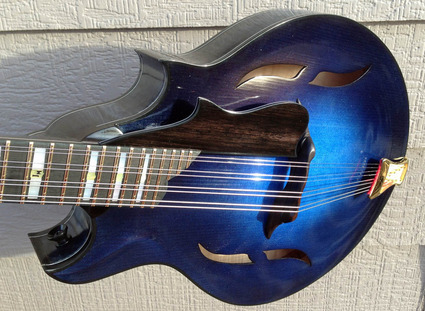 Posted by Ted at December 27, 2012 5:36 AM