« New music from The Swamp Nots | Main | JM11 Strings now available in bulk pricing »

April 29, 2012 | Mel Bay publishes the last of the Mandolin Sessions
We knew it was final, so we pulled out all the stops. In March, the writers of Mel Bay's Mandolin Sessions were informed the series was coming to an end, and the April/May 2012 would be the curtain call. The near decade long run would be over.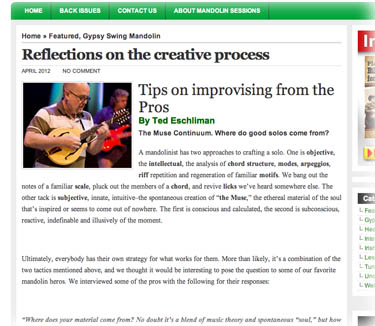 We decided to go for it and make this one really count. In multiple interviews, we solicited the insights of a dozen of some of the world's most superb jazz mandolin artists asking them to offer their thoughts on improvisation, We asked the question below of Michael Lampert, Don Julin, Craig Schmoller, Jason Anick, Jamie Masefield, Will Patton, Danny Williams, Aaron Weinstein and Scott Tichenor. These are names you are very familiar with if you've been around JazzMando for long. Sadly, our interview was one of the last one's of the late John McGann who passed away suddenly in April. We also received some additional words of clarity from David Grisman and Mike Marshall.
The question:
"Where does your material come from? No doubt it's a blend of music theory and spontaneous "soul," but how would describe the sparks in your individual creative process? What are the elements, how do other great artists or other ensemble members impact your playing, what makes for a more satisfying solo for you, your bandmates, and your audience?"
Their answers won't necessarily surprise you, but at minimum, a healthy review of what music theory means to the whole process, in their fingers and ears. We're sure you'll also pick up some new ideas, too. Please take the time to read the article, and as a show of your support, give us a 5 star rating and/or weigh in with a user comment as a show of support.
Thanks for reading!
Article link:
Tips on improvising from the Pros; The Muse Continuum. Where do good solos come from?
Read more from the Jazz Mandology archives.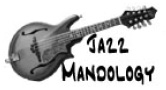 Posted by Ted at April 29, 2012 5:35 AM