« Spotlight: Sorensen "Sprite" mandolin | Main | Mel Bay publishes the last of the Mandolin Sessions »

April 27, 2012 | New music from The Swamp Nots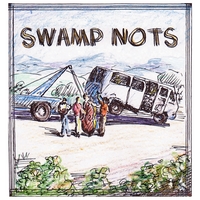 Performing Old Time music can be a bit like walking near the third rail. Like preserving the purity and vibe repairing a vintage instrument, one takes risk messing with "tradition" straying too far from the music's purity. You avoid inflicting modern pieces and parts on the instrument out of convention, sometimes even at the expense of enhancing pure functionality, just like you don't throw a #9 chord on a classic folk tune, at least intentionally. That said, North Carolina mandolinist Gary Silverstein and his cohorts in The Swap Nots have managed to gather a 14 song collection of historical classics (some originals) of ragtime, old jazz, swing, klezmer, dixie, cowboy folk, bluegrass, and something called hokum blues, and injected a pleasing personal flavor in the whole process.
The music is a delight to listen to, performed masterfully well by a corps of players along with some special guests, and recorded with some quality studio expertise. We didn't really know what to expect at first listen, but the sheer personality of it all made the CD hard to put down. The music is infectious, precise, and convincing. The throaty vocals of vocalist Benny Moore are surrounded by first class picking, guitar, Hawaiian steel guitar upright bass, banjo, and the melodic winds of trombone, clarinet and harmonica.
Gary's mandolin stylings are superb. He's a confidently great player, and this is some of the best 8-string you're going to hear in a body of music that spans widely over ten decades. Just from a "museum" perspective, we'd recommend putting the project in your library. It's an entirely different face of jazz mandolin.
Yes we heard some covert Major 7th chords in one of the tracks. But we promise not to tell...
Purchase information: The Swamp Nots
"A bringing together of old time jazz and old time mountain music with a touch of Klezmer by seasoned players who's love and respect for the music is paralleled by their exuberance and desire to make the music their own."
Tracks:
1. Dippermouth Blues
2. My Darling Nellie Gray
3. High Society
4. Yes Pappy Yes
5. Sleepwalk
6. Paper Or Plastic
7. Elul/Hunn, Panni Nachella
8. Little Stream of Whiskey
9. Panama
10. Left All Alone Again Blues
11. Cumberland Blues
12. Hangman's Reel
13. An Old Watermill By a Waterfall
14. Russian Waltz
Video Link: The Swamp Nots; My Darling Nellie Gray

More from their YouTube Channel
Posted by Ted at April 27, 2012 4:56 AM