« March 2012 | Main | May 2012 »

April 29, 2012 | Mel Bay publishes the last of the Mandolin Sessions
We knew it was final, so we pulled out all the stops. In March, the writers of Mel Bay's Mandolin Sessions were informed the series was coming to an end, and the April/May 2012 would be the curtain call. The near decade long run would be over.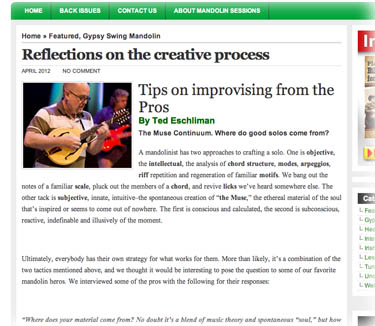 We decided to go for it and make this one really count. In multiple interviews, we solicited the insights of a dozen of some of the world's most superb jazz mandolin artists asking them to offer their thoughts on improvisation, We asked the question below of Michael Lampert, Don Julin, Craig Schmoller, Jason Anick, Jamie Masefield, Will Patton, Danny Williams, Aaron Weinstein and Scott Tichenor. These are names you are very familiar with if you've been around JazzMando for long. Sadly, our interview was one of the last one's of the late John McGann who passed away suddenly in April. We also received some additional words of clarity from David Grisman and Mike Marshall.
The question:
"Where does your material come from? No doubt it's a blend of music theory and spontaneous "soul," but how would describe the sparks in your individual creative process? What are the elements, how do other great artists or other ensemble members impact your playing, what makes for a more satisfying solo for you, your bandmates, and your audience?"
Their answers won't necessarily surprise you, but at minimum, a healthy review of what music theory means to the whole process, in their fingers and ears. We're sure you'll also pick up some new ideas, too. Please take the time to read the article, and as a show of your support, give us a 5 star rating and/or weigh in with a user comment as a show of support.
Thanks for reading!
Article link:
Tips on improvising from the Pros; The Muse Continuum. Where do good solos come from?
Read more from the Jazz Mandology archives.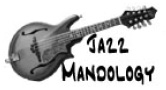 Posted by Ted at 5:35 AM

April 27, 2012 | New music from The Swamp Nots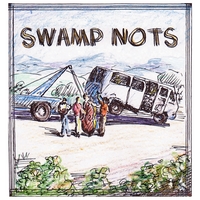 Performing Old Time music can be a bit like walking near the third rail. Like preserving the purity and vibe repairing a vintage instrument, one takes risk messing with "tradition" straying too far from the music's purity. You avoid inflicting modern pieces and parts on the instrument out of convention, sometimes even at the expense of enhancing pure functionality, just like you don't throw a #9 chord on a classic folk tune, at least intentionally. That said, North Carolina mandolinist Gary Silverstein and his cohorts in The Swap Nots have managed to gather a 14 song collection of historical classics (some originals) of ragtime, old jazz, swing, klezmer, dixie, cowboy folk, bluegrass, and something called hokum blues, and injected a pleasing personal flavor in the whole process.
The music is a delight to listen to, performed masterfully well by a corps of players along with some special guests, and recorded with some quality studio expertise. We didn't really know what to expect at first listen, but the sheer personality of it all made the CD hard to put down. The music is infectious, precise, and convincing. The throaty vocals of vocalist Benny Moore are surrounded by first class picking, guitar, Hawaiian steel guitar upright bass, banjo, and the melodic winds of trombone, clarinet and harmonica.
Gary's mandolin stylings are superb. He's a confidently great player, and this is some of the best 8-string you're going to hear in a body of music that spans widely over ten decades. Just from a "museum" perspective, we'd recommend putting the project in your library. It's an entirely different face of jazz mandolin.
Yes we heard some covert Major 7th chords in one of the tracks. But we promise not to tell...
Purchase information: The Swamp Nots
"A bringing together of old time jazz and old time mountain music with a touch of Klezmer by seasoned players who's love and respect for the music is paralleled by their exuberance and desire to make the music their own."
Tracks:
1. Dippermouth Blues
2. My Darling Nellie Gray
3. High Society
4. Yes Pappy Yes
5. Sleepwalk
6. Paper Or Plastic
7. Elul/Hunn, Panni Nachella
8. Little Stream of Whiskey
9. Panama
10. Left All Alone Again Blues
11. Cumberland Blues
12. Hangman's Reel
13. An Old Watermill By a Waterfall
14. Russian Waltz
Video Link: The Swamp Nots; My Darling Nellie Gray

More from their YouTube Channel
Posted by Ted at 4:56 AM

April 25, 2012 | Spotlight: Sorensen "Sprite" mandolin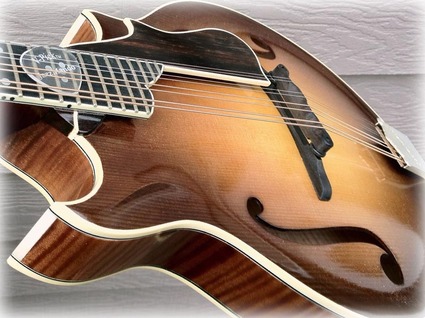 One of our favorite activities here is introducing new and upcoming builders to the world. Sure there are selfish reasons, passing around exciting instruments under the guise of "work and research," but there's also an altruistic element--connecting you the reader with some very talented, but maybe lesser known craftsman. Our latest entry is from southern California, Steve Sorensen, who already has a magnificent head start on a promising career with wood and strings.
We've had a week with a delightful asymmetrical 2-point mandolin, his signature "Sprite" model. Street priced at well under $3K, this is a builder you'll want to keep an eye on.
He's got some great stuff going on!
Read article: Sorensen "Sprite" Asymmetrical 2-point mandolin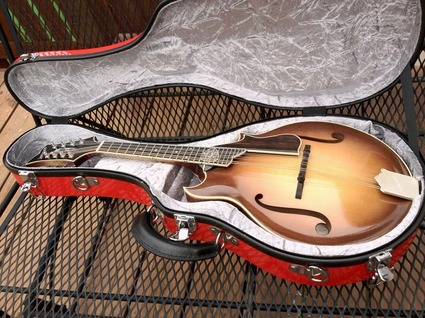 Posted by Ted at 5:15 AM

April 23, 2012 | JazzMando Case Lid Sticker. What's up?
No doubt you've had that sick feeling carrying your case and looking down to see one of the latches unclasped as you're transporting your instrument. It's a little like jumping out of a plane, the stomach turns at the notion of what might have happened if the other latch came undone.
The other common case incident with some models is the upside-down open. Some of the more symmetrical designs make it hard to know which end is up, and we've got the answer, our recently designed JazzMando Case Lid Sticker.

Actual size = 13/16" x 2-11/16"
We include these complimentary with pick and string orders, but if you'd like two free ones, you can also send us a self-addressed, stamped envelope (US only, please). Email for the address.
For ordering information: Free JazzMando Case Lid Stickers
First, some legalities...
Product Warnings:
Sticker not to be taken internally.
Do not apply sticker under water.
Choking hazard. Do not crumple sticker backing into a ball and give to toddler or infant.
Do not use instrument near fire, open flame, or sparks.
Do not attempt flips or acrobatic stunts while opening case.
Do not adhere sticker to eyes; may cause irritation.
Sticker not intended for highway use.
Case will become hot after heating.
Do not use in shower.
Do not use instrument while sleeping or unconscious.
Playing "Rocky Top" may cause stomach irritation or drowsiness.

Posted by Ted at 5:34 AM

April 21, 2012 | Ten years of FFcP
A year before the JazzMando website first came out in 2003, a new way of looking at the mandolin fretboard had been conceptualized and put into notation and TAB. In it's early stages, it didn't even have a name. Credit goes to Dion Dolamon for coming up with this acronym FFcP, "Four Finger closed Position."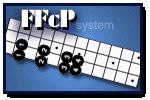 The idea was relatively simple. Because of the symmetry of 5ths tuning, the mandolin fretboard could be unraveled, reduced as variations on only four fingerings, not the traditional 12 keys. Thinking in note relationships rather than the notes of the scales themselves, both mental and physical framework could be fast-tracked for anyone wanting to be able to play up, down, and across the fingerboard.
We've had fun over the years expanding the concept in drills and exercises introducing major and minor modes, chord progression arpeggios, intervals, and even pentatonics. The concept became the cornerstone of the Getting Into Jazz Mandolin book.
Initially, the goal was to make the so called "horn keys" less intimidating--an Ab was simply an A scale one fret down. An Eb was one fret up from a D scale. What we found though was that putting more responsibility on the 4th finger also helped develop fret dexterity as well as player endurance. The drills were as much calisthenic as mental prescience.
Make no mistake, the FFcP is just as beneficial to the folk/bluegrass musician as the jazz or classical. What goes on in the lower frets is easily duplicated in the upper stratosphere, no need to fear the "no money" zone above the 7th fret. It's tremendous for 3rd and 4th finger "character," too.
Celebrate with us the ten years we've been able to launch many mandolinists into a new level of skill!

Check out our most recent Tips and Tricks article FFcP vs Closed Fingerings Scales.
Download the full complement of complimentary PDF FFcP Studies
Want to talk about it? Join our social media connections, either through our Twitter account or Facebook.

Posted by Ted at 5:35 AM

April 19, 2012 | New 2012 Mandolin Sessions (Feb/March): Tackling Tough Licks
"Better late than never," they say. In case you were wondering why the current 2012 issues of Mel Bay's Mandolin Sessions had dropped off the map we're happy to say the good news is the new February/March edition is now up. The bad news is the April/May edition will be the series curtain call. We've enjoyed participating in this since 2003, and happy to report all 50 archived articles will remain in the archives indefinitely.
In this one we look at effective ways of perfecting difficult passages. The effective solution comes more from the perspective of written notation, but the ear player can also aurally "pencil in" those tough licks and use the same approach. Start by isolating problem areas, and we find this is the biggest hurdle to eliminating errors--acknowledging they are even there.
Next step is to start with the very last measure (or group of notes) of the section and perfect it. Play nothing more until you do. Next, play the preceding measure, polish it, and combine the two newly reconditioned measures as a finely honed pair. Repeat the process by adding more measures one at a time, until you get to the front. The reasons for this are motor and synapse, explained in our article. We've included part of a Bebop tune to demonstrate.
Read all about it!
View link: Tackling Tough Licks: Learning it all backwards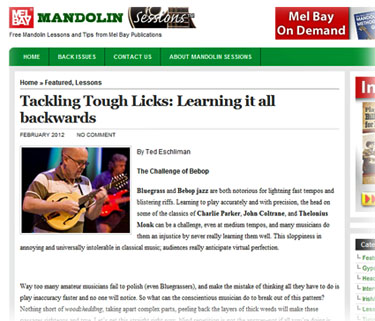 Feel free to weigh in with comments and ratings.
Read other JazzMandology topics: Mandolin Sessions Archives
Posted by Ted at 6:27 AM

April 17, 2012 | D string core issue re-emerges
We mentioned in an article three years ago some problems we had with the D string cores of the JM11 flatwound mandolin strings we've offered through the website for quite some time now (see JM11 String Consumer Alert). Despite a very clean record with over 800 sets of strings since, the problem with the handmade string has intermittently re-emerged. We've had a handful of such reports the last couple months and in the pursuit of maximum quality control, we're publicly registering the concern.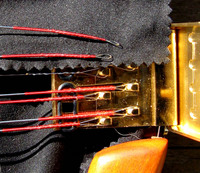 What is happening is in manufacturing, some of these were wound imperfectly at the loop, ultimately affecting the string's core and making it impossible to intonate correctly up the fretboard. Unfortunately, the flaw is undetectable to the eye, and only manifests itself when fretting the new string past the 6th and 7th frets. They can almost be a 1/2 step flat up at the 12th fret.
We've enjoyed tremendous success with the JM11 JazzMando flatwound strings made by Labella, having recently expanded to the JD13 mandola version, and last year, the JM10B ball-end electric mandolin. We continue to try to improve the product, including making adjustments to the length of the playing area (between the silk windings) and reinforcing the loop on the .011 gg E string. Of course the Mandola strings were lengthened nearly two inches to accommodate a wider range of scale lengths and tailpieces.
The D-string problem will show immediately once tuned. If you do notice this, let us know. These are still a terrific string and quite popular; we've shipped them though out the US and Canada and to many corners of the globe.. We intend to go the extra mile and work with the manufacturer closely to keep them that way.
Let us know (see contact) when you ordered the strings if you run into this isolated incidence.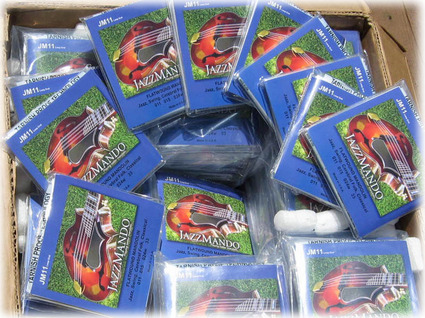 Posted by Ted at 5:51 AM

April 15, 2012 | Naima--John Coltrane; solo mandolin
A popular jazz standard, Bebop pioneer John Coltrane's "Naima" was a refreshing change of scenery from the fast moving sound of the tenor sax legend. Written for and named after his wife in 1959 and covered by dozens of the world's greatest jazz artists, the song is known for its rich chords over an uncharacteristically restrained bass, the soulful ballad was haunting and colorfully lyric.
Our Italian friend, Patrizio Petrucci of the Sequoia Bisquits sent us this delightful rendition on the mandolin.
Video link: Patrizio Petrucci "Naima"

More progressive acoustic folk music from the Sequoia Bisquits: Legno Liquido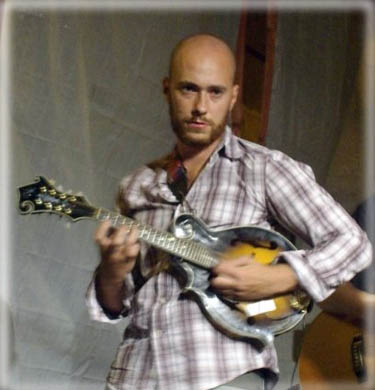 Posted by Ted at 6:43 AM

April 13, 2012 | New Blues Mandolin Fretboard Toolbox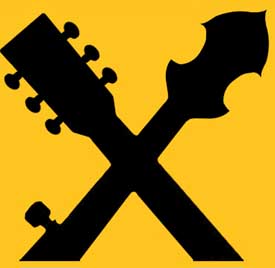 For those of you who might be new to the game of unraveling the mandolin and the theoretical geography of the fretboard, we mentioned last year's introduction of Scott Sharp's Fretboard Toolbox. (See archive.) One who would want to step back and visually assess in a graph format might appreciate the pages of fingering charts of basic concepts like Major and Minor Scales and Pentatonics.
New to the series is the same approach, devoted to understanding the Blues. Scott presents the Blues Mandolin Fretboard Toolbox. He weighs in, "The cool part about this edition is that it shows both the Major and minor pentatonics for each key on the same page. So, for the key of E Major, you'll see both the E Major pentatonic and the E minor pentatonic at the same time. In this book, the minor pentatonic notes are in white boxes and the Major pentatonic notes are underlined. The 1 and 5 notes are found in both scales, so they are both underlined and in white boxes. This makes a lot of the chromatic runs make much more sense, and it allows people to see just what kind of cool sounds you can get from playing minor pentatonic scales over Major chord progressions, and moreover, it shows you this info in each of the Major keys!"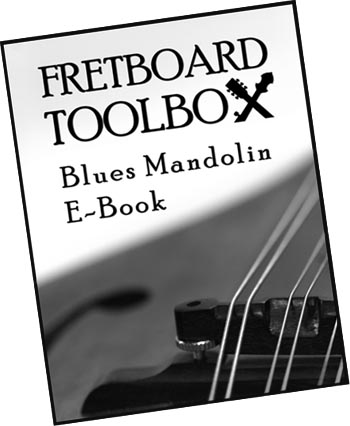 $12.99 print copy, $6.49 ebook
More information: Blues Mandolin Fretboard Toolbox
Visit website: Fretboard Toolbox
Free Samples: Free pages!
Other instruments available, too!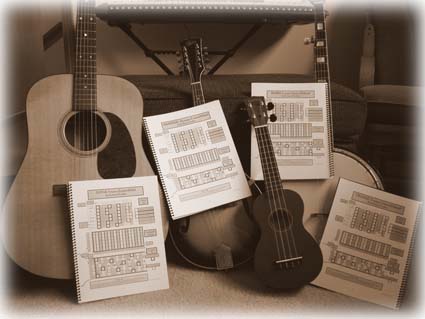 Posted by Ted at 5:39 AM

April 11, 2012 | Planet Waves NS Mini Tuner special, $10.95!
You probably aren't going to find a better price than this for a while. Part of the Dietze Music doorbusters special for their April Guitar Month celebration, the Planet Waves PW-CT-12 "NS Mini" tuner for only $10.95!
The clip-on tuner's immediate, easy to see response and low profile make it a winner for the the headstock of the mandolin--no awkward projection over the top and front for your audience to be able to tell you you're out of tune, too. We think its the best answer for mandolin on the market.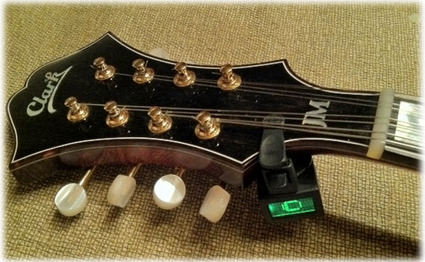 Purchase online: PW-CT-12 NS Mini clip tuner
Mention JAZZMANDO SHIP $4.50 in the comment field and get default reduced shipping charge.
Read archive review.
Posted by Ted at 4:53 AM

April 9, 2012 | The Acoustic Music Company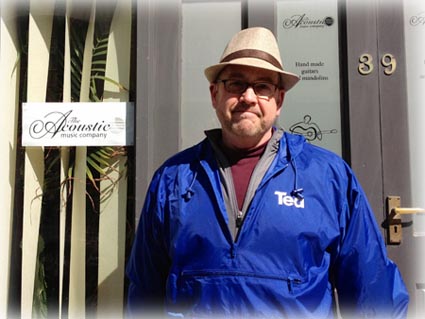 To tout a music store has "the best selection in the world" can come off like so much hyperbole. However, when you're talking a collection of cutting edge mandolin builders, one would be hard pressed to not include Brighton's The Acoustic Music Company on the list of candidates for the claim.
We had the pleasure of hooking up with the store's charismatic founder Trevor Moyle on a 4000+ mile pilgrimage to the United Kingdom recently. A delightfully scenic 75 minute train ride from Central London on Britain's National Rail was convenient, relatively inexpensive, and Brighton itself was pleasantly enchanting from the moment we stepped off the train. The town is a thriving tourist stop, and with a good arm, the storefront is literally a stone's throw from the English Channel.
Though barely over a decade old (2001) TAMCO has become an international rally for the work of premier American builders including Austin Clark, Andrew Mowry, Jonathon Mann, Hans Bentrup, Michael Heiden, Bill Bussmann, Mike Kemnitzer, and a few cottage builders like Bruce Weber and Pete Langdell's Rigel mandolins. There may be an occasional smattering of vintage Gibsons (one was being sold during our visit), but Trevor's passion is in the more modern design of today's progressive builders. This is where his inventory stands head and shoulders over any other selection.
In the world.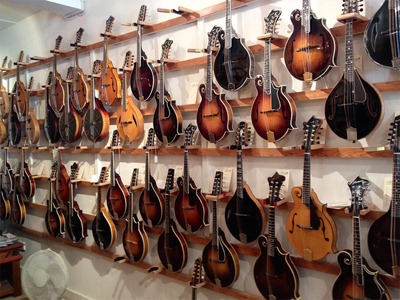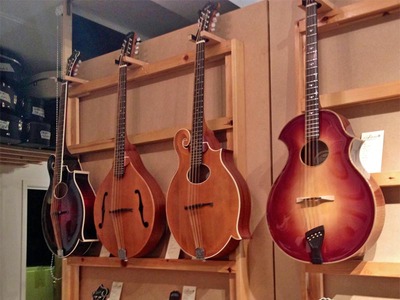 Not many places you will find more than four mandocellos on one wall, and we were thrilled to get our hands on an Austin Clark 'cello for the first time. Bright and lively, the instrument was everything we expected and more. His wall featured several of Austin's wares.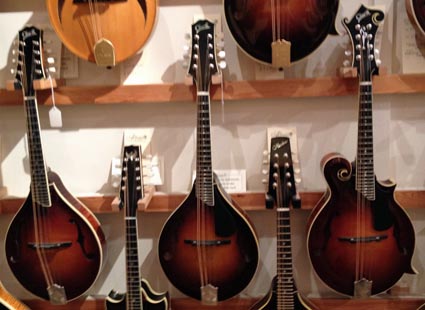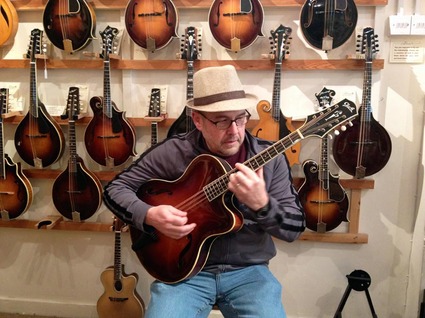 Trevor's passion for form is manifested in the commissions of several builders with his own personal design thoughts and tweaks. He showed us some of his headstock and fret ideas manifested a few of his own Mowry instruments.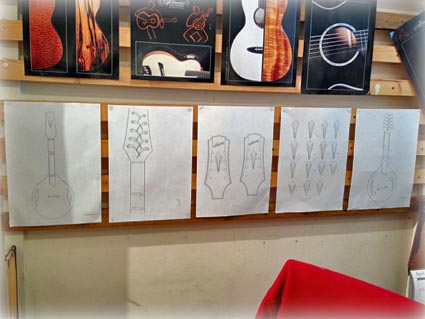 He also has a taste for some eclectic treasures, like a rare Gibson Mando bass, a Rigel I-110 "Cyclops" mandolin (only three made that we know of), and a stocks a pair of vibrant National resonator mandos.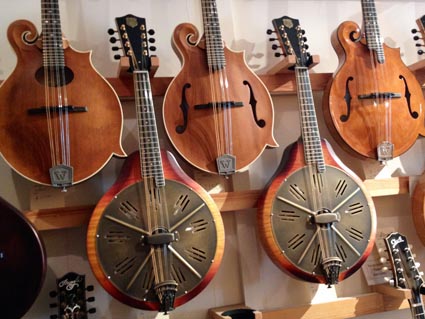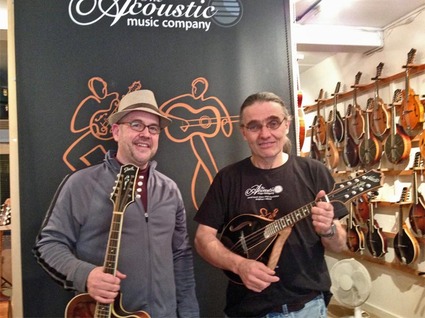 Trevor confessed recent struggles with the insane government paperwork necessary to ship to the US. Between dealing with the burdensome CITES documentation and taxes, he has been unable to export to the American clientele, but we'd offer the selection is worth a ticket to the UK just to visit his store. Brighton itself is a great diversion, and a pilgrimage to The Acoustic Music Company is one you won't forget.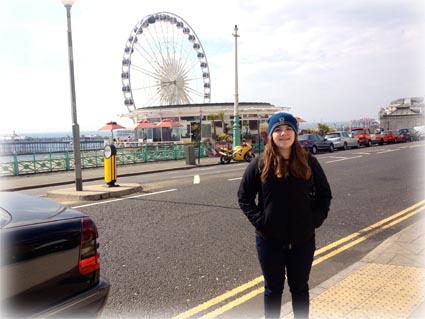 View one block away (pictured, staff assistant Erica Nicole Eschliman).
Website: The Acoustic Music Company
Come to Brighton!
Posted by Ted at 5:47 AM

April 7, 2012 | Remembering John McGann
We're saddened at this week's sudden loss of the man, the musician, the philosopher, published author, and mandolin pioneer, Berklee School of Music Professor John McGann. We had just wrapped up an upcoming MandolinSessions article on the improvisational process picking the brains of several of the world's leading mandolinists, including the words of the great Boston based multi-instrumentalist.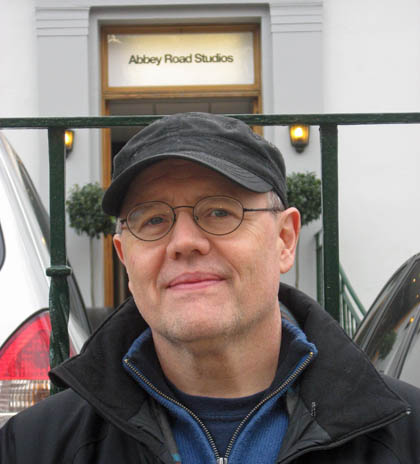 RIP John McGann 1959-2012
The above souvenir picture was one he shared with us during that conversation, from a recent trip across the pond, a testament to his long time admiration for the iconic Liverpool's lads. His Celtic talents are exposed on a high level with his acoustic wizardry with Brian Hebert on their session picker's tribute to the Beatles, "Any Time at All." Equally exemplary was his jazz chops on mandolin, guitar, and octave mandolin, and you can find several compelling examples on his YouTube channel. We're particularly fond of his strange, delightfully twisted bluegrass smorgasbord with the Wayfaring Strangers.
His recent thoughts on the creative process, "I believe that the left side of the brain, the 'information processor,' is used when studying chords, scales and modes. These all represent sounds to be cataloged. We can practice these things slowly, until our intuition, in the right side of the brain, can deal with them. When we solo in real time, the right side of the brain is more engaged, with the "inner ear" and emotions, and there is less 'conscious thought' involved. In my case, I need to know what the chord changes are, and where I am in the form, to comfortably improvise."

We'll miss John's incredible artistry, but most of all appreciated was his deep mentoring.
Read the Mandolin Cafe archive interview with him: 10 Questions for John McGann
Posted by Ted at 5:13 AM

April 5, 2012 | New music from Michael Lampert; Ephemeral
There's Smooth Jazz, then there's jazz that's just plain smooth. The former is the elevator, Kenny G stuff that gets a bad rap because it's not especially adventurous, often palate cloying. Then there's the Wes Montgomery kind of jazz, where the ear willingly envelopes the challenging maturity of the complicated nature of jazz like drinking a smooth, earthy Merlot.
The latter is the case with the music of Los Angeles area jazz musician, electric mandolinist Michael Lampert. After an eight year hiatus from his last recording, Blue Gardenia, he's released a delicious new one with his liquid electric tone on the Sojourner label, Ephemeral. The track "Fluted Forest" has become an enchanting personal favorite, hauntingly lyrical, a sweet melancholy atypical of his previous projects. There are a couple reissued alternate tracks included in this, his third, but plenty of new material here to satisfy the longtime Michael fan, and of course, harvest some new ones. Of course you'll find a healthy amount of his signature blues, not the edgy in-your-face approach, typically more of an intelligent blues "contemplation." Provoking, but not primitive or raw.
We asked the artist recently about his creative process, where his material comes from. "I've spent many years searching different sources (written and otherwise) in order to broaden my creative choices when given the opportunity to take a solo. To play jazz solos, it is imperative to listen to jazz solos. While I certainly have my favorites (including John Coltrane, Lester Young, Thelonious Monk, Grant Green, etc.), there are literally hundreds of great players (actually thousands) who I could listen to all night ( and in fact I have). Without having some sort of idea of how a solo might sound, it's very easy to lose one's way. I probably learned the greatest amount from my teacher Harry Leahey. He emphasized chord construction, chord alteration, and extensions and substitutions and the application of the modes and synthetic scales to that end. I also took lessons from Charlie Banacos, John Carter and an important lesson or two from Dave Pike (among other); they all taught me important concepts that were based upon their personal approaches."
Download CD: Michael Lampert; Ephemeral
Purchase from artist: Sojourner Records

Track listing
1. Lisa's Allman Blues
2. Fluted Forest
3. Cow Blues
4. Like Jelly (alternate take)
5. Prisoner of Love
6. Blues for Buddy Boy
7. Pres-ly (take two)
8. Ephemeral
Previous reviews:
Blue Gardenia
Jacaranda

Posted by Ted at 4:58 AM

April 3, 2012 | Dogs Playing Mandolin Bib
One thing infants do have in common with dogs, they can't play a G-chop either. So it makes perfect sense for them to have a bib with our take on the classic "Dogs Playing Poker" with "Dogs Playing Mandolin." If you have a friend or relative that just had a baby, this is the perfect novelty gift item. They will remember you every feeding time.
Now on sale that the JazzMando Logo Store for $17.99, its easy-wash 100% jersey cotton provides great upper body coverage to protect baby's clothes. The sturdy closure makes this one-size bib fit newborns to 36 months. Measures 9" x 15" top to bottom and 9" x 10" bottom to collar.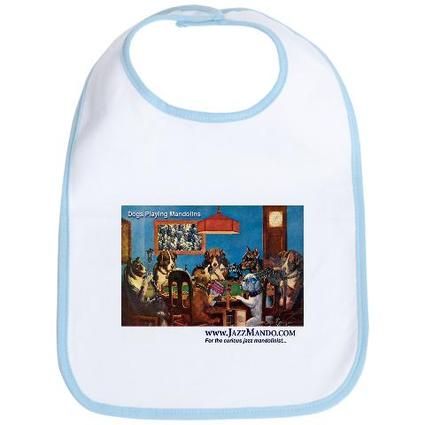 Purchase: Dogs Playing Mandolin Bib
While you're there, pick up a few of our "Mandolinist Perspective" stickers. The durable 3x5" 4m vinyl would look terrific on anyone's case. Enjoy these and many other items at the JazzMando Logo Store.
All profits go toward maintaining the resources at this site.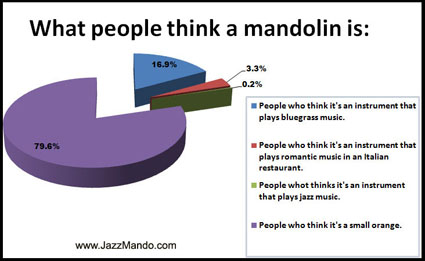 Posted by Ted at 1:00 AM

April 1, 2012 | Amazing video from Pyrite, MO mandolinist.
We've all been amazed by the fretboard and picking prowess of Evan Marshall and Hamilton de Holanda, and others who have perfected the Duo Style of playing mandolin. You close your eyes and you think you're hearing two musicians playing at once.
We want to show you some of the coolest playing ever, the illusive Quadro-style, flat picking that can make one sound like four people playing. This is actually performed with two simultaneous, independently working flat picks. Believe your ears--one person!
Amazing...
The technique is demonstrated adeptly in this startling YouTube video, by an up and coming young artist, Jeraldo Prank from Pyrite, Missouri. The relatively unknown artist from the Show Me State is making quite a name for this technique, although you'll quickly see this is no parlor trick. Over six minutes of unadulterated, pure picking prowess.
Celebrate the first day of April. Take a break and discover something truly profound.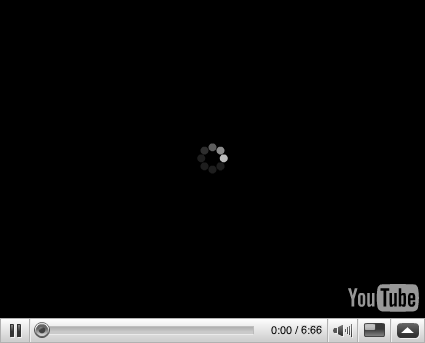 Click embedded video above. Be advised the stream is popular and under heavy use. If unsuccessful, be patient and keep trying..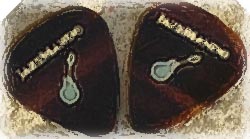 Posted by Ted at 2:01 AM