« D string core issue re-emerges | Main | Ten years of FFcP »

April 19, 2012 | New 2012 Mandolin Sessions (Feb/March): Tackling Tough Licks
"Better late than never," they say. In case you were wondering why the current 2012 issues of Mel Bay's Mandolin Sessions had dropped off the map we're happy to say the good news is the new February/March edition is now up. The bad news is the April/May edition will be the series curtain call. We've enjoyed participating in this since 2003, and happy to report all 50 archived articles will remain in the archives indefinitely.
In this one we look at effective ways of perfecting difficult passages. The effective solution comes more from the perspective of written notation, but the ear player can also aurally "pencil in" those tough licks and use the same approach. Start by isolating problem areas, and we find this is the biggest hurdle to eliminating errors--acknowledging they are even there.
Next step is to start with the very last measure (or group of notes) of the section and perfect it. Play nothing more until you do. Next, play the preceding measure, polish it, and combine the two newly reconditioned measures as a finely honed pair. Repeat the process by adding more measures one at a time, until you get to the front. The reasons for this are motor and synapse, explained in our article. We've included part of a Bebop tune to demonstrate.
Read all about it!
View link: Tackling Tough Licks: Learning it all backwards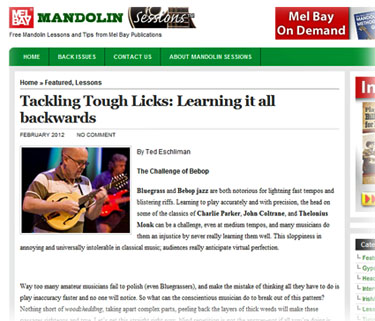 Feel free to weigh in with comments and ratings.
Read other JazzMandology topics: Mandolin Sessions Archives
Posted by Ted at April 19, 2012 6:27 AM