LABELLA JM11 JAZZMANDO STRINGS
Easy on the fingers. Easy on the ears.
NOW SHIPPING!

Exclusively at JazzMando.com for only $29.95 for two sets (Mfg. List Price $32.95 each,), one set, $17.25. Shipping included! (Continental USA customers, international orders see below)

Jazzmando Flatwound Strings for Jazz, Swing, Cerebral Folk, and Classical Music.

About the JazzMando JM11 Set:
We would never sell short the purity of tone and impeccable German engineering of the Thomastik TI strings. Yet, if there were any consistent criticism of the TI's it would be price and projection. JazzMando has had the opportunity to work with Labella Strings to offer a specifically "Jazz" designed string. Strung low and light, their flatwound steel strings are the answer to a Maiden's Prayer for the player who plays in closed position more than open strings, as in jazz, swing, cerebral folk, and classical music.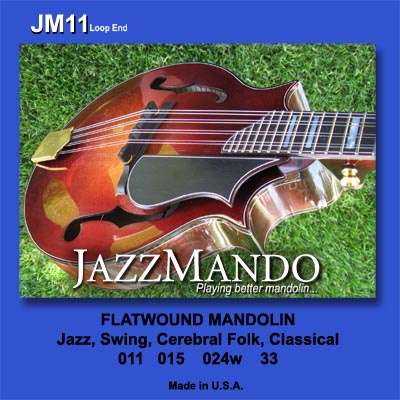 Prices current as of 6/27/2011
We've produced a set to give you maximum tone in the treble but facility and harmonic fundamental in the bass range with the JazzMando JM11. In the interest of tone and melodic punch, the E course is an .011 for clear chord melody playing. We've avoided an unnecessarily stout wound A (chronically fragile), opting instead for a plain 15, which incidently helps the cost. The wound .024 and .033 on the D and G courses are light enough to keep endurance and facility for those "Jethro" keys of Ab, Eb, and Db. Chromatic music styles demand good closed finger control, and this combination should help the player avoid fatigue.
The polished Flatwound have a much closer, tighter wrap which resists corrosion and wear from oxidation and player perspiration. The steel alloys lends a crisp "punch" for a "bell-like" attack and articulation. Player comfort from the smooth strings makes these feel as great as they sound!
Though initially designed for jazz, these will also work well for the Classical mandolinist and Choro musician. They won't "spank" banjos in a loud acoustic setting, but they will give you definition and a warm character for more intimate solo and small ensemble environments.
What else makes JazzMando Strings special: You already knew strings will wear from playing. Skin oils, picking, and longterm vibration cause the string to decay and lose tone over time. What you may not be aware is oxidation in the package has the same residual effect! Other brands of strings hanging on a store shelf can be purchased new, but suffer the hidden effects of months, if not years of deteriorating right in the package. Labella's proprietary four-step process, including "Tarnish Proof Technology" means your strings are delivered factory-sealed, freshness second to none. JazzMando order procedure takes this a step farther, ordering in smaller case quantities to assure maximum string vitality.
---
INTERNATIONAL ORDERS (outside US & Canada): PLEASE SEE ADDITIONAL SHIPPING CHARGE BELOW
Click to order:
Buy in TWOs and save! $29.95 for two
Better to have a spare set anyway...
.011 plain .015 plain .024 wound .033 wound
Labella Custom Gauge Flatwound Strings

---

JM11 (med-light)

$17.25

(Single set only)

12 sets JM11 (bulk pricing)

$145.00

(Saver's Pack)

---
---
String orders generally will ship the same or next day, First Class USPO.
---

(Qualified) First-Class Mail© International Extra Shipping Charge
If you are from outside the US, you must include a $10.00 charge for USPS First-Class Mail© International. If your shipment needs to go international, you can add International to your shopping cart here, $7.00 for Canadian with the following options:
Clicking this will add $10.00 for International Shipping to your shopping cart.

---
Canadians: Clicking this will add $7.00 for Canadian shipping to your shopping cart.

---
(Qualified) First-Class Mail© International Extra Shipping Charge

USPS First-Class Mail© International and Canadian information
---
A satisfied customer weighs in:
I focused on the wound strings in particular. The D'addario's were slightly louder and had that round-wound high end. However, for what I do, which leans a bit more toward jazz, this brassy twang ring is actually something we were trying to overcome. The JazzMando set is WAY more balanced and even in tone across all the strings and WAY easier to play. I would imagine that players using a lot of open strings for fiddle tunes might miss that aggressive round-wound open ringing string sound - But jazz voicings and lines demand the flatwounds, and that became really clear when these strings fixed a lot of what I was struggling to eliminate!
These string are just what I want!
C.E.S
Minnetonka, MN
Now available for Mandobirds and many solid body electrics: JazzMando JM10B Ball-end electric sets!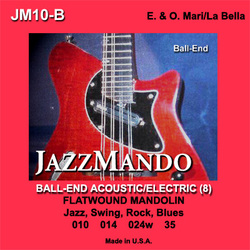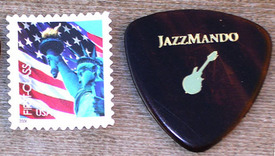 Need a good pick, too? Check out the new JazzMando Signature ProPlec Pick.