« April 2012 | Main | June 2012 »

May 31, 2012 | Johny Gimble vid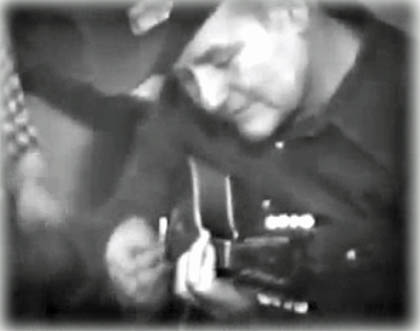 We don't often get treated to a video recording of the legendary Texas swing multi-instrumentalist, Johnny Gimble on mandolin (better documented for his fiddle mastery), but our friend Scott Tichenor caught this gem yesterday on the artist's May 30th birthday. Some great stuff and many might not know that he played his electric mandolin with a CGDA tuning. Check out the 40 second solo at around 1:05.
Video Link: Johnny Gimble jams with Doc Guidry

Posted by Ted at 5:21 AM

May 29, 2012 | Cafe Classified enhancements. Multiple pictures!
We mentioned last week the incredible changes in the Classifieds sections over at MandolinCafe.com. We have an ad prototype demonstrating the multiple picture capability. This should greatly enhance communication between buyer and seller.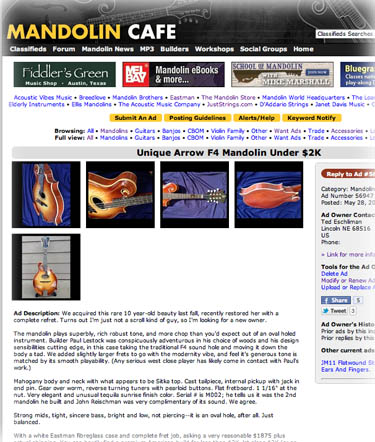 We encourage you to take the picture opportunity seriously when you post a sale. There's little that helps increase the sale price of a good instrument better than a well lighted and sharply focused picture. It also gives the seller the opportunity to point out any flaws upfront--prior to the sale squelching potential buyer remorse when these are pointed out prior to cash exchanging hands.
Also, we want to mention this ad was posted earlier with a higher price on the Arrow F4, originally with a Bobelock case. The package can now be purchased for $120 cheaper with a quality used Eastman fiberglass case for only $1875. Hard to find an American made F4 of this caliber at this price.
View link: Unique Arrow F4 Mandolin Under $2K

Posted by Ted at 5:59 AM

May 27, 2012 | Astor Piazzolla - Escualo
The beauty of well written instrumental music performed well. The embedded video from Italy really needs no translation, although it doesn't hurt to know the title "Escualo" means shark.
Excerpt from the DVD 'Live in Rome' recorded live at the 'Oratory of the Banner's Quintet Plectrum' Giuseppe Anedda 'Escualo performs Astor Piazzolla
Sit back and enjoy:
Video LInk: A.Piazzolla - Escualo

From the Piazzolla on Video commentary: "The performance by Quintetto Anedda is more precise and controlled than those of Piazzolla but captures perfectly the rhythmic drive of the work which makes it so interesting. The arrangement is respectful of the original but takes full advantage of the staccato, percussive effect of their plectrum created music. These are classically trained musicians and their music has a conservatory feel to it but the jazz roots of Escualo can still be heard. The performance is a good example of the way Piazzolla's music flows easily between the jazz and classical idioms."
More information here: Piazzolla on Video>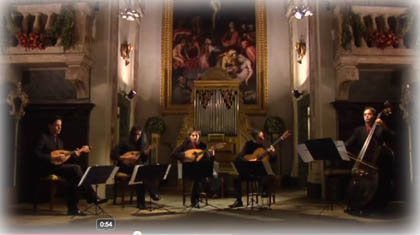 Posted by Ted at 6:43 AM

May 25, 2012 | Changes coming to Classifieds at Mandolin Cafe
Inarguably the foremost online place on the internet to buy, sell, or trade some of the world's best mandolins, the Classifieds section at the MandolinCafe.com website, and it's recently undertaken some minor but important changes to improve the shopping (and selling!) experience. We've had nothing but positive experiences over the last decade transacting our own instruments and accessories, let alone the thrill of everyday window browsing the last decade.
Site Administrator Scott Tichenor has prepared a video to explore some of these changes. Evidently George Clooney was busy, so he's produced the voiceover himself. Review the video below (or click the link). While you're at it, set up your RSS feed to access the sometimes hourly input of dream gear.
Video Link: Changes coming to Classifieds at Mandolin Cafe

Visit MandolinCafe.com

RSS feed: www.mandolincafe.com/classifieds.xml
Shameless plug.
Posted by Ted at 5:14 AM

May 23, 2012 | Ethan Ballinger - Tributaries
One of our very favorite instrumental mandolin "soundscape" CD projects was Tennessee multi-instrumentalist Ethan Ballinger's "Wish Upon a Falling Star." New acoustic jam roots music with a sophisticated jazz sensibility, we haven't found too many alternative acoustic ensemble projects we've liked better. It's just great atmosphere music to tune into or just relax to in the background. We still keep it in rotation.
We came across this live YouTube recording of an early CD Release Show in Nashville four years ago. Great stuff!
View video link: Ethan Ballinger - Tributaries (Live April 3, 2008)

Musicians include Matt Flinner on guitar, Rich Brinsfield on bass, Lee Holland and Patrick Richey on percussion, and of course Ethan Ballinger on mandolin.
Purchase/download CD: Ethan Ballinger's "Wish Upon a Falling Star."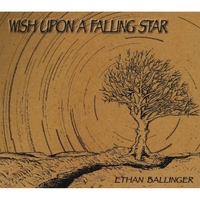 JazzMando archive press: Cookeville Daily News: Ethan Ballinger
Posted by Ted at 5:15 AM

May 21, 2012 | Tame your electric mandolin
The mandolin's soprano register can add a delicious new sonic layer to just about any ensemble. The E string is an octave higher than on an uncapoed guitar, and this puts it in a range that can nicely complement most acoustic stringed instrument. It can also be penetratingly bright. Some might even argue obnoxiously so.
Make the mandolin a solid body and put an electric pickup on it, you increase the level of aural piercing. Of course you can dial the tone controls back on the electric mandolin, pull back the highs and beef of the lows and mids, but it's great when you can start with something arguably warmer, and that's why we are big on flatwound strings for both acoustic and electric mandolin. Granted, in an acoustic ensemble, the mandolin needs all the punch it can muster, but with the added advantage of electrify, this becomes moot.
We introduced the ball-end version of the JazzMando JM11 flatwound string four years ago, and these JM10B strings have been quite a hit. Their smooth comfort and feel help tame the widely popular but out of mass production Mandobirds and Mandocasters, and continue to be highly regarded by customers of contemporary premium builders such as Jonathan Mann, JL Smith, JBovier, and many other current popular cottage craftsman.
If you want a little more tone and a little less rabid bite, give them a try. Sill $16.95 a set (8-string) or better, $29.95 for two. Fresh batch just in last week!
Purchase information: JM10B JAZZMANDO STRINGS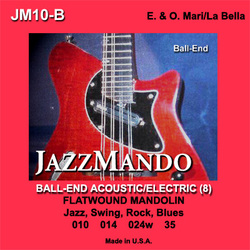 How Great Thou Art (Mandobird Demo)


Posted by Ted at 5:36 AM

May 19, 2012 | Arrow F4 mandolin for sale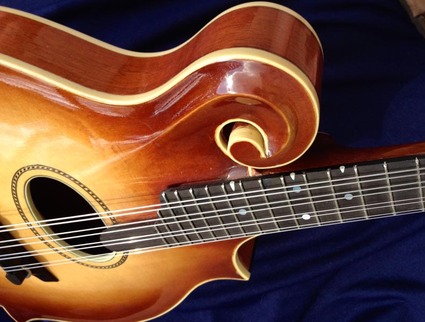 NOTE: INSTRUMENT HAS BEEN SOLD
We came across an unusual treasure last fall, a rare F4 style mandolin from the work of Oregonian legend, Paul Lestock. In his prime the builder was well regarded for his breakthrough designs in mandolins and guitars, including his signature "G" style mandos, and one of our personal favorites, the 4- and 5-string guitar bodied Jazzbo. These remain highly sought after internationally, played by the likes of Paul Glasse and Hamilton de Holanda, especially now that the master has stepped away from the limelight of building these amazing instruments.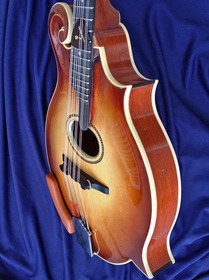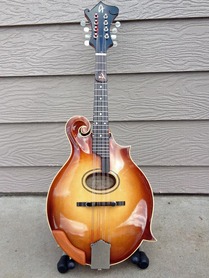 Click all pictures for closeup
This 2004 dated F4 is not your typical traditional vintage knock-off. It features an intricate herringbone oval hole inlay and an intoxicating tequila sunrise top. Its mahogany back gives it a fundamental crispness atypical of the oval hole construction. It's a very well rounded instrument, loud, and with a complete refret with more robust crowns and a gentle radius for maximum comfort, the mandolin is well suited for a variety of styles. It feels and plays like a dream. It also packs a built in electric pickup for quick and easy amplification.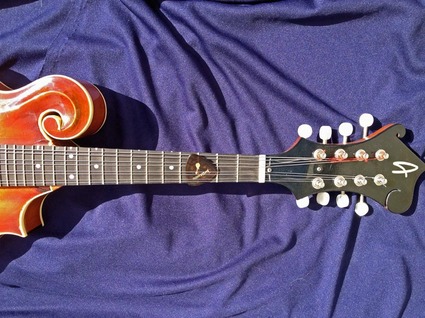 We've come to grips that a scroll instrument is not consistent with our usual aesthetic taste, as revered as it is, so we're putting up for sale. This really is a player's instrument, and at $1875, someone's going to make a lot of really great music with it.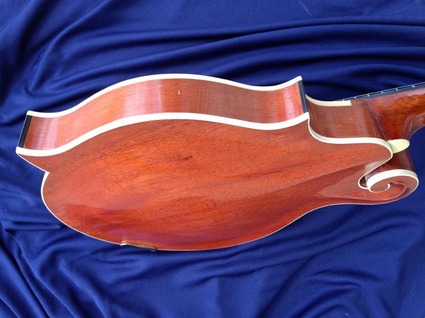 In addition to the brand new frets, the instrument has a white Eastman fibreglass case, but we're offering as an alternative, a Bobelock case (Arrow, how appropriate...) upgrade, only $1995 for the premium case package. 48 hour (dis)approval period is available provided you agree to pay shipping both ways, and the instrument returns as it left. It currently struts D'Addario FW74 flatwound strings and its meatier D and G course kick out a rich, full sound.
NOTE: INSTRUMENT HAS BEEN SOLD
Demo:

Posted by Ted at 5:13 AM

May 17, 2012 | Gaucho; Melonious Quartet
We're big fans of the edgy, sophisticated sound and stage sensibilities of France's "Melonious Quartet." For a taste of their incredible ensemble ability, let alone their eye catching instruments, check out the video below.
Video Link: Gaucho; Melonius Quartet

Purchase Music: Melonious Quartet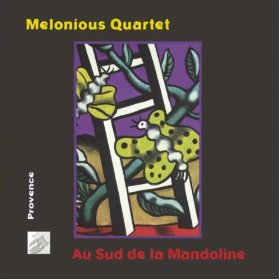 Posted by Ted at 7:05 AM

May 15, 2012 | Special opportunity: Mann 2-Point Flatback Oval Hole Mandolin
We'd like to make you aware of a special instrument from JazzMando sponsor and perennial emando builder fave, Jonathon Mann. You may not be aware that the Tennessee builder is responsible for producing some intriguing acoustic mandolin family instruments, and he's offering one of his 2-points on his site to assist in funding a church mission trip to Honduras that his wife and son will be going on in June.
You have a chance to get an amazing instrument just off his bench AND all proceeds from the sale of this mando will go to help fund the outreach.
Specs:
Neck-thru/flatback construction. Red Spruce, X braced carved top in a gloss vintage amber finish, Quilted Maple back in a satin Cremona finish. Ebony with sapwood peghead overlay. 12" radius Ebony fretboard 1-3/16" wide at nut. Grover 309 tuning machines. Banjo size frets. Tortoise/white/black binding on top and sound hole. Cumberland Acoustic bridge and 2 way truss rod. Price with case, $1500.
Purchase information: Mann 2-Point Flatback Oval Hole Mandolin
View 5 minute demo:
Mann Two Point Flatback Oval Hole Mandolin

More about the trip: Engage the world and meet the needs of the poor
Posted by Ted at 5:28 AM

May 13, 2012 | Advanced Pentatonic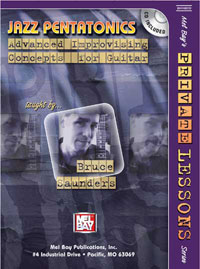 We mentioned this book over five years ago, Berklee professor and Austin, Texas based jazz guitarist Bruce Saunder's book Jazz Pentatonics (Mel Bay Private Lessons Series) as a great source for digging into the concept of advance Pentatonic scale use. Every folk musician knows the power of the pentatonic, five little notes and formulaic traid-plus-benign-notes capability. Mandolinists are prone to imprison themselves to just the simplicity of the Pentatonic scale in the key(s) of the song itself, beginning and most advanced, as well.
The great Bebop musicians, 'Trane, Diz, Bird, were able to take these scales further, base them on upper extensions of the chords. If you have drilled these scales into your frets, you can take the next step of injecting them into your music as a way of voicing the upper chord extensions of some juicy chords. If you improvise these 5 notes with certain 7th chord variations, you can voice melodically, 9ths, 11ths, and 13ths, without thinking 9ths, 11ths, and 13ths.

Below are sample Pentatonic "Opportunities" for Maj7, Min7, Dom7, an m7b57 chords. Especially effective in modal jazz where the song sits on a chord for several measures, these can bend the year in an interesting but tastefully appropriate way. We've listed the 7th chord variation, the "Old School" Pentatonic scale used, and a new and improved "Upgrade." We've also noted the chord tones you infer by using the particular scale.

One suggestion, have another player comp the chord in a background first, or use some sort of "Band in a Box" software program or iReal B iPad app to generate an accompaniment. Once you get comfortable with one or two chords, play along with some familiar changes like a 12-bar blues or Rhythm Changes.
Open your ears and have fun!

Cmaj7
Old School: C Pentatonic C D E G A
Upgrade: D Pentatonic D E F# A B
You get: 9, (3), +11, 6, 7
Relation to root: Plus one step

Cm7
Old School: Eb Pentatonic (Cm Pentatonic) Eb F G Bb C
Upgrade: Bb Pentatonic Bb C D F G
You get: (7), (1), 9, 11, (5)
Relation to root: Down one step (up m7)
C7
Old School: C Pentatonic C D E G A
Upgrade: Bb Pentatonic Bb C D F G
Better Upgrade: Gb Pentatonic (Alt chord) Gb Ab Bb Db Eb
You get: b5, b13, b7, b9, +9
Relation to root: Plus diminished 5th (tritone)

Cm7b5
Ab Pentatonic Ab Bb C Eb F
You get: b13, b7, (1), (3), 11
Relation to root: Plus m6
Also: FFcP Pentatonic
Posted by Ted at 5:39 AM

May 11, 2012 | AirTurn BT-105 Wireless Page Turner for iPad
We've fully embraced the iPad as a performance tool for set lists and song charts. We've enjoyed and had success using such apps as the UnrealBook, Planning Center Online (Music Stand), and PDF Reader Pro on stage, and for practicing jazz tunes with accompaniment for sheer indulgence, the world's leading real book app, iReal B.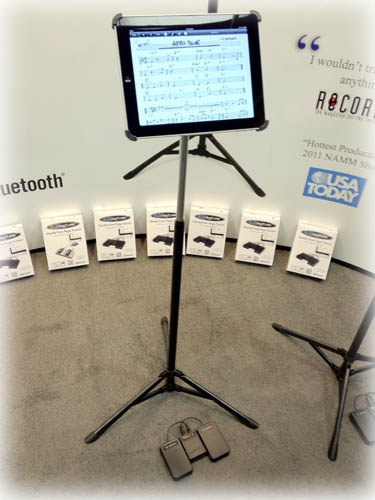 Recently, we acquired the new AirTurn Bluetooth page turner for hands free reading we first spotted at this year's winter NAMM show, and couldn't be happier. Scrolling back and forth for practice is as easy as the tap of a foot. The pedal is extremely quiet and communicates with the iPad (and other tablets or computers) through bluetooth technology. No fuss installing, we were up and running seconds out of the box after charging the unit.
Pricing seemed a little steep with it's $129.95 suggested retail, but you can probably do a little better than that (see link below). It comes with a USB connection for juicing up its rechargeable battery, and features no-slip traction to keep it from sliding around on a smooth floor or stage. We recommend the BT-105PK package with dual footswitches in order to move both forward and backwards.
From the website:
The AirTurn BT-105 is a wireless Bluetooth page turner that is operated by two ATFS-2 silent pedals for forwards and backwards page turns. Works with most document and presentation programs for Mac and PC, as well as a growing number of apps for the iPadand Android tablets.
The AirTurn BT-105 page turner and ATFS-2 pedals are proudly made in the U.S.A.
This AirTurn dual foot switch kit comes with the AirTurn BT-105 Bluetooth page turning transmitter, 2 ATFS-2 black silent foot switches that connect to the BT-105, the AirTurn non-slip pedal board, and a USB recharging cable. Fully assembled. The BT-105 Transceiver may be easily removed for use in other applications.

View Demo: The AirTurn BT-105

Purchase link: AirTurn BT-105PK
Posted by Ted at 5:14 AM

May 9, 2012 | The Joe Craven Trio; All Four One
Joe Craven is a man so talented he could make licking an envelope a musical experience. We've mentioned the West Coast multi-instrumentalist phenom before, reaping praise on his past projects such as Camptown and Django Latino . Arguably best known for his stint with acoustic legend David Grisman, he is equally adept at percussion, fiddle, mandolin, as well as an in-demand clinician, rounded ethnomusicologist, and sideman for Jerry Garcia and Alison Brown. He's wowed the world with his solo career as well, but it's his latest "trio" project that we can't get enough of. Traditional American Folk, Blues, New Orleans, Swing, Funk, as well as the music of Brazil, Haiti, Ireland, Cuba and Puerto Rico, this CD has it all, and at a level of energy and polished execution that can't help but draw you in.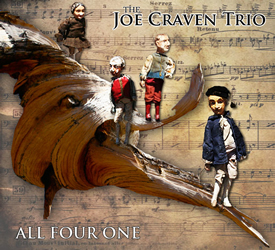 Joined by drummer Kendrick Freeman and keyboardist John Burr who also holds a high pedigree on the international stage (Maria Muldaur, Paul Chambers, Robben Ford, Paul Brady), the trio crank out what will likely prove one of the best folk/jazz albums of the year, "All Four One." Also playing a strong guest role is bassist/accordian, Rich Kuhns. The musicians play with spry precision and anoetic spontaneity, each song an engaging tour, a plethora of ethinic styles with a very distinctly jazz vocabulary. Craven's fiddling is great. His mandolinning will blow you away.
This is one of those genre breaking CDs we insist you add to your permanent collection.
Purchase CD: The Joe Craven Trio; All Four One
Tracks:
Up with the Crackadons
Forrocious
Get Off It
Lil Pixie's
Monkey Biz
Sofrito
Sloppy D
The Bucket of Stones
The Secret Moon
The Crooked Men
Artist Website: Joe Craven
View promotional link:

Posted by Ted at 5:43 AM

May 7, 2012 | Guides and Gravity
We have a wealth of free downloadable exercises on the site. Some are a sneak peak of the "Getting Into Jazz Mandolin" book, a snapshot of more advanced concepts developed further there. At very minimum, these drills are stand alone concepts that work the fingers into better facility, at best they put you down the path to a deeper, more profound intellectual understanding of music theory.
On of our earlier entries was introduced in an April 2004 Mandolin Sessions on the topic of "Gravity" notes. The idea is to break from drilling scales in consecutive melodic steps and approach the scale from a harmonic perspective. Notes lead to important, defining chord tones, the accompanying exercise is not only good for the fingers, it's great for the ears and brain. Exploiting the best of the FFcP strategy, it tours the player through all twelve keys. It's a great flexibility builder for the 3rd and 4th fingers, too.
Read archive article: Critical Decisions in Improvising; 'Gravity' Notes
Download one page PDF: Guides and Gravity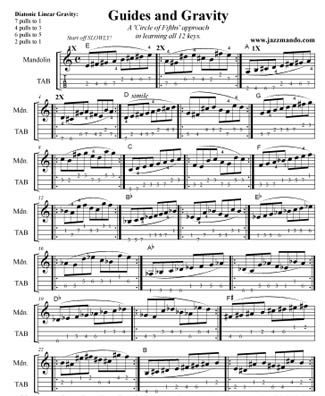 More Free Downloads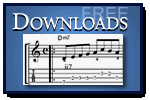 .
Posted by Ted at 5:50 AM

May 5, 2012 | Sorensen eye-candy
We mentioned our review of West Coast builder Steve Sorensen last week. He's posted some rather intriguing pictures of some other creations on his personal Facebook page, including some bold color finishes. Quite a visual treat!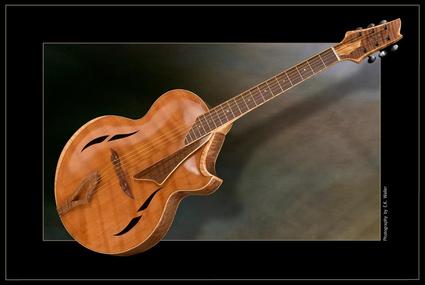 Pondering what a mandolin shaped like the above would play and sound like.
See more of these on the Sorensen Mandolins and Guitar and Facebook Fan Page
Read Review: Sorensen Sprite Mandolin



Builder's website: Sorensen Strings
Posted by Ted at 10:01 AM

May 3, 2012 | Bob McCarthy; Wounded, Mercy and Sudden Light
If your preference for jazz is on the lighter side--acoustic string folk, intimate and atmospheric without being cloying, clever but not not smugly so, you'll love the music of New Hampshire multi-instrumentalist Bob McCarthy. We first introduced you to the fretted stylings of one of New England's closest kept mandolin/guitar secrets in May of 2010 with the release of self-produced "Where I Live"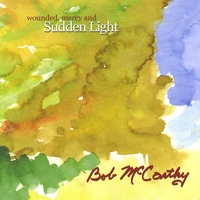 In addition to his mandolin/guitar picking prowess, Bob has a knack for grouping nontraditional instrumental timbres, cello with bass and drums, bluesy resonator guitar, and light world percussion, with his environmentally sound compositional skills. Room to breathe freely, fellow bandmates trade solos like sharing stories over a warm campfire.
The songs are melodic and catchy, and though sometimes the texture borderline dense with busy countermelody, there's an underlying unity that ties each song together and makes the entire CD whole. The personality in the instrumentation is consistently charming, and something you'd enjoy listening to over a glass of fine wine and good conversation.
It's always refreshing to catch up with Bob's latest.
Video Link: Wounded; 2011 Bob McCarthy

Purchase CD: Wounded, Mercy and Sudden Light
Artist website: Bob McCarthy
Facebook fan page: Bob McCarthy Musician
Posted by Ted at 6:04 AM

May 1, 2012 | JM11 Strings now available in bulk pricing
We've received many recent requests to purchase the popular JM11 flatwound mandolin strings in larger quantities, so we're making it an official option in the JazzMando Merchandise Center, effective immediately. Known for their smooth comfort and warm tone, we've had customers from across many genres including classical, old time, blues, resonator mandolin, and of course jazz mandolinists purchase these.
You and your friends in the orchestra can pool your money an purchase a dozen JM11 for only $145 including US Domestic and Canadian shipping (add $7.00 international orders). We just received a huge shipment so a fresh supply is ready to ship, even if you just want to experiment with one or two sets.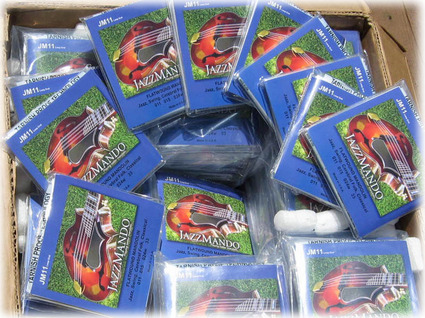 The polished flatwound JM11 strings have a much closer, tighter wrap which resists corrosion and wear from oxidation and player perspiration. The steel alloys lends a crisp "punch" for a "bell-like" attack and articulation. Player comfort from the smooth strings makes these feel as great as they sound!
Purchase information: JazzMando JM-11 Flatwound Mandolin Strings
Our other premium JazzMando prouducts:
JazzMando JM-10B Ball-end Flatwound Mandolin Strings | JazzDola JD-13 Flatwound Mandola Strings | JazzMando ProPlec Signature Picks | Jupiter Silkweave Polish Cloth | JazzMando JM V-pic | "Getting Into Jazz Mandolin" Book and CD | JazzMando Case Lid Stickers
Posted by Ted at 5:30 AM