« May 2012 | Main | July 2012 »

June 30, 2012 | Signature 2-point magic, Brian Lock
Two years ago, we had the opportunity to review an astounding 2-point mandolin by Pecos, New Mexico builder Brian Lock. The southwestern US artisan started out self-trained, his building was later nurtured by experiences with a mandolin power trio consisting of John Monteleone in 2005, Mike Kemmnitzer ( Nugget) in 2006, and with Steve Gilchrist in 2009, later honing his own line of mandolins.
Read July 2010 review: Brian Lock Two-point mandolin
Robins egg blue New Brian Lock "La Mer" Two-point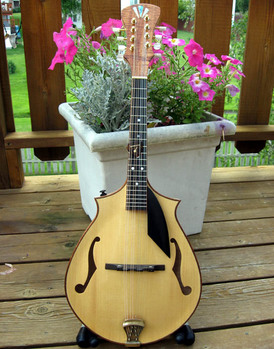 Builder website:
Lock Mandos

Contact builder:
Brian Lock
Phone: (505) 629-5186
brian@lockmandos.com

Take the time to check out the In-stock listings on his site. There are some intriguing instruments available, and he's featuring a limited 10% off sale on some of these beauties.

Read up on other world class mandolin builders: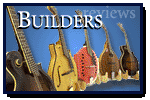 Posted by Ted at 5:07 AM

June 28, 2012 | JazzMando Tote Bag
Some US west coast cities have started banning plastic grocery bags. We won't argue whether that's extreme or not, but it is arguably good planetary citizenship toting your wares in a reusable bag. Less you have to throw away and frankly, a good linen bag is more sturdy for the carry.
We'll take this time for the shameless plug of our JazzMando tote. Carry your wares (gear, too!) in style with the distinctive graphic from the internationally popular JazzMando JM11 strings. A pretty mandolin, too!
These can be purchased along with some other goodies at the JazzMando Cafe Press store. Help support the site!
Product Information:
Bottom gusset and extra long handles for easy carrying.
10 oz heavyweight natural canvas fabric
Full side and bottom gusset
22" reinforced self-fabric handles
Machine washable
Measures 15" x 18" x 6"
Other JazzMando Cafe Press swag
Posted by Ted at 6:20 AM

June 26, 2012 | Aaron Weinstein; "Slumming on Park Avenue"
JazzMando fave, Aaron Weinstein breathes new life into this Irving Berlin classic, "Slumming on Park Avenue" with his signature effortless mandolin chord melody magic that will make your head spin. Notice, his fingers never leave his hands (although you'd swear they did). The New York multi-instrumenalist dances over the frets like Baryshnikov.
Enjoy:
Video Link: Aaron Weinstein; Slumming on Park Avenue

"Put on your slumming clothes and get your car
Let's go sightseeing where the high-toned people are
Come on, there's lots of fun in store for you
See how the other half lives on Park Avenue ."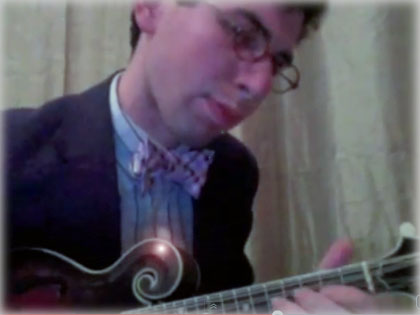 Read our 2011 interview with Aaron: 10 Questions for Aaron Weinstein
More stunningly executed videos: Aaron Weinstein YouTube channel
Posted by Ted at 5:25 AM

June 24, 2012 | Going vertical. Two new FFcP studies.
In case you missed them, over the last two weeks we looked at splicing two FFcP patterns into a set of two octave drills. We mentioned how these one octave blocks of notes stack nicely and with the 1st FFcP and the 4th FFcP, we have the luxury of not having to shift horizontally up the neck, both in major and minor. Not that we want you to stay trapped in one position forever, this is just a good exercise to hone consistency transitioning across the strings.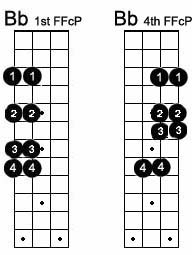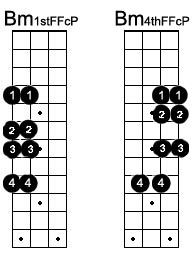 Add these to your regimen. Keep in mind they are just the start. Move the base finger from Bb and B to any other fret and every key becomes your oyster.
Direct links to exercises:


Two Octave Major FFcP PDF

Two Octave Minor/Dorian FFcP PDF
Reference Tips articles:
Two Octave Major FFcP
Two Octave Dorian Minor FFcP
Posted by Ted at 6:16 AM

June 22, 2012 | 100 iconic guitar riffs
There's no denying the impact of the electric guitar on pop music the last six decades. We don't have near the stature with our little 8-string instrument (but we're working on that here). Still, we can appreciate its allure with the following video of iconic rock guitar riffs from the Chicago Music Exchange captured in a single take. We're sure this will bring back some memories of youth.
See how many you know, and better, notice any missing?
Video link: 100 Riffs (A Brief History of Rock N' Roll)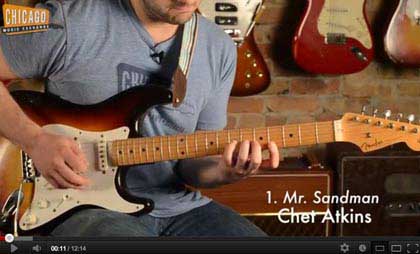 Posted by Ted at 5:27 AM

June 20, 2012 | JL Smith Electric Mandolins
We've been a huge fan of the work of John "JL" Smith and his exquisite Telecaster style electric mandolins since we first reviewed one of his 5-strings three years ago. One of his sea foam green ones even landed a permanent spot in our own arsenal of instruments, and remains a personal favorite.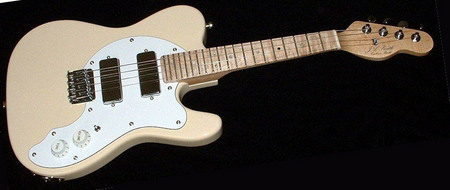 The Florida builder took a little time off in 2010 but is back in the swing again (pun very much intended) and making some great mandolins, and still at a very competitive price. Though there aren't a lot of style options, he does this one thing extremely well. His 4-strings start at $799, and you can choose from a number of pickup options.
We find the tone so good, we don't even use any effect pedals, just a hearty Fender Blues Junior tube amp for some Porterhouse steak meaty sound. Smith enjoyed a glowing review in Vintage Guitar Magazine in October 2009.
Check out some of the past critters on his website. I you've been looking for "next step" electric up from a Mandobird or Saga, this would be a great choice.
Builder website: JL Smith Mandolins
Read JazzMando Review: JL Smith 5-string Electric
Posted by Ted at 5:15 AM

June 18, 2012 | Long Hollow Leathers mandolin straps
We haven't talked much about straps around the site. There are lots of individual preferences out there, some like the braided leather, others like a flat piece of leather, and some even tweak a dog leash into a homemade version of their own. You can get different kinds of leather, cowhide, deer, buffalo, and each has a different kind of texture and suppleness.
Our personal favorite is the Long Hollow "Big Softy" (#71070) that can be purchased for around $20 delivered. Spread wide just where you need it for stability and support and soft as a baby's skin, this mandolin strap will be one of the most comfortable you've ever put on your neck. They come in brown and black, and sometimes you can get them in light tan or burgundy.
If you can't get them locally, they can be purchased here: Long Hollow Big Softy Mandolin Strap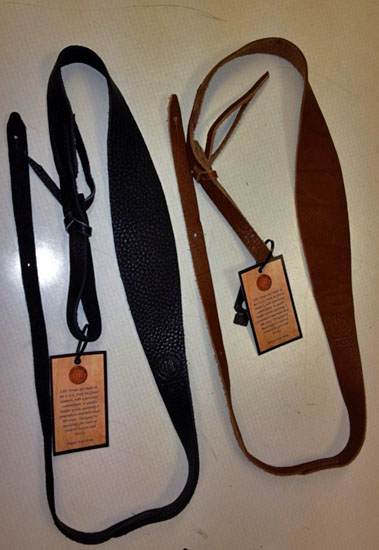 Note: The shopping cart may give you some funky international shipping costs, but if you mention JazzMando in the comment field, the shipping can be reduced to $4.75 US Domestic, $6.00 Canadian, and $7.00 Europe and Australia. Price will be manually altered before it ships. Also, if you want Burgundy or light tan, these can be special ordered.
Posted by Ted at 5:26 AM

June 16, 2012 | Mandolin For Dummies preorder
In case you were wondering where staff contributor Don Julin has been the last several months, he's been away taking care of Dummies.
It's true. Don was carefully chosen to author for the insanely popular "Dummies" concept series with an encyclopedic look at the mandolin. The exhaustive series includes in his words, "almost 400 pages, including 2hrs of audio covering everything from buying your first mandolin and playing your first chord, up to studying some of Bill Monroe's techniques, some jazz/swing stuff, a chapter on playing jigs and reels and even a brand new song from The Dawg himself. Over the last year, I have been working with what I feel are some of the best players alive today to be able to provide a serious mandolin reference book. (with a sense of humor) The book includes contributions from Mike Compton, Rich DelGrosso, Marla Fibish, Tim Connell, Chris Aquavilla, Don Stiernberg, and David Grisman."
There are still some final touches yet to be added to the project, but the publisher is slating a release later this year. It is possible to preorder on Amazon. We look forward to it! And we hope to have him back writing for us soon, too.
Preorder link: Mandolin For Dummies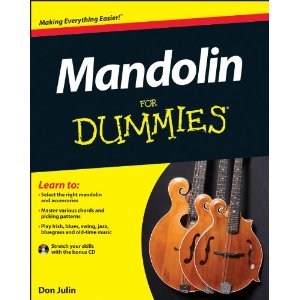 The clever thing about any "Dummies" series book is once it's purchased, who's going to return it? Can you imagine that conversation at the store's Returns counter: "I really thought I was up to being a dummy, but I just couldn't cut it. Do you have anything simpler?"
But seriously, congratulations Don!
Posted by Ted at 5:55 AM

June 14, 2012 | Ralph Patt's Backing Tracks
We've mentioned the Ralph Patt Jazz Web Page before. His approach to his "Vanilla Book" of jazz standards is great for the beginning jazzer to start in safety and comfort, and a chance for the more advanced player to grow the basic changes into something more professional with embellishments like extended chords and substitutions.
Back in the day, we'd spin Music Minus One LPs to play along with. Later, the software hit of the 90's "Band in the Box" was a great opportunity for players to jam and develop improvising skills in the privacy of their own computer, albeit a tad mechanical. With recent innovations of the iPhone app, we've fallen in love with the iReal B for practicing with hundreds (if not thousands) of some of our favorite jazz tunes.
All that said, if you just wanted to click on a page and here a decent little jazz quartet to accompany you, Ralph Patt's "Backing Tracks" is only a mouse click away from enjoying tracks from some of the most popular American Standards ever written. (None of our favorites seem to be missing.)
"All backing tracks have 4 bar introductions. Piano is on left channel, bass and drums are on the right channel. Number after the title refers to the number of beats per minutes. Chords to most of the tracks are found in the Vanilla Book section. Some songs have alternate tempos. All tracks are in MP3 format. Feel free to download them. All files can be heard using Windows Media Player or Quicktime programs."
Enjoy: Ralph Patt's Backing Tracks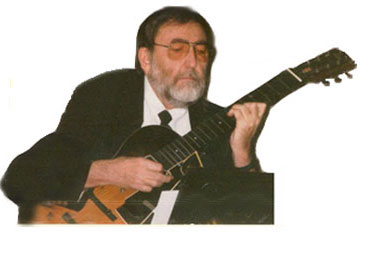 Want to dig deeper? Check out his thoughts on Tonal Centers
Posted by Ted at 5:12 AM

June 12, 2012 | Getting Into Jazz Mandolin
Still popular and on the Mel Bay "Best Seller!" list, our signature method book "Getting Into Jazz Mandolin" remains a fast track approach not only to accessing the world of jazz through the mandolin, but a tool to deepen your fretboard skills and abilities in multiple keys.
We first introduced the FFcP on the site nine years ago, the Four Fingered Closed Position approach to digging into the fretboard and offered you a way to learn the mandolin through fingering relationships and incorporated them into the book in 2008. Though we also introduce the jazz vocabulary, the goal is to play virtually any style better, classical, pop, Brazilian, and even Bluegrass. The free downloads on the website are a terrific start, but if you want something systematic and can devote a little practice time toward strategic growth, pick up the book and CD.
Price is $16.95 plus S&H ($4.05 US & Canada, $18.00 International)
For more information and purchase, click the link: Getting Into Jazz Mandolin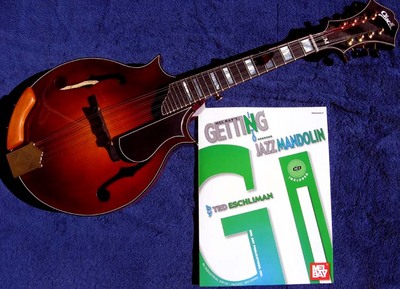 Buy ebook: Getting Into Jazz Mandolin eBook/CD Set
Posted by Ted at 5:18 AM

June 10, 2012 | Jason Anick/Jacob Joliff, "What a Wonderful World"
We've been working on another Mandolin Cafe Interview with one of our favorite up and comers, Jason Anick. This man's talent is broad and deep, and we've featured him a time or two here on our own site.
You'll enjoy a little taste of the artist/educator with his Berklee bud (and an amazing musician in his own right), Jacob Joliff in this impromptude video sample.
Video Link: What A Wonderful World (Mandolin Duet)

Stunning!
Look for the full interview later this month.

Download or buy his CD: Jason Anick, "Sleepless"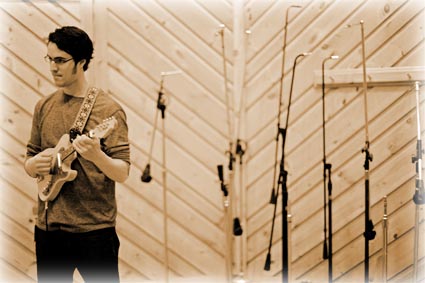 Posted by Ted at 6:14 AM

June 8, 2012 | OCDC
If you've done any live playing with a PA and stage monitoring (and a sound tech with the patience of Job), you've run into the obsessive compulsive musician that can never seem to get the right mix. The following Dan Piraro "Bizzaro" cartoon hits it right on the head. Meet OCD/C: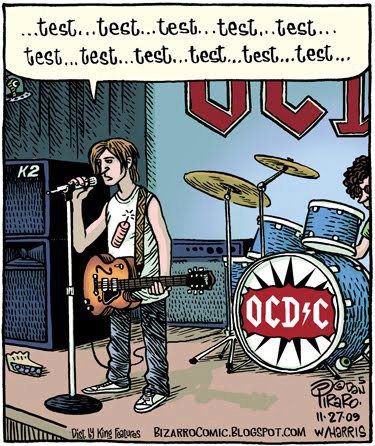 More comics: Bizzaro Blog
Posted by Ted at 5:42 AM

June 6, 2012 | Vintage vs. functionality
It's the troubling part of owning a golden oldie, and stringed instruments from the Stradivarius violins of many centuries ago to the Lloyd Loar mandolins of many decades ago are always an issue not only when it comes to restoration, but to actual use. Chris Thile mentioned this in a recent Mandolin Cafe interview, pleading for owners of these rare beasts to break with curator mentality and make them playable, alter them for playability even at the risk of disrupting their venerable antique status.
"I would advise anyone who has a Loar... It is NOT a museum piece, it is an instrument. It is an instrument that needs to be played. If you're not playing it, find someone who will and loan it to them. Let them play it. It's like how sad it is to see a cheetah in a zoo. It makes me SO MAD. Anyone that ever looks at mine and says 'Oh man, you put some scratches on it, eh? '... It drives me absolutely crazy that people baby these things. I mean, by all means, take care of it, make sure it doesn't get stolen, that kind of thing. Keep it out of harm's way, but PLAY IT. Tour with it! Make music on that thing, it's dying to be played. They are such brilliant instruments. AND -- get it in playable condition... take the fingerboard off. The jig in the factory was WRONG. if you keep the thing in original condition, it's not playable! The frets up on the top end are out of tune! It drives me to distraction that people who deify these things and don't get them in playable condition and play them. They are brilliant instruments."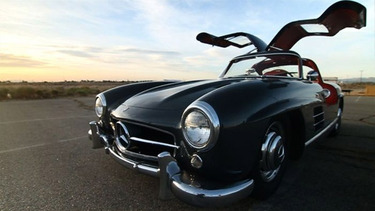 Staff research assistant Charlie Jones came across a similar philosophy with the classic Gullwing car in a Depth of Speed video, "Poetry in Motion." This is a fun video to watch even if you aren't into cars. We can't help but notice the parallels between car and mandolin. To drive or park in the garage? To play or leave in a museum showcase.
We know what we would do.
Visit Vintage Car Talk site: 'Depth Of Speed' Exposes Essence Of Gullwing
Posted by Ted at 4:16 AM

June 4, 2012 | Sweeping for Tone
We talk a lot about the importance of good tone here. Unlike a bowed or blown instrument, the plectrum musician has one swing at starting good tone. It's like a baseball player striking a bat at a ball, one strike to bunt it down the line or a healthy slap at the stitches that knocks it out of the park. Five years ago we published a helpful exercise in the June Mandolin Sessions addressing how you could beef up your pick stroke in our Thinking Good Tone series.
Give yourself about ten minutes a day to work on this aspect of your playing and you'll notice better pick control, and ultimately robust tone. Isolating this with this small investment of time will pay you back royally in maturing your sound.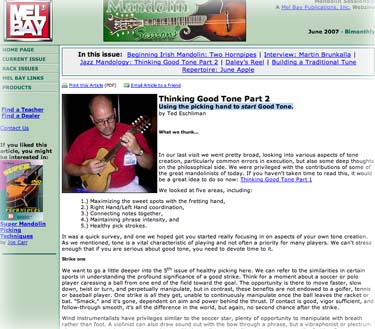 Read article: Using the picking hand to start Good Tone
Accompanying Exercise:

Clean Sweep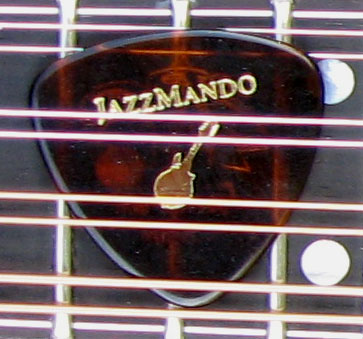 Posted by Ted at 5:48 AM

June 2, 2012 | New Sponsor Sorensen Mandolins and Guitars
Our sponsors are what make all the free resources possible here at JazzMando. All the great downloads, Tips and Tricks articles, and news come at a price underwritten by those who exchange parts of their own hard earned income for banners on the right side of the page. We'd ask you to return the favor and click on them and see what's new and happening in their business. If you think of it, drop them a note of thanks for supporting JazzMando and the amazing mandolin industry, as well.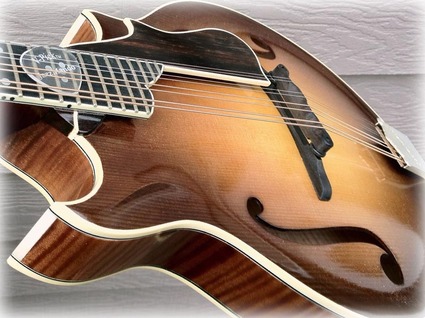 We're proud to announce the latest business to step up to the plate and lend their support to serve you is Steve Sorensen of Sorensen Strings.
Read recent review: Sorensen Sprite 2-point mandolin
Now would be a great time to jump in on a Sorensen.
Builders Website: Sorensen Strings
More pictures: The Instruments
Contact: steve@sorensenstrings.com
Phone: 661-345-6684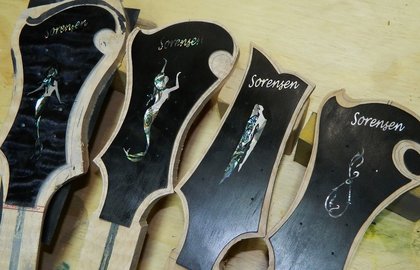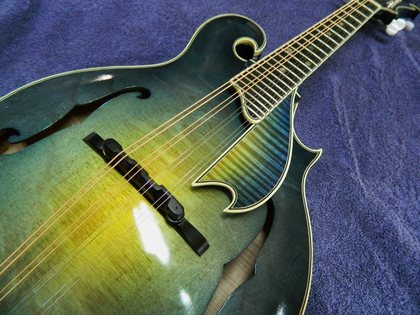 Posted by Ted at 6:31 AM