« Going vertical. Two new FFcP studies. | Main | JazzMando Tote Bag »

June 26, 2012 | Aaron Weinstein; "Slumming on Park Avenue"
JazzMando fave, Aaron Weinstein breathes new life into this Irving Berlin classic, "Slumming on Park Avenue" with his signature effortless mandolin chord melody magic that will make your head spin. Notice, his fingers never leave his hands (although you'd swear they did). The New York multi-instrumenalist dances over the frets like Baryshnikov.
Enjoy:
Video Link: Aaron Weinstein; Slumming on Park Avenue

"Put on your slumming clothes and get your car
Let's go sightseeing where the high-toned people are
Come on, there's lots of fun in store for you
See how the other half lives on Park Avenue ."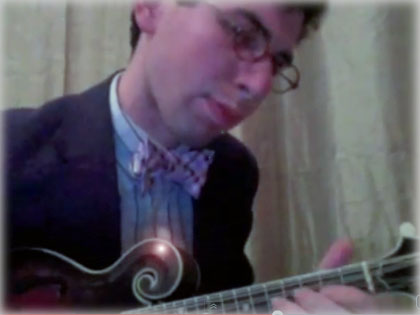 Read our 2011 interview with Aaron: 10 Questions for Aaron Weinstein
More stunningly executed videos: Aaron Weinstein YouTube channel
Posted by Ted at June 26, 2012 5:25 AM