« 100 iconic guitar riffs | Main | Aaron Weinstein; "Slumming on Park Avenue" »

June 24, 2012 | Going vertical. Two new FFcP studies.
In case you missed them, over the last two weeks we looked at splicing two FFcP patterns into a set of two octave drills. We mentioned how these one octave blocks of notes stack nicely and with the 1st FFcP and the 4th FFcP, we have the luxury of not having to shift horizontally up the neck, both in major and minor. Not that we want you to stay trapped in one position forever, this is just a good exercise to hone consistency transitioning across the strings.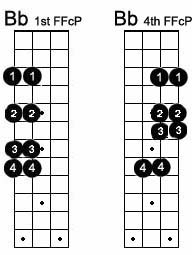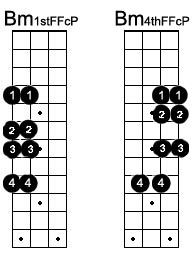 Add these to your regimen. Keep in mind they are just the start. Move the base finger from Bb and B to any other fret and every key becomes your oyster.
Direct links to exercises:


Two Octave Major FFcP PDF

Two Octave Minor/Dorian FFcP PDF
Reference Tips articles:
Two Octave Major FFcP
Two Octave Dorian Minor FFcP
Posted by Ted at June 24, 2012 6:16 AM