« Long Hollow Leathers mandolin straps | Main | 100 iconic guitar riffs »

June 20, 2012 | JL Smith Electric Mandolins
We've been a huge fan of the work of John "JL" Smith and his exquisite Telecaster style electric mandolins since we first reviewed one of his 5-strings three years ago. One of his sea foam green ones even landed a permanent spot in our own arsenal of instruments, and remains a personal favorite.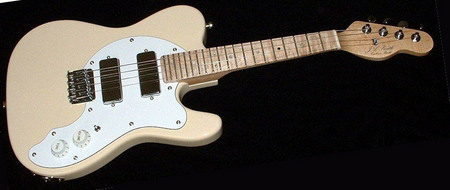 The Florida builder took a little time off in 2010 but is back in the swing again (pun very much intended) and making some great mandolins, and still at a very competitive price. Though there aren't a lot of style options, he does this one thing extremely well. His 4-strings start at $799, and you can choose from a number of pickup options.
We find the tone so good, we don't even use any effect pedals, just a hearty Fender Blues Junior tube amp for some Porterhouse steak meaty sound. Smith enjoyed a glowing review in Vintage Guitar Magazine in October 2009.
Check out some of the past critters on his website. I you've been looking for "next step" electric up from a Mandobird or Saga, this would be a great choice.
Builder website: JL Smith Mandolins
Read JazzMando Review: JL Smith 5-string Electric
Posted by Ted at June 20, 2012 5:15 AM