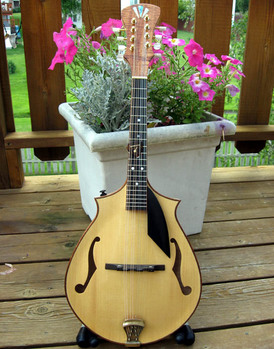 We were given insight into the work of Pecos, New Mexico builder Brian Lock in an article last winter by columnist, Jaime Becktel on the philosophy of the young wood craftsman, "Working Some Mandolin Magic." It was a provocative glimpse into the life of a wood junkie, one who's love for wood literally started on the wilderness trails as a seasonal worker for the Forest Service. Training himself early on, his building was later nurtured by experiences with a mandolin power trio consisting of John Monteleone in 2005, Mike Kemmnitzer ( Nugget) in 2006, and with Steve Gilchrist in 2009, later honing his own line of mandolins.
From the article, "'What turns me on about creating instruments is that the process incorporates all the artistic elements I love,' Locke says. 'When I'm building, I'm using a lot of my senses. Touch is huge, feeling the tops and testing the flexibility. At first I was caught up in the technical side of the process, but then I started listening to subtle resonances, feeling the contours of the wood and using my fingers as built-in calipers. There's something so satisfying in using the senses rather than some mechanical tool. It really brings you into your work and infuses your essence into the finished product.'"
We enjoyed this instrument. The cosmetic detail is intricate and tight, and the mandolin responds to the hands as superbly as it looks. Though the frets are thinner than our personal like (partial to a wider .076 to .080" fret width), the neck was not uncomfortable after a week of playing, although on a custom build, this would be the only major alteration we'd request.
The instrument sparkles sonically. The top a wide-grained Red Spruce and the back and side a radiantly striped Red Maple, he's also added some tasty Koa detailing in the heel, binding, and delicious headstock overlay. The abalone inlaid headstock is an artistic statement in itself, boldly oversized; we enjoy witnessing builders take chances and push aesthetic visual boundaries. Note, the extra weight on the end does not affect the physical balance in a negative way during playing.
Brian has opted for vintage style reverse Schaller tuners here, which can be frustrating to a player that hasn't adapted to them, although he's recently selected (StewMac) Elite tuners as standard. We once had a bad set of Elites that had to be replaced, but despite the manufacturer's occasional inconsistencies, the Elites remain an excellent cost option.
The one-piece bronze Montelone/Allen style tailpiece is always a winner, and an excellent choice on this instrument, harmonizing the antique brushed vibe of the tuners at the other end of the mandolin. Throw in the angular ebony floating pickguard and we really have fully complementary and continuous visual ensemble.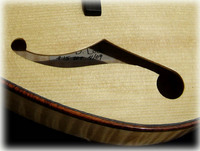 There are more solid choices (pun intended) in his specifications, like the bone point protectors (never overlook the vulnerability of the points!), bone nuts, hand-rubbed spirit varnish polish, and unbound modern F tone holes. This one came without pickup, but he does offer a McIntyre Acoustic Feather internal p/u as an option. Of course the instrument is also available in an oval hole and other custom colors.
His website list pricing on this and other models (A and F). We think there is a bright future ahead for the builder, and suggest now would be a good time to take advantage of a custom build early in his career.
Before he gets too famous...
Builder website: Lock Mandos
Contact builder:
Brian Lock
Phone: (505) 629-5186
brian@lockmandos.com
Read up on other world class mandolin builders: