« Sweeping for Tone | Main | OCDC »

June 6, 2012 | Vintage vs. functionality
It's the troubling part of owning a golden oldie, and stringed instruments from the Stradivarius violins of many centuries ago to the Lloyd Loar mandolins of many decades ago are always an issue not only when it comes to restoration, but to actual use. Chris Thile mentioned this in a recent Mandolin Cafe interview, pleading for owners of these rare beasts to break with curator mentality and make them playable, alter them for playability even at the risk of disrupting their venerable antique status.
"I would advise anyone who has a Loar... It is NOT a museum piece, it is an instrument. It is an instrument that needs to be played. If you're not playing it, find someone who will and loan it to them. Let them play it. It's like how sad it is to see a cheetah in a zoo. It makes me SO MAD. Anyone that ever looks at mine and says 'Oh man, you put some scratches on it, eh? '... It drives me absolutely crazy that people baby these things. I mean, by all means, take care of it, make sure it doesn't get stolen, that kind of thing. Keep it out of harm's way, but PLAY IT. Tour with it! Make music on that thing, it's dying to be played. They are such brilliant instruments. AND -- get it in playable condition... take the fingerboard off. The jig in the factory was WRONG. if you keep the thing in original condition, it's not playable! The frets up on the top end are out of tune! It drives me to distraction that people who deify these things and don't get them in playable condition and play them. They are brilliant instruments."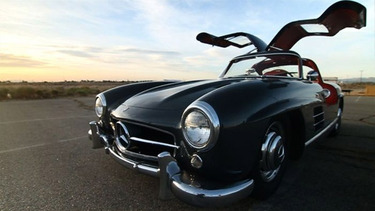 Staff research assistant Charlie Jones came across a similar philosophy with the classic Gullwing car in a Depth of Speed video, "Poetry in Motion." This is a fun video to watch even if you aren't into cars. We can't help but notice the parallels between car and mandolin. To drive or park in the garage? To play or leave in a museum showcase.
We know what we would do.
Visit Vintage Car Talk site: 'Depth Of Speed' Exposes Essence Of Gullwing
Posted by Ted at June 6, 2012 4:16 AM