« Ralph Patt's Backing Tracks | Main | Long Hollow Leathers mandolin straps »

June 16, 2012 | Mandolin For Dummies preorder
In case you were wondering where staff contributor Don Julin has been the last several months, he's been away taking care of Dummies.
It's true. Don was carefully chosen to author for the insanely popular "Dummies" concept series with an encyclopedic look at the mandolin. The exhaustive series includes in his words, "almost 400 pages, including 2hrs of audio covering everything from buying your first mandolin and playing your first chord, up to studying some of Bill Monroe's techniques, some jazz/swing stuff, a chapter on playing jigs and reels and even a brand new song from The Dawg himself. Over the last year, I have been working with what I feel are some of the best players alive today to be able to provide a serious mandolin reference book. (with a sense of humor) The book includes contributions from Mike Compton, Rich DelGrosso, Marla Fibish, Tim Connell, Chris Aquavilla, Don Stiernberg, and David Grisman."
There are still some final touches yet to be added to the project, but the publisher is slating a release later this year. It is possible to preorder on Amazon. We look forward to it! And we hope to have him back writing for us soon, too.
Preorder link: Mandolin For Dummies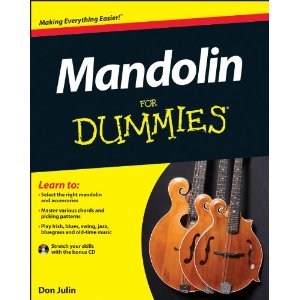 The clever thing about any "Dummies" series book is once it's purchased, who's going to return it? Can you imagine that conversation at the store's Returns counter: "I really thought I was up to being a dummy, but I just couldn't cut it. Do you have anything simpler?"
But seriously, congratulations Don!
Posted by Ted at June 16, 2012 5:55 AM