« June 2012 | Main | August 2012 »

July 30, 2012 | Ted and Pablo 2012 California Tour
He's been in Brazil for the last 4 years teaching and making some great music, but we're excited to hear Ted Falcon is bringing bow and fiddle (hopefully his bandolim and pick, too) back to the US to tour and start recording the second Ted and Pablo CD project. We've been following the multi-instrumentalist since his days with the LA Choro Ensemble and his solo CD project, "Memories of Brazil and Brazilian based band Jambrosia."
The following video explains the duo's intents. Look for their return in the next couple weeks!
Video Link: Ted e Pablo Tour 2012
Purchase CDs:
Memories of Brazil
Transcontinental Music Express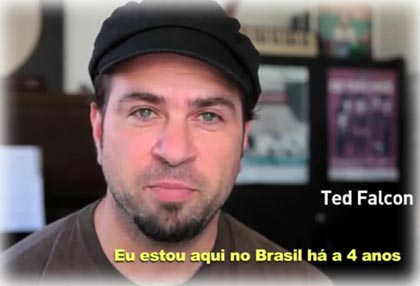 Posted by Ted at 5:18 AM

July 28, 2012 | Stunning Hill Country Stringworks 2-point mandolins for sale
We're huge fans of the armrests and finger guards of Hill Country Stringworks wood artist Doug Edwards, having commissioned our fifth McClung recently. Doug has expanded into instrument crafting as well, and two of his beautiful 2-point mandolins showed up on the Mandolin Cafe Classifieds. Not only are these stunning in looks, they are an incredible bargain for someone fetching a quality instrument at an exceptionally good price.
We doubt these will be around much longer. Better snag one fast!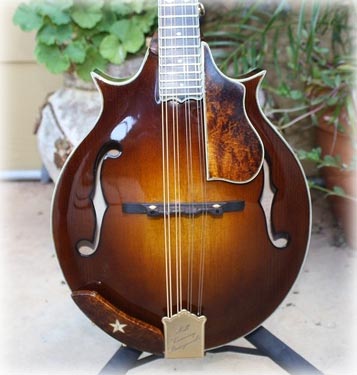 Hill Country Stringworks Birdseye Maple 2-point:
Red spruce top, One piece Birdseye Maple back, side & neck. KOA overlay with inlay, Tone bars, 1 1/8" pearl nut,Tortoise bound F holes, i/b/i binding, schaller tuners w/genuine pearl knobs. compound radius ebony fretboard, large frets, CA ebony bridge, James tail piece, BE maple pickguard and BE inlaid McClung armrest of course!
Additional photos
$1699 plus shipping

---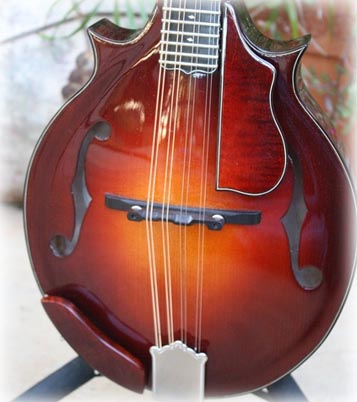 Hill Country Stringworks Curly Maple 2-point:
Red spruce top, one piece Curly Maple back,neck,sides.Triple bound b/i/t, CA ebony bridge,bound radius ebony fretboard w/large frets,Schaller tuners, MOP fret/side dots markers, James TP, KOA overlay w/inlay, Red spruce tone bars w/Virzi, 1 1/8" pearl nut, Curly Maple pg & McClung armrest of course!
Additional photos
$1599 plus shipping
Builder's Website Hill Country Stringworks
Posted by Ted at 5:26 AM

July 26, 2012 | PC gaming company introduces truly penetrating mandolin
Not that into electronic gaming, this one kind of escapes us, but it your tastes in mandolins gravitate toward an instrument that cuts through a crowd, this might just be your answer. From Korean PC gaming company Nexon America, a new video featuring content recently released in its fantasy-life MMO, Mabinogi.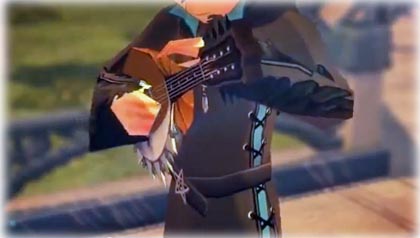 "The video shows off the new Bard character class. The Bard class, also known as the "Battlefield Maestro," supports team battles with the power of music. Armed with a Battle Mandolin, the Bard brings to fights seven new skills to help themselves and their teammates. Some of the skills will give buffs to teammates or help bring down enemies in the field. For example, the "Discord" skill uses strong musical notes to reduce an enemy's speed while causing damage over time."
Video link: Bard class added to Nexon's Mabinogi MMO

We choose to tear up the crowd with diminished 7th chords.
Posted by Ted at 6:43 AM

July 24, 2012 | GiJM feedback
In a blatant act of shameless self-promotion, we thought we'd forward a recent testimony on the "Getting Into Jazz Mandolin" book feedback. As practice, with every order we ask readers to keep us posted and let us know in what ways it has helped them develop as players:
"Hi Ted....
Just want to let you know that i've been slowly making my way through your book over the past couple of months (I'm as far as Dorian) and I just have to tell you that my fingers are starting to work in ways they never did before. I'm putting at least an hour -- sometimes a lot more -- on it every day, and feel that I'm getting off a plateau I might not become an accomplished jazz mandolinist at my age, and it will take a while to work into my general playing (I still reach for the open string if it fits), but ffcp is gradually making me a better player. There's so much more to come, but I'm doing my best tio avoid rushing through and regularly spend time on scales and arpeggios from weeks past. This is the best investment of 30 bucks I ever made.
Thanks for a great learning experience." (Mike from Edmonton, Alberta).

Purchase link: Getting Into Jazz Mandolin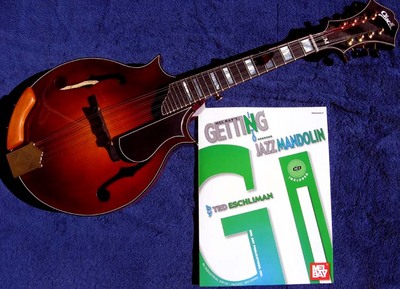 Bonus Audio Page: Webtracks
Posted by Ted at 5:19 AM

July 22, 2012 | Choosing your string gauge. The cold equations.
Most mandolinists will rely on experience and feel when landing on that "just right" set of strings, especially when it comes to gauges. Still, there are solid principles, even math to help you get it right. Heavy or light. Nickel or Bronze.
Wait. Math? Nobody said there'd be math...
(F0 + Fp) = k(x0 + xp)
Ian Weston, repair tech and luthier of Canada's "Weston Instruments" has a terrific resource available on his website, offering definitive information on factors you'll want to consider if you opt for a more calculating hunt for different strings. He elaborates specifically action, output (electric), artificial harmonics, sustain, and picking speed that are impacted by string gauge and construction.
Read Link: String Gauges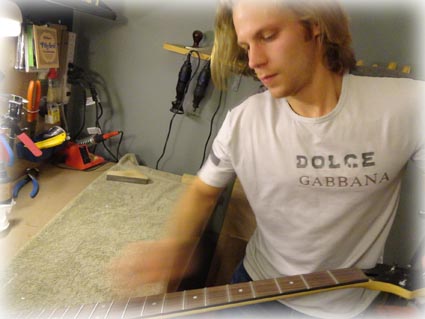 Take the time to read up his thoughts in his April 2012 entry, "String Gauges." While you're there, take a look at some of his growing body of electric mandolin eye-candy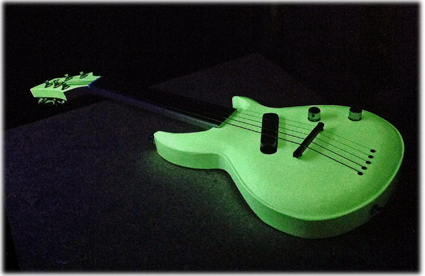 .
Weston Glow in the Dark electric mandolin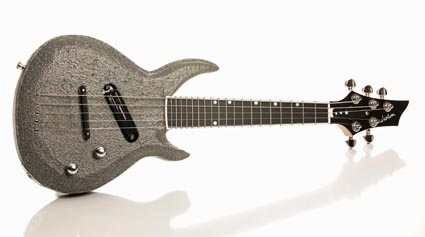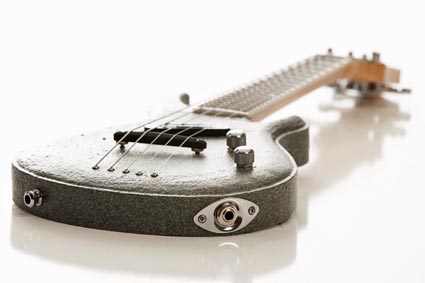 Posted by Ted at 5:26 AM

July 20, 2012 | JazzMando V-pick. One year anniversary!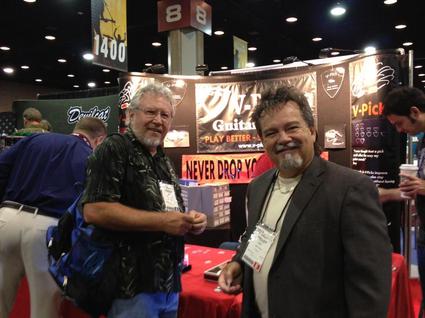 Vinni Smith, founder V-picks, Summer NAMM 2012
We first hooked up with pick innovator Vinni Smith at the 2011 Summer NAMM in Nashville, TN, where collaborative efforts yielded a signature JazzMando V-pick. Ever immersed in the quest for maximum mandolin tone, it's our contention the start of every good note on a fretted string instrument begins with a controlled, clean pick stroke. That can only happen with a good stroke and a quality pick.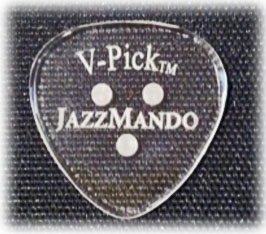 Players have been known to spend up to $40 on a boutique pick. That's not unreasonably expensive when you consider what a good instrument can cost, but if you could spend less and accomplish the same tone and control, you would, wouldn't you? At least you'd give it a try.
We've worked with Vinni Smith and his pick crafters at V-picks to come up with what we consider one of the best premium picks on the market, the new JazzMando V-pick. We took the proven success of the widely popular JazzMando 346 ProPlec (over 7,000 sold),with its acetate construction, large rounded triangle shape, and smooth bevel and worked it into the acrylic science of the V-pick. What we've added though, is truly unique--a 3-point backside strategic etching.
What made the JazzMando ProPlec better than the standard 346 ProPlec was simple. The gold-stamped etching gave an additional grip on a smooth, large surface, both sides. The V-pick is already known for its playing tack, but we went the next step of adding a slight backside etching to give the player an intuitive "reference" on the fleshy part of the thumb. Face it, compared to a guitar pick, there's a lot of real estate there, and having that locating mark is like building a GPS into your pick. Many players like the speed holes, some for lightness, but more often for pick reference. Holes are also known to weaken pick integrity (we know after breaking prototypes, ourselves), so the etching is the best compromise.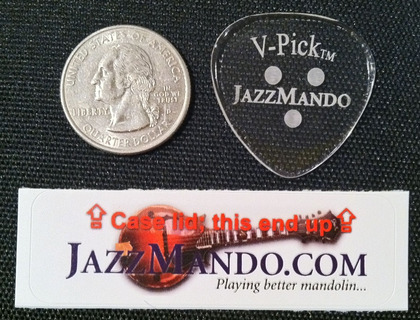 You should try these for yourself. We're shipping them out $9.95 each, or two for $14.95 (Domestic shipping included.). We're indefinitely expanding our offer, a "Pair and Polish" special by adding our $5.00 Silkweave cloth for only $1.00 more. Get two picks and the cloth for only $15.95!
Order information: JazzMando V-pick
Posted by Ted at 6:01 AM

July 18, 2012 | Aaron Weinstein; Fine and Dandy
May not be the greatest fidelity in videography, but the playing is stunningly good, and what we've come to expect from mandolin chord melody legend, Aaron Weinstein. His orchestrations are almost literally that, an orchestra in only eight strings. Love the walking bass!
Enjoy yet another dazzling arrangement in this interpretation of the 30's Broadway pop hit, "Fine and Dandy." For us Boomers, the tune is often associated with the late night television magic act performed on Johnny Carson in the 70's by Art Metrano, which consists of an inept magician performing inane tricks while chanting "duh-duh-da, duh-duh-DA DA!" over and over.
Magic, indeed.
Video Link: Aaron Weinstein; Fine and Dandy

More Aaron Weinstein: Jazz Mandolin's Channel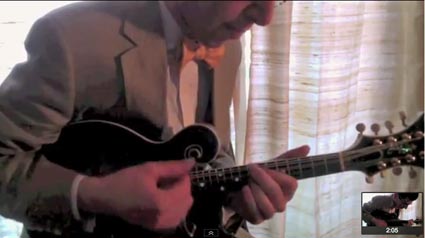 Posted by Ted at 5:00 AM

July 16, 2012 | On the alert--JazzMando D string intonation
We mentioned in an article 3-1/2 years ago some problems we had with the D string cores of the JM11 flatwound mandolin strings we've offered through the website for quite some time now (see JM11 String Consumer Alert). Despite a very clean record with nearly 1000 sets since, the problem with the handmade string has intermittently re-emerged. We've had a handful of such reports the last couple months and in the pursuit of maximum quality control, we're publicly registering the concern again.
We don't want to start a panic--it's not a frequent problem, but for those are baffled by immediate intonation discrepancies on the D, it's not the instrument, it's the string, completely undetectable until the string is installed. The manufacturer has equipped us with free replacement strings.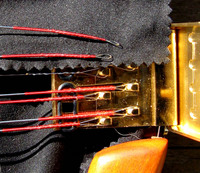 What is happening is in manufacturing, some of these were wound imperfectly at the loop, ultimately affecting the string's core, making it impossible to intonate correctly up the fretboard. Unfortunately, the flaw is undetectable to the eye, and only manifests itself when fretting the new string past the 6th and 7th frets. They can almost be a 1/2 step flat up at the 12th fret.
We've enjoyed tremendous success with the JM11 JazzMando flatwound strings made by Labella, having recently expanded to the JD13 mandola version, and last year, the JM10B ball-end electric mandolin. We continue to try to improve the product, including making adjustments to the length of the playing area (between the silk windings) and reinforcing the loop on the .011 gg E string.
The D-string problem will show immediately once tuned. (It's not a progressive problem.) If you do notice this, let us know. These are still a terrific string and quite popular; we've shipped them though out the US and Canada and to many corners of the globe. We intend to go the extra mile and work with the manufacturer closely to keep them that way.
Let us know (see contact) when you ordered the strings if you run into this isolated incidence.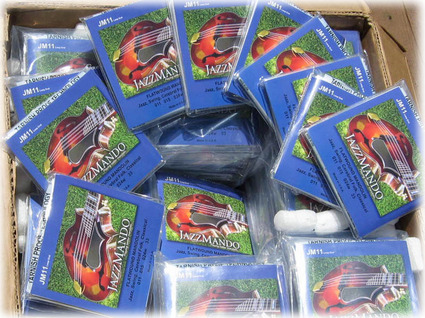 Posted by Ted at 5:47 AM

July 14, 2012 | Summer NAMM 2012 pictures
One might say the 2012 Summer NAMM show was a bit disappointing in breadth and attendance. The glory days of Rigel, even the remotest hint of conspicuously absent Gibson support, Weber, and many other big players are long in the rearview mirror. Still, anytime there are players and a hint of cool new gear, let alone the chance to hook up with industry friends there's going to be some kind of excitement.
We've documented some of the fun in pictorial threads in two places, one the Mandolin Cafe Forum, and our own JazzMando Facebook Page. (You are aware of these, right?)
Enjoy some more of the pictures from the floor.
Links:
Mandolin Cafe Forum thread.
JazzMando Facebook picture album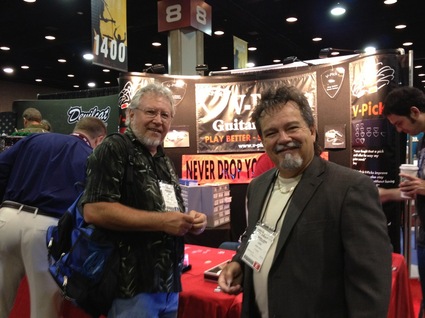 Vinni Smith from V-picks
Posted by Ted at 6:59 AM

July 12, 2012 | Gruhn's Guitars side trip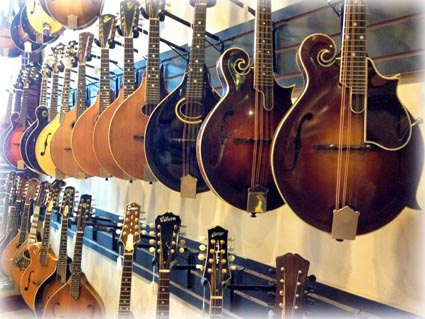 One of the simple pleasures of getting out to the Summer NAMM show a day early is a pilgrimage to Gruhn's Guitars in downtown Nashville. It's a short block and a half from the convention center, and easy to get lulled into not walking out empty-handed. We left the company credit card back at the hotel to avoid succumbing to temptation. The research task was a tough assignment, but somebody had to do it.
Anything for the readers.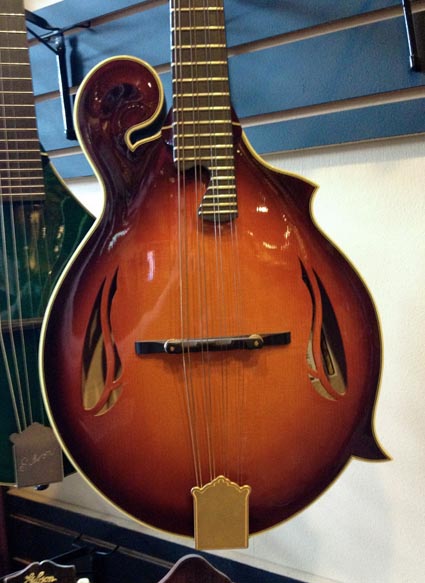 We enjoyed the unique F hole cut of French built Coufleau mandolin. Very full and present, the $5K price tag was a bit hefty, but it would be interesting to see more of these instruments. It played very well.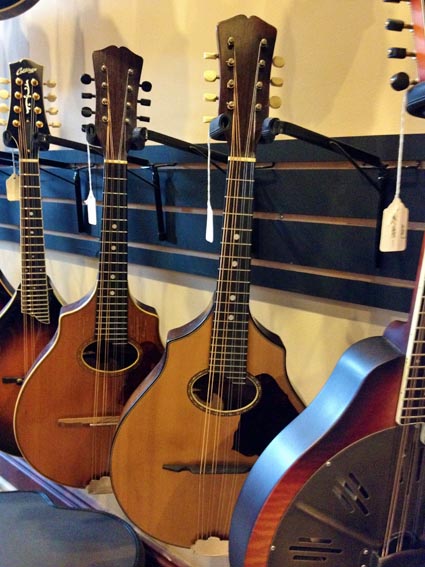 One of the most alluring instruments was an early Vega 20's cylinder back for $1750. Rich, robust bottom end, and the fretboard played exceptionally well especially considering its age. The sound filled the room, and it felt lively in the hands.
A pleasant surprise was the flat top blond Arches instrument. Again, an atypically big sound for something we expected to be more intimate. At $825, this instrument was the hardest to leave behind. We wouldn't hesitate recommending someone mail order this immediately.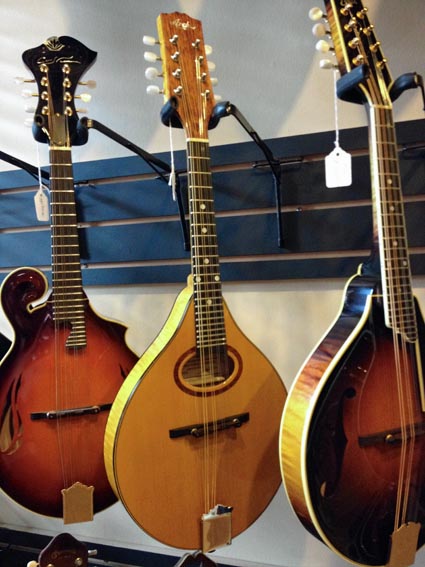 Of course these instruments hung in the midst of a plethora of museum quality Gibson vintage instruments, along with other more current builders. Always a treat spending quality time at the mandolin wall at Gruhns.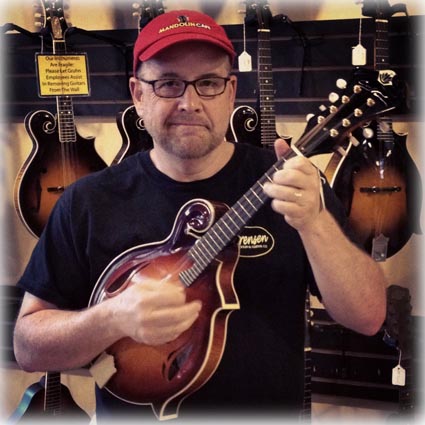 Posted by Ted at 5:55 AM

July 10, 2012 | Summer reading recommendation. Choro, Django
There's still plenty of summer left to get in some reading, and if you're somewhat of a history buff and like to be able to trace the development of a genre through it's social history (and in some cases, vice versa), there are two books to put on the top of your list, covering two hemispheres and both sides of the Atlantic. The first one, "Choro: A Social History of a Brazilian Popular Music" takes you through more than a century of development of the marvelous South American folk genre, including its roots in the indigent indian population, African influence, and of course its classical European roots. Written in 2005, the book also includes a CD of audio examples.
We found it most interesting that Brazilian music thrived best during bouts of intense nationalism and generous government funding, and nearly crumbled during intense democratization, musicians literally out in the streets. Ironically, fascism was very good for the arts in Brazil.
Purchase information: Choro: A Social History of a Brazilian Popular Music; Tamara Elena Livingston-Isenhour and Thomas George Caracas Garcia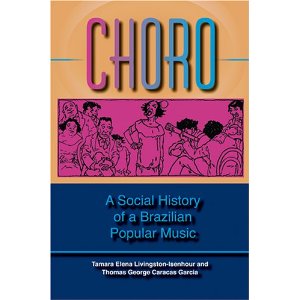 The next book, again for the history buff, "Django: The Life and Music of a Gypsy Legend" by Michael Dregni, in addition takes the rider through the life of the Gypsy Jazz icon and goes into the historical and cultural influences that shaped this rich music, including the rise and fall of Nazi Germany and its devastating impact of WW2 French culture.
Purchase information: Django: The Life and Music of a Gypsy Legend; Michael Dregni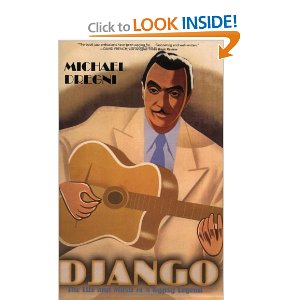 Both books aptly demonstrate how music is an expression of the times. Very much worth the investment of time, especially for the jazz aficionado.
Posted by Ted at 5:17 AM

July 8, 2012 | Summer NAMM, 2012
It's that time of the year, and the crew is closing up the shop to head to Nashville, Tennessee to the Summer NAMM show (see last year's pics). Not quite as big a deal as the Winter one, it's still an opportunity to hook up with some industry friends and catch up on the latest trends and... toys: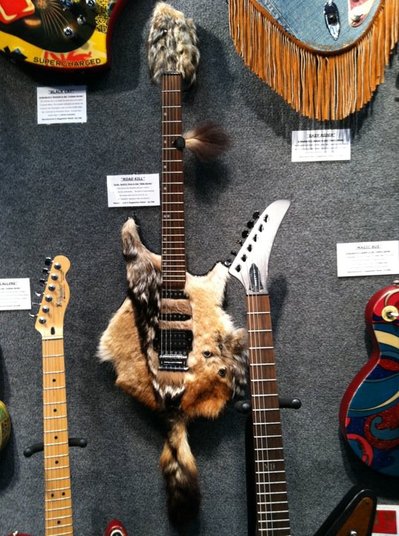 We hope to bring back news of some more "conventional" innovations, but we also need to point out the JazzMando Merchandise Center will be shut down for the week. If you need any strings, picks, cloths, or books, place your order before Monday, 7/9/12. We'll be up and running again the following Monday (7/16) to process your orders.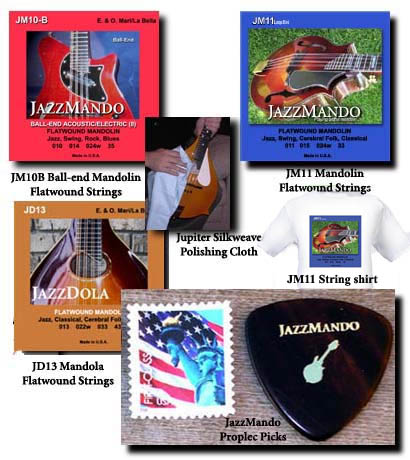 Posted by Ted at 5:50 AM

July 6, 2012 | Aaron Weinstein plays "Somewhere."
Not long ago we dazzled you with a dynamic video presentation of the chord melody pyrotechnics from New York fret magician, Aaron Weinstein. Seems a collective standing ovation from the JazzMando audience has demanded his return, and this delicious rendition, serene but no less astounding, is guaranteed to inspire.
In case you were wondering (we were) he's playing a Joel Eckhaus "Earnest Instrument" electric 4-string, mandola tuning.
Enjoy!
Video Link: Aaron Weinstein; Somewhere Over the Rainbow.

Artist Website: Aaron Weinstein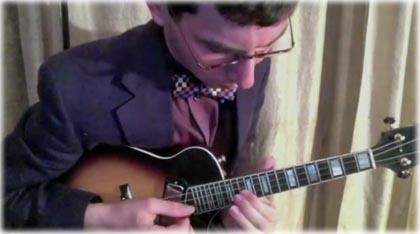 Posted by Ted at 4:53 AM

July 4, 2012 | Jonathan Mann Interview
We're delighted to see Tennessee builder and long time JazzMando site supporter Jonathan Mann featured online in the Mel Bay artist interview page with Erica Haines, including a tour of some of his unique mandolin styles, and some hot licks you'll be able to put in your own chop library.
You'd be interested to know that prior to producing his electric signature "neck through" (for sustain) 4-, 5-, and 8-string mandolins, and breatkthrough baritone/octaves, Jon was a professional songwriter before his artistry at the bench making his highly sought after instruments. From the video and his library of YouTube demonstrations, it's obvious he's an accomplished picker, too.
Video link: Jonathan Mann Interview

Builder Website: www.manndolins.com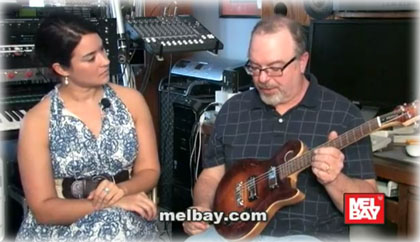 Posted by Ted at 5:57 AM

July 2, 2012 | 10 Questions For Jason Anick
We've enjoyed our collaboration with the Mandolin Cafe on in-depth interviews of some of the best jazz mandolin pioneers in the world, and our most recent is no exception. We've checked in with Paul Glasse, Don Julin, Aaron Weinstein, Will Patton, Don Stiernbergand the late John McGann. What a privilege to get into the heads of these great thinkers.
Our latest installation is from rising star, swing fiddle/mandolinist Jason Anick, who though he's not quite as well known now, I'm sure you'll agree with us he's on the fast track to greatness. Anyone good enough to tour with the likes of John Jorgensen and Robin Nolan, let alone accept a teaching position at the prestigious Berklee School of Music has some street cred to be reckoned with.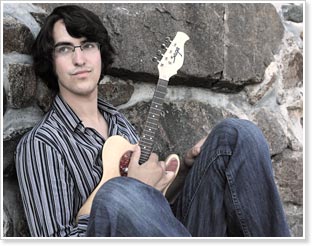 Read through the interview and click on the MP3s and vids and you'll see what we mean. We can't wait for his next CD!
Link: 10 Questions For Jason Anick
Purchase CD: Jason Anick, Sleepless
iTunes
Posted by Ted at 5:11 AM