« Gruhn's Guitars side trip | Main | On the alert--JazzMando D string intonation »

July 14, 2012 | Summer NAMM 2012 pictures
One might say the 2012 Summer NAMM show was a bit disappointing in breadth and attendance. The glory days of Rigel, even the remotest hint of conspicuously absent Gibson support, Weber, and many other big players are long in the rearview mirror. Still, anytime there are players and a hint of cool new gear, let alone the chance to hook up with industry friends there's going to be some kind of excitement.
We've documented some of the fun in pictorial threads in two places, one the Mandolin Cafe Forum, and our own JazzMando Facebook Page. (You are aware of these, right?)
Enjoy some more of the pictures from the floor.
Links:
Mandolin Cafe Forum thread.
JazzMando Facebook picture album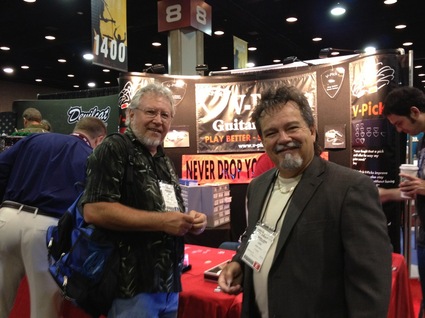 Vinni Smith from V-picks
Posted by Ted at July 14, 2012 6:59 AM