« GiJM feedback | Main | Stunning Hill Country Stringworks 2-point mandolins for sale »

July 26, 2012 | PC gaming company introduces truly penetrating mandolin
Not that into electronic gaming, this one kind of escapes us, but it your tastes in mandolins gravitate toward an instrument that cuts through a crowd, this might just be your answer. From Korean PC gaming company Nexon America, a new video featuring content recently released in its fantasy-life MMO, Mabinogi.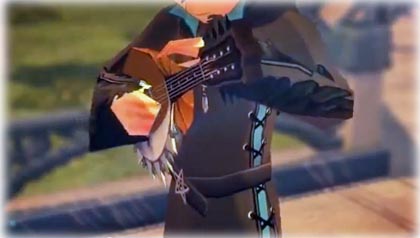 "The video shows off the new Bard character class. The Bard class, also known as the "Battlefield Maestro," supports team battles with the power of music. Armed with a Battle Mandolin, the Bard brings to fights seven new skills to help themselves and their teammates. Some of the skills will give buffs to teammates or help bring down enemies in the field. For example, the "Discord" skill uses strong musical notes to reduce an enemy's speed while causing damage over time."
Video link: Bard class added to Nexon's Mabinogi MMO

We choose to tear up the crowd with diminished 7th chords.
Posted by Ted at July 26, 2012 6:43 AM