« Choosing your string gauge. The cold equations. | Main | PC gaming company introduces truly penetrating mandolin »

July 24, 2012 | GiJM feedback
In a blatant act of shameless self-promotion, we thought we'd forward a recent testimony on the "Getting Into Jazz Mandolin" book feedback. As practice, with every order we ask readers to keep us posted and let us know in what ways it has helped them develop as players:
"Hi Ted....
Just want to let you know that i've been slowly making my way through your book over the past couple of months (I'm as far as Dorian) and I just have to tell you that my fingers are starting to work in ways they never did before. I'm putting at least an hour -- sometimes a lot more -- on it every day, and feel that I'm getting off a plateau I might not become an accomplished jazz mandolinist at my age, and it will take a while to work into my general playing (I still reach for the open string if it fits), but ffcp is gradually making me a better player. There's so much more to come, but I'm doing my best tio avoid rushing through and regularly spend time on scales and arpeggios from weeks past. This is the best investment of 30 bucks I ever made.
Thanks for a great learning experience." (Mike from Edmonton, Alberta).

Purchase link: Getting Into Jazz Mandolin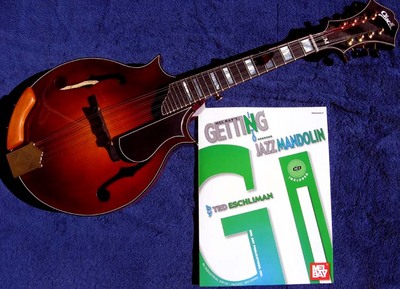 Bonus Audio Page: Webtracks
Posted by Ted at July 24, 2012 5:19 AM