« Don Stiernberg on Blue Night | Main | Book plug: "Getting into Jazz Mandolin" »

December 2, 2010 | Hill Country Stringworks
We first reported on the craftwork of north Texas woodsmith, Doug Edwards over two years ago. His McClung Armrests have been in very high demand since, and we were fortunate enough to get in line for a custom piece for our Clark JM mandolin. Needless to say, we are thrilled with the aesthetics and no surprise, functionality, this being our fourth personal rest.
His unique concept in armrest design, these are angled, much like the angle of the strings from the tailpiece to the bridge. The result is better hand position, control, and comfort. He uses a variety of woods, dyes, and shapes/sizes so most are unique in appearance, but all have the same function. He can make them Right or Left Handed, in a myriad of woods and with custom inlay as you can see pictured below: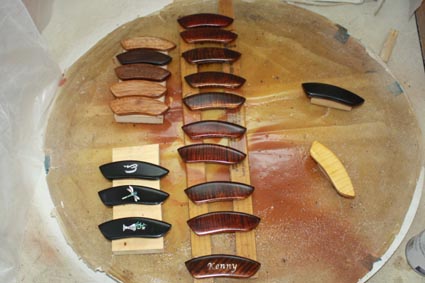 This is the piece he created for the site administrator.
Excellent work. Highly recommended!

Previous article: McClung Armrest
Website: Hill Country Stringworks
Posted by Ted at December 2, 2010 6:23 PM