« July 2012 | Main | September 2012 »

August 31, 2012 | Snark Sale--Final Day
We mentioned this last week and it bears repeating since today is the final day of the sale...
Arguably the hottest all purpose tuner is the new Snark SN8 "Super Tight" clip on. Its big, bold face is boldly clear and the readout extremely responsive. We also need to mention this is a new model, improved over the red or blue one you may already have.
Here's a rundown of the new specs.
Easier to read than other tuners
Tighter, more accurate tuning
Super fast response due to piezo improvements
Unprecedented accuracy
Full color rotating display!
Extended frequency range for all instruments
Stay-put clip
Tap tempo mentronome
Pitch calibration (415-466Hz)
If this is a tuner you'd like to have to use on multiple instruments, today's the last opportunity to get an incredible deal. List price of $39.99, Dietze Music running a limited special of $11.95 on these, but time runs out tonight. Mention JazzMando in the comment field and shipping will be adjusted to $4.75 (slightly more for multiples) or $7.00 for International Postage.
Purchase information: SORRY SALE ENDED 8/31/2012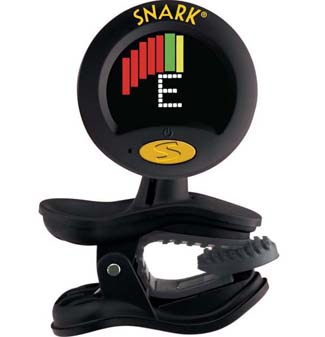 Posted by Ted at 5:33 AM

August 29, 2012 | Mike Marshall; Choro Famoso
Virtuoso multi-instrumentalist, Mike Marshall is a perpetual favorite of ours, no matter the ensemble incarnation. One of the coolest is west coast team of Choro musician enthusiasts, "Choro Famoso" and the following video demonstrates why. The music is vibrant, playful, and as always, Mike's mandolin shimmers.
Enjoy!
Video Link: Mike Marshall; Choro Famoso

Mike Marshall's website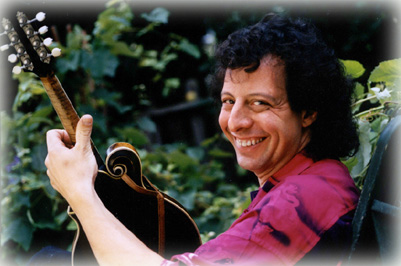 Posted by Ted at 5:32 AM

August 27, 2012 | Tritone Subs
To the music theory uninitiated, the term "Tritone Sub" sounds more like the mispronunciation of an underwater military vessel, but not necessarily a jazz technique. It's not a nuclear powered submarine, rather it's short for Tritone (+4, -5), and the abbreviation for substitution. Really it's a pretty good trick, and one very commonly used in jazz and occasionally, pop music.
It won't be a sound you'd use in a bluegrass jam, but it's a very effective technique, borrowing scale DNA from the major mode a half step above the tonic. It's used in place of the dominant, both chord and scale mode. We to into more detail in a February 2010 Mandolin Sessions article using the Django Rheinhardt classic, "Manoir De Mes Reves." We enjoyed showing you how you could interchange a Eb7 with an A7.
Check out the original article: Another Dominant; Fresh Material for the V7 Chord
JazzMando PDF archive.

Posted by Ted at 5:00 AM

August 25, 2012 | Rich comping with vamps
So you're an actor/singer on stage preparing to sing your next song. It's being set up with the dialogue prior, and the orchestra is poised and ready to take of with the next song. Something in your soul is stirring and being "in the moment" you decide to talk a little slower, stretch out the preparatory dialogue. Problem is, the orchestra is queued for the next song, but you're not done with the set up.
This is not uncommon in musicals, and the way around it is for the composer to include temporary measures that can be expanded, static blocks of short but repeatable sections. It will actually be written in the conductor's score this way, several measure encased in repeat signs notated "Vamp." It makes sense to make this interesting, but still keep the instrumental music simple and maintain or establish the identity of the tonal center. Coincidentally, it's the same battle the jazz accompanist faces, making multiple measures sound cohesive, but not dull, playing behind a soloist.
We started a new series this week in our Tips and Tricks column. There are ways to make accompaniment interesting WITHOUT slowing the process down to written out measures. In the case of jazz improvisation, we want to keep within the context of harmonic structure, and we have some great ideas to help you accomplish this. It can be as simple as a major triad.
Check out this week's Tips and Tricks, Vamps. Creating energy with Diatonic triads.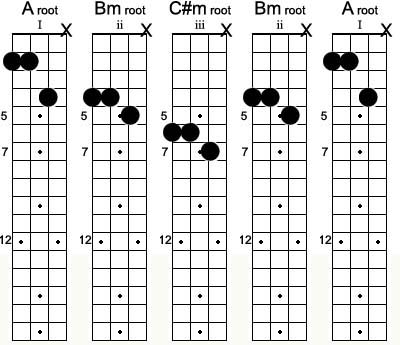 Stay tuned for upcoming articles on Vamps. This is important stuff and very easy to employ.
Posted by Ted at 5:02 AM

August 23, 2012 | Hot, hot, hot. New Snark Tuner model $11.95. Limited quantities.
Since its introduction last year, we've held it to be the best tuner for mandolin, the Planet Waves PW-CT-12 "NS Mini" clip-on tuner. Its sleek profile, immediate response, and crisp visual makes it perfect for a small fretted instrument, but the downside is the diminuitive clips are not really built for repetitive clamping. It's best purchased and left on the instrument--all the time (even in the case).
Arguably the hottest all purpose tuner is the new Snark SN8 "Super Tight" clip on. Although the face is gigantic in comparison, the base will be stronger if you want to remove it after each tuning. It reads just as well, an for the bifocal crowd, might have a slight edge.
Here's a rundown of the new specs. If you've purchased a red or blue one, note this has been improved last spring (2012):
NEW BRIGHTER, EASIER TO READ DISPLAY THAN OTHER SNARK TUNERS!
TIGHTER, MORE ACCURATE TUNING THAN PREVIOUS MODELS!
SUPER FAST RESPONSE DUE TO PIEZO IMPROVEMENTS!
HAIR SPLITTING ACCURACY!
FULL COLOR ROTATING DISPLAY!
EXTENDED FREQUENCY RANGE FOR TUNING ALL INSTRUMENTS!
"STAY PUT" CLIP!
TAP TEMPO METRONOME!
PITCH CALIBRATION (415-466Hz)!
If this is a tuner you'd like to have to use on multiple instruments, now's the time to get an incredible deal. List price of $39.99, Dietze Music running a limited special of $11.95 on these, but only while quantities last. At the rate they've been selling, they probably won't last more than this weekend, so you'll want to act fast.
Purchase information: Snark SN8 "Super Tight" clip on chromatic tuner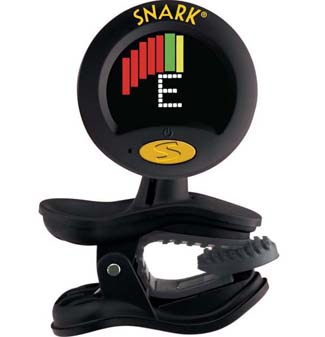 Posted by Ted at 5:12 PM

August 21, 2012 | By George; Don Stiernberg fave
The lengthy discography of jazz mandolin pioneer Don Stiernberg is a penultimate study in the jazz voice potential inherent in our instrument. We encourage you to own every note the Chicago master has ever recorded, but we profess our favorite...
Don teamed up with east coast musician, and legend in his own right, guitarist John Carlini in delicious collection of George Gershwin's classics in the Blue Night recording "By George." From our 2005 review:
"It's comfortably familiar acoustic quartet terrain, accompanied by two of Chicago's most in-demand side musicians, Jim Cox on bass and Phillip Gratteau on drums. The two veteran rhythmic stalwarts support, yet yield just enough sonic space to allow these two deliver yet more of the alluring harmonies and melodic interplay 14 strings could hope to deliver. As in their previous "Angel Eyes," we witness an uncanny chemistry, Carlini with his brazen yet honed Berklee complex harmonic vocabulary, and Stiernberg with his street-savvy "Windy City" charm. John brings the vertical, the tasty chord changes and Don propels it with the horizontal, his ever-driving sense of line and phrase. Back and forth, over and under, the two "weave" the music into a colorful acoustic tapestry."
If you don't already own this, shame on you! Add this to your library post haste. You'll agree when you've spun it scores of times in your player like we have.
Archive review: By George-John Carlini/Don Stiernberg
Purchase recording: By George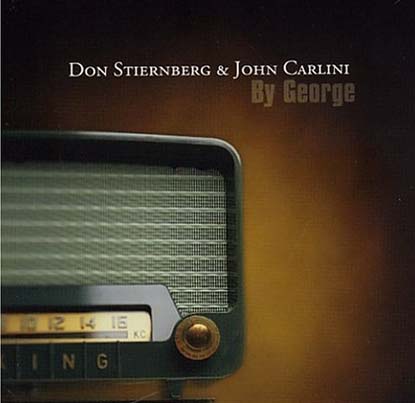 Tracks:
Nice Work If You Can Get It
Liza
How Long Has This Been Going On?
Somebody Loves Me
Fascinatin' Rhythm
I've Got A Crush On You
Someone To Watch Over Me
The Man I Love
Rhapsody In Blue
Summertime
Embraceable You
Soon
Strike Up The Band
I've Got Rhythm
Posted by Ted at 5:07 AM

August 19, 2012 | Ludewig Mandolins: Merlot-burst A5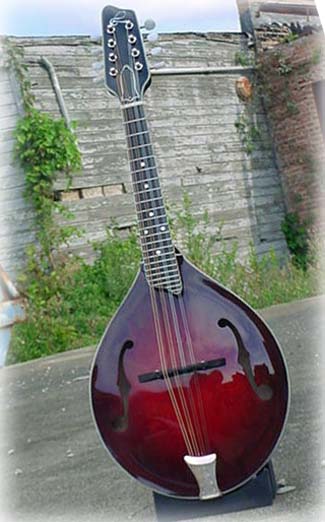 We stumbled across this gorgeous A5 in the Mandolin Cafe Classifieds and had to chide the Dekalb, Illinois builder, our friend Dale Ludewig for not giving us the heads-up to introduce it to the world. We coaxed him to take a few more shots and give us more.
"The mando is kind of exciting," he writes us. "I'm still learning and it seems that this is evidence. It's very light in weight, and plays like a dream. It's very responsive."
He also scooped us on another opportunity because of an unfortunate hardship case with a customer. "I shall soon have another one finished and for sale. I have a little breather in the schedule right now. The next one will will an F5, tortoise/w/b binding. Triple bound both front and side. Bound F holes. One of the most breathtaking pieces of quilt (one piece) for the back I've ever seen."
We'll keep you posted!
Meantime dig the following Merlot-burst (our description, not his)...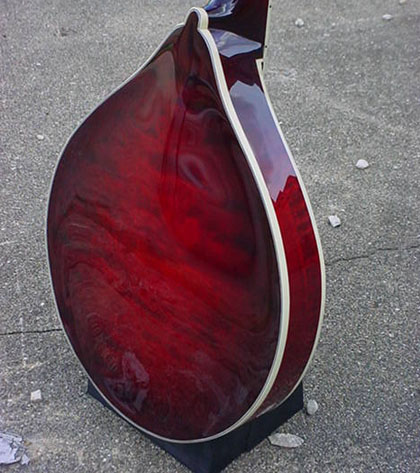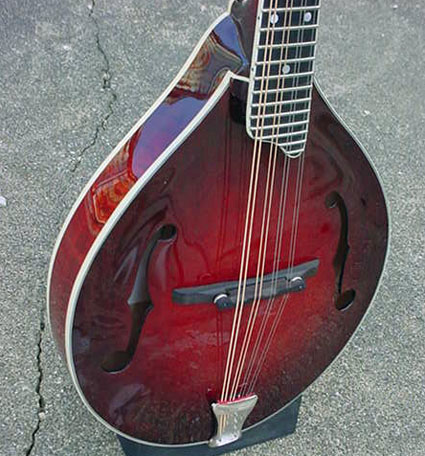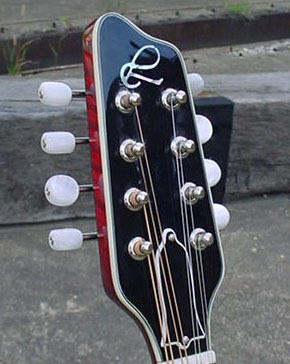 Dark cherry red/slight burst. 1 3/16" nut. 12" radiused fingerbd. Ebony board and overlay. Black overlay on back of headstock. Grover nickel tuners. Allen tailpiece. CA bridge. Red spruce top. Curly maple sides and neck. Moderately quilted back. IBI binding. Nitro finish. Standard fretwire. Plays easily with lots of volume and tone.
Price: $2600
Purchase information:
Ludewig A5 Mandolin - New
Read archive review:
Dale Ludewig Emory Lester A Model
Builder Website:
Ludewig Mandolins

Posted by Ted at 6:52 AM

August 17, 2012 | Builder Eye Candy
We've recently been showing pictures of our dream build, the Clark JM5 guitarbody 5-string we waited all year for. Pictured below is a pairing with older sister signature Clark JM 2-point.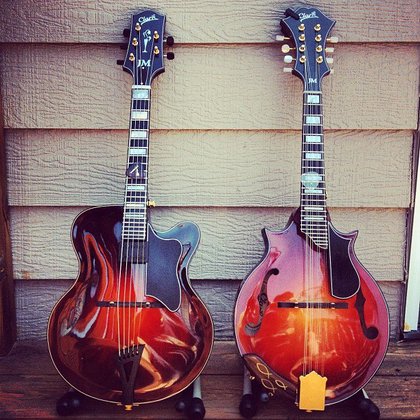 Lately, Facebook has been laden with some amazing temptations with builders we're really impressed with, and we snagged a few shots to show. We really are living in a Golden Age of Luthiery!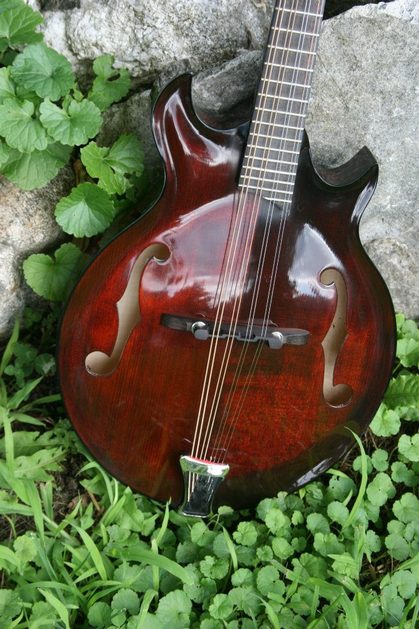 Visit Website: Girouard Mandolins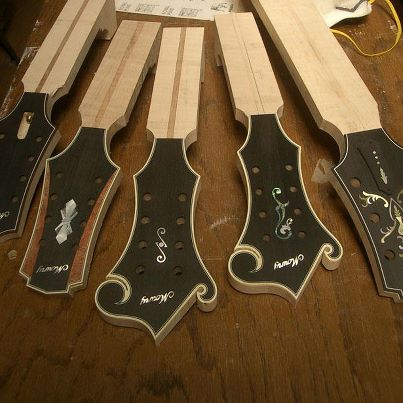 Visit Mowry Strings
Read Review: Mowry Asymmetrical Two-point Mandolin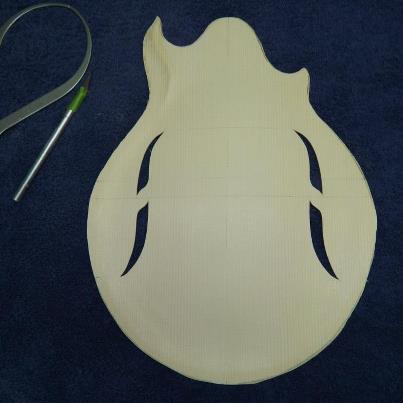 Note, the above unique soundhole cuts are actually on a personal build, a custom Sorensen JM Sprite 2-point.
Visit Sorensen Mandolins and Guitars
Read Review: Spotlight: Sorensen "Sprite" mandolin
Posted by Ted at 5:16 AM

August 15, 2012 | Mandolin Sessions PDFs
We had a little bit of a scare last week when the archive file library for the Mel Bay Mandolin Sessions articles disappeared. They seem to be back now, but as a precaution, we've uploaded PDF copies of our Jazz Mandology lessons, over 40 of them onto the site here.
If you browse the Jazz Mandology resource page, all are available with the click of a mouse.
If you own an iPad or any tablet capable of reading PDF files, these would be great to load up for your own personal studies. We've covered the gamut of jazz theory, modes, 'ii V7 I' progressions, turnarounds, as well as some healthy playing technique enhancers. The titles are pretty self-explanatory. Click through the links on the page and see if there are treasures you've missed the last 9 years we've been contributing them.
View page: Mel Bay's Mandolin Sessions--Jazz Mandology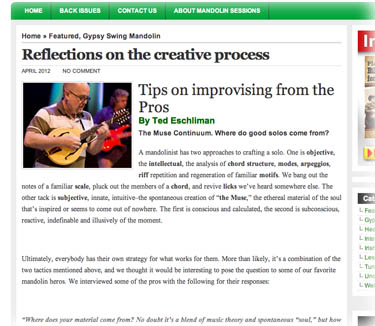 Posted by Ted at 5:03 AM

August 13, 2012 | Applied FFcP
A big part of the charter around here is that theory needs application. Mapping out scale patterns just for the sake of mapping out scale patterns makes no sense until you're using them in the context of improvisation, or just understanding how a melody lays out in a chord context. We did a series in our Tips and Tricks section a few weeks ago looking at two FFcP patterns in the classic "Autumn Leaves."
Last week, we took apart the Toots Thielemans standard "Bluesette." Though we applied four FFcP different keys of fingerings, we kept it to two "positions" on the fretboard. One of the skills we hope you achieve in getting to that next level is the ability to find the maximum efficiency when getting around the different tonal centers--find your own personal "zones." Some times, you don't even have to move.
If you haven't already, check out one possible alternative to approaching a song with four different keys in the same song.
Lesson link: Closing in on Bluesesette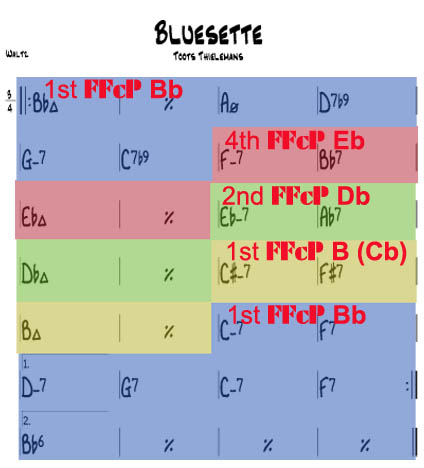 Ralph Patt Backing track:

Bluesette
Posted by Ted at 5:30 AM

August 11, 2012 | An Evening with the Andy Statman Trio
Our friend and mentor Scott Tichenor of the Mandolin Cafe experienced a nearly spiritual experience on a recent trip the the Big Apple Charles Street Synagogue in the West Village, New York City. He shares the passionate performance and a personal interview with the genre breaking legend in a headline article on the Cafe, An Evening with the Andy Statman Trio.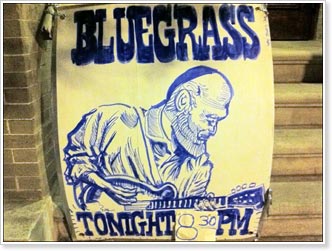 "The music begins with Andy launching into a mandolin solo riffing on what's an instantly recognizable traditional tune. He's suggesting the melody at times, coaxing bits of it here and there. The rest of the trio joins in after a few minutes. The piece builds. It's inside, it's outside. There are complex lines leading into territory I clearly won't attempt to describe because I can't. Each member solos. The band is engaging in their signature live improvsation, always a part of an Andy Statman performance. Andy, Jim Whitney on bass and Larry Eagle on percussion weave their way through the tune for a good 15 minutes -- quite a feat in my opinion. Andy rarely stops playing, moving easily from lead to rhythm to sounds that are percussive in quality. And it's interesting, tastefully handled, sometimes with humor.
The tune abruptly ends with a riff from the Monroe book. Applause follows. Andy, who had his back to the audience facing bass and drums turns and says with a smile, "well, that was Turkey In The Straw." The audience laughs. The entire evening is like this, a mix of extended improvisation, a few cuts from his recent double-CD Old Brooklyn and original compositions yet unnamed. At one point Larry Eagle launches into a surf beat. Andy jumps in for what sounds like a lost Beach Boys original. They're enjoying it all and share a laugh once it's finished. "What was that?" someone asks. "We don't have a name for it," Andy says, but it's clear it's part of their repertoire."
Read more: An Evening with the Andy Statman Trio
JazzMando Review: Andy Statman; Old Brooklyn
Purchase CD: Old Brooklyn
Artist website: Andy Statman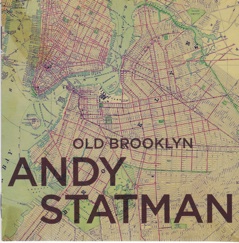 Posted by Ted at 5:44 AM

August 9, 2012 | The Beatles thrashed and rehashed.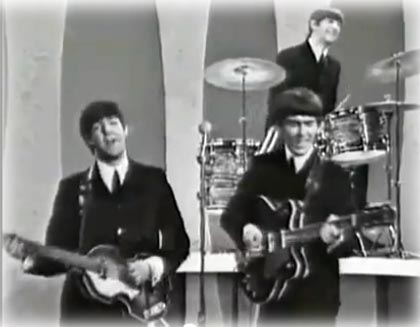 We're totally enthralled with classic Beatles in original form, but we'll embrace just about any reboot. We might make an exception for the following:
Video link: The Beatles Play Death Metal

On a serious note, for the jazz enthusiast, our favorite piano trio version has to be the BeatleJazz (Dave Kikoski, Brian Melvin and Charles Fambrough) from over a decade ago. From the other end of the spectrum, there's the Russian Balalaika orchestra for Zdravitsa, some tasty electric mandolin stylings from Jason Anick, and the smooth acoustic sound of the late Butch Baldassari.
We also mentioned the dynamic 2008 Celtic collaboration of Brian Hebert with John McGann not long ago, Any Time At All - a Session Picker's Tribute to the Beatles
Lots of ways to get your fix of the Fab Four.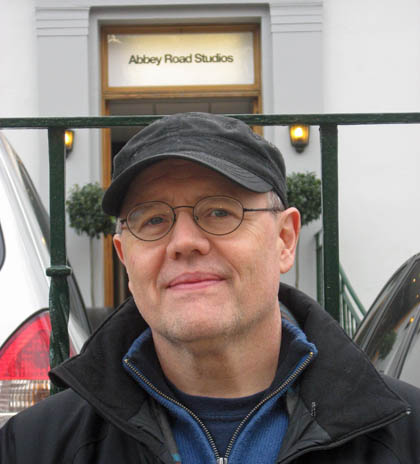 John McGann 2012

Posted by Ted at 6:59 AM

August 7, 2012 | Paul Glasse 8 to 5
One of our favorite Mandolin Cafe interviews was from 2009 with legendary Austin-based mandolinist, Paul Glasse. Arguably the only contemporary who can claim time blessed with hands-on experience with the previous generation's triumvirate greats in jazz mandolin, Tiny Moore, Johnny Gimble, and Jethro Burns he's been able to carry their torch and assist in cultivating a new crop of players, as any who have attended his workshops will attest.
Here's an excerpt from one of the questions in regards to his approach to 8-string verses the electric 5-string:
"There's quite a bit that's different between the two instruments, the settings that I play them in and what I've come to believe they both require. Truthfully, at this point, I approach many of these issues intuitively, which serves me well. A few thoughts... Prior to moving to a 5-string electric I'd had most of a year of gigging experience playing on a 1957 Fender electric mandolin, generously loaned to me by fiddler mentor Evan Stover. Through that experience I'd begun to deal with some of the issues: single strings versus double courses, bending notes, picking with a lighter attack, getting away from the bluegrass "motorboat" right hand picking, playing frequently in closed positions, the ups and downs of having more sustain. When I finally moved to a 5-string electric I went through the same issues many of us do. At first I thought of the bottom strings "in another key"--that is "I can move all my G-position stuff down to the bottom four strings and now it's C stuff." While that approach can get you started, you've really got to get past that and see all five strings as a complete thing--an extension of the fingerboard you knew before. At this point, even if I'm just playing the bottom strings, seeing all five strings there helps me conceptualize where I am. Oddly, mandola or 4-string mandola tuning (like Johnny Gimble uses) confuses me more than the 5-string."
Read more: The Paul Glasse Interview

ReverNation website: Paul Glasse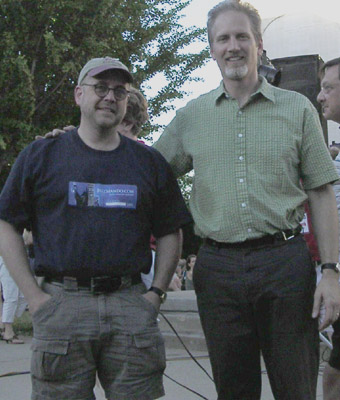 Posted by Ted at 5:46 AM

August 5, 2012 | MyRealbook.com
We mentioned this on the site two years ago, and the overwhelming popularity of eReaders such as the iPad make this resource even more appealing. Need a jazz chart PDF for a gig or practice? Want to have it immediately transposed for your library? Myrealbook.com is your answer.
Of course an app like iReal B will do a good share of this for you, but if you want to print paper or just another interpretation, there are over 1,000 songs contributed by working musicians at your fingertips, including search options for already published printed materials. Understand that this is not a fakebook with melody notated, to offer this feature would make the project cost prohibitive, with all the due legal responsibilities and royalty administration. Still, considering the cost (free), this is an excellent "go to" for songs you may not already have in your repertoire.
You can use this to print your own set of songs!
Visit website: MyRealbook.com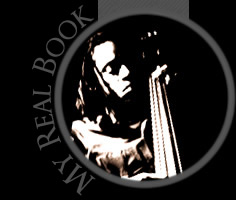 If you are unfamiliar with this format, check the helpful page on how to use free jazz charts.
Example: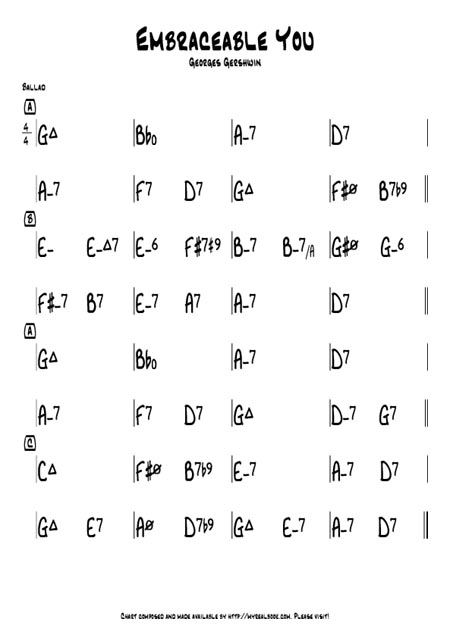 Posted by Ted at 8:24 AM

August 3, 2012 | The end of JD13 mandola strings
Effective immediately, we're officially discontinuing our proprietary JazzDola JD13 flatwound mandola strings indefinitely. We've run into more manufacturing issues, severe breakage of the D strings at the tuning post. It's not a length issue and we've been unable to determine where the problem is, but until we do, the strings are no longer available in the JazzMando Merchandise Center.
The defect seems to plague the longer scale instruments, either longer fretboard our lower tailpiece, such as the Weber style. The weakness is unpredictable as some of the customers we've polled have not had problems with them, usually the shorter scale mandolas. We actually experienced the problem here in the studio personally.
We are sincere in our efforts to bring you quality, trouble-free products and regret any inconvenience..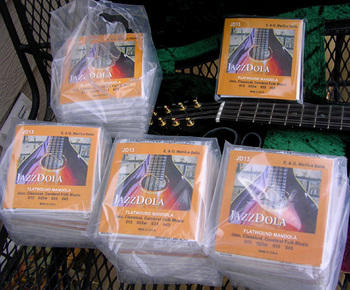 Posted by Ted at 5:24 AM

August 1, 2012 | Old Wave SolocompJM 4-string Jazz Mandola looking for a good home.
We posted pictures of this little beauty on our Facebook page yesterday and the response was off the charts. The dirty little secret is we just put it up for sale in the Mandolin Cafe Classifieds. If this is a sound you want to ad to your arsenal now's your chance
Classified ad: Old Wave SolocompJM 4-string Jazz Mandola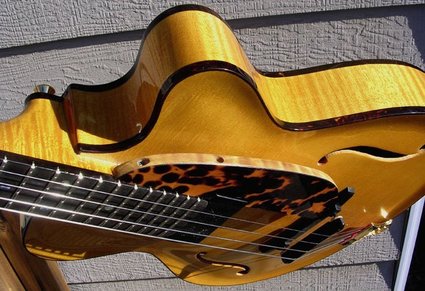 Had this made for us by New Mexico builder Bill Bussmann five years ago. It's a joy to play, but the recent acquisition of our Clark JM5 5-string has called for this beauty find a new home so it can get played. Tuned CGDA and strung up with JD13 flatwound strings, it gets a rich, chocolatey smooth L5 tone from its custom Kent Armstrong pickups. (It sounds pretty good acoustically, too.)
It's a unique, sultry jazzbox voice, the resonance of a tenor guitar, but its shorter 16" scale makes it extremely comfortable for hands and fingers. Sustain, strong string fundamental, it's a crazy good comping instrument, but it has enough voice to solo with, too. If there was any living proof that blondes have more fun, this would be it.
Close up pictures are on the JazzMando Facebook wall and also on the review page on the JazzMando site.
Comes with Concorde extra wide viola case. Asking $2250 plus shipping (a new build would run you into the mid $3K range), and frankly, it has not been played out much--more of a studio toy.
Classified ad: SolocompJM 4-string Jazz Mandola for sale
Review: Old Wave SolocompJM 4-string Jazz Mandola
YouTube demo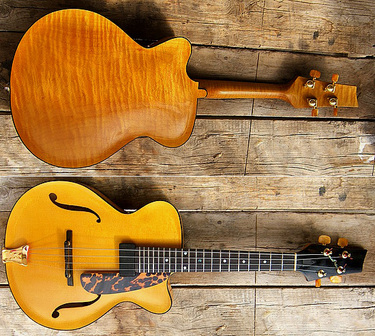 Posted by Ted at 5:09 AM