« Hot, hot, hot. New Snark Tuner model $11.95. Limited quantities. | Main | Tritone Subs »

August 25, 2012 | Rich comping with vamps
So you're an actor/singer on stage preparing to sing your next song. It's being set up with the dialogue prior, and the orchestra is poised and ready to take of with the next song. Something in your soul is stirring and being "in the moment" you decide to talk a little slower, stretch out the preparatory dialogue. Problem is, the orchestra is queued for the next song, but you're not done with the set up.
This is not uncommon in musicals, and the way around it is for the composer to include temporary measures that can be expanded, static blocks of short but repeatable sections. It will actually be written in the conductor's score this way, several measure encased in repeat signs notated "Vamp." It makes sense to make this interesting, but still keep the instrumental music simple and maintain or establish the identity of the tonal center. Coincidentally, it's the same battle the jazz accompanist faces, making multiple measures sound cohesive, but not dull, playing behind a soloist.
We started a new series this week in our Tips and Tricks column. There are ways to make accompaniment interesting WITHOUT slowing the process down to written out measures. In the case of jazz improvisation, we want to keep within the context of harmonic structure, and we have some great ideas to help you accomplish this. It can be as simple as a major triad.
Check out this week's Tips and Tricks, Vamps. Creating energy with Diatonic triads.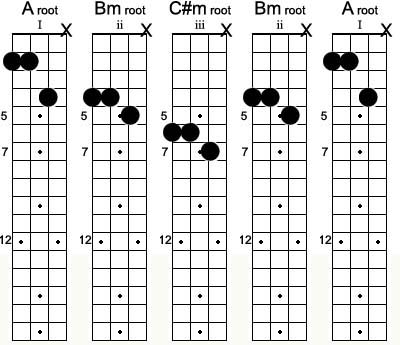 Stay tuned for upcoming articles on Vamps. This is important stuff and very easy to employ.
Posted by Ted at August 25, 2012 5:02 AM