« By George; Don Stiernberg fave | Main | Rich comping with vamps »

August 23, 2012 | Hot, hot, hot. New Snark Tuner model $11.95. Limited quantities.
Since its introduction last year, we've held it to be the best tuner for mandolin, the Planet Waves PW-CT-12 "NS Mini" clip-on tuner. Its sleek profile, immediate response, and crisp visual makes it perfect for a small fretted instrument, but the downside is the diminuitive clips are not really built for repetitive clamping. It's best purchased and left on the instrument--all the time (even in the case).
Arguably the hottest all purpose tuner is the new Snark SN8 "Super Tight" clip on. Although the face is gigantic in comparison, the base will be stronger if you want to remove it after each tuning. It reads just as well, an for the bifocal crowd, might have a slight edge.
Here's a rundown of the new specs. If you've purchased a red or blue one, note this has been improved last spring (2012):
NEW BRIGHTER, EASIER TO READ DISPLAY THAN OTHER SNARK TUNERS!
TIGHTER, MORE ACCURATE TUNING THAN PREVIOUS MODELS!
SUPER FAST RESPONSE DUE TO PIEZO IMPROVEMENTS!
HAIR SPLITTING ACCURACY!
FULL COLOR ROTATING DISPLAY!
EXTENDED FREQUENCY RANGE FOR TUNING ALL INSTRUMENTS!
"STAY PUT" CLIP!
TAP TEMPO METRONOME!
PITCH CALIBRATION (415-466Hz)!
If this is a tuner you'd like to have to use on multiple instruments, now's the time to get an incredible deal. List price of $39.99, Dietze Music running a limited special of $11.95 on these, but only while quantities last. At the rate they've been selling, they probably won't last more than this weekend, so you'll want to act fast.
Purchase information: Snark SN8 "Super Tight" clip on chromatic tuner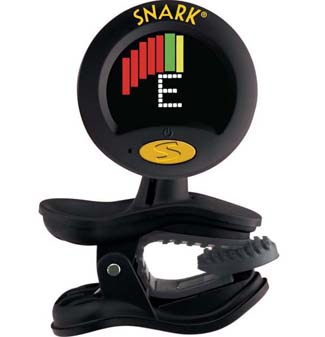 Posted by Ted at August 23, 2012 5:12 PM