« Ludewig Mandolins: Merlot-burst A5 | Main | Hot, hot, hot. New Snark Tuner model $11.95. Limited quantities. »

August 21, 2012 | By George; Don Stiernberg fave
The lengthy discography of jazz mandolin pioneer Don Stiernberg is a penultimate study in the jazz voice potential inherent in our instrument. We encourage you to own every note the Chicago master has ever recorded, but we profess our favorite...
Don teamed up with east coast musician, and legend in his own right, guitarist John Carlini in delicious collection of George Gershwin's classics in the Blue Night recording "By George." From our 2005 review:
"It's comfortably familiar acoustic quartet terrain, accompanied by two of Chicago's most in-demand side musicians, Jim Cox on bass and Phillip Gratteau on drums. The two veteran rhythmic stalwarts support, yet yield just enough sonic space to allow these two deliver yet more of the alluring harmonies and melodic interplay 14 strings could hope to deliver. As in their previous "Angel Eyes," we witness an uncanny chemistry, Carlini with his brazen yet honed Berklee complex harmonic vocabulary, and Stiernberg with his street-savvy "Windy City" charm. John brings the vertical, the tasty chord changes and Don propels it with the horizontal, his ever-driving sense of line and phrase. Back and forth, over and under, the two "weave" the music into a colorful acoustic tapestry."
If you don't already own this, shame on you! Add this to your library post haste. You'll agree when you've spun it scores of times in your player like we have.
Archive review: By George-John Carlini/Don Stiernberg
Purchase recording: By George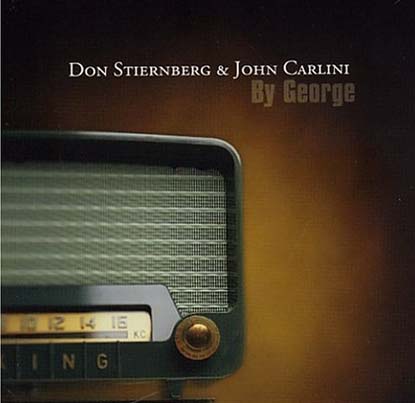 Tracks:
Nice Work If You Can Get It
Liza
How Long Has This Been Going On?
Somebody Loves Me
Fascinatin' Rhythm
I've Got A Crush On You
Someone To Watch Over Me
The Man I Love
Rhapsody In Blue
Summertime
Embraceable You
Soon
Strike Up The Band
I've Got Rhythm
Posted by Ted at August 21, 2012 5:07 AM