« Ted and Pablo 2012 California Tour | Main | The end of JD13 mandola strings »

August 1, 2012 | Old Wave SolocompJM 4-string Jazz Mandola looking for a good home.
We posted pictures of this little beauty on our Facebook page yesterday and the response was off the charts. The dirty little secret is we just put it up for sale in the Mandolin Cafe Classifieds. If this is a sound you want to ad to your arsenal now's your chance
Classified ad: Old Wave SolocompJM 4-string Jazz Mandola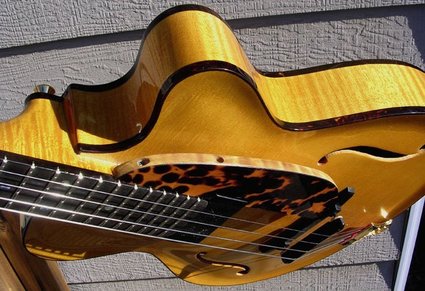 Had this made for us by New Mexico builder Bill Bussmann five years ago. It's a joy to play, but the recent acquisition of our Clark JM5 5-string has called for this beauty find a new home so it can get played. Tuned CGDA and strung up with JD13 flatwound strings, it gets a rich, chocolatey smooth L5 tone from its custom Kent Armstrong pickups. (It sounds pretty good acoustically, too.)
It's a unique, sultry jazzbox voice, the resonance of a tenor guitar, but its shorter 16" scale makes it extremely comfortable for hands and fingers. Sustain, strong string fundamental, it's a crazy good comping instrument, but it has enough voice to solo with, too. If there was any living proof that blondes have more fun, this would be it.
Close up pictures are on the JazzMando Facebook wall and also on the review page on the JazzMando site.
Comes with Concorde extra wide viola case. Asking $2250 plus shipping (a new build would run you into the mid $3K range), and frankly, it has not been played out much--more of a studio toy.
Classified ad: SolocompJM 4-string Jazz Mandola for sale
Review: Old Wave SolocompJM 4-string Jazz Mandola
YouTube demo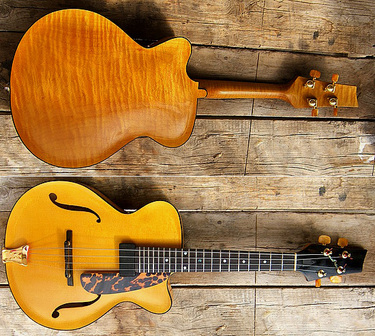 Posted by Ted at August 1, 2012 5:09 AM