« Old Wave SolocompJM 4-string Jazz Mandola looking for a good home. | Main | MyRealbook.com »

August 3, 2012 | The end of JD13 mandola strings
Effective immediately, we're officially discontinuing our proprietary JazzDola JD13 flatwound mandola strings indefinitely. We've run into more manufacturing issues, severe breakage of the D strings at the tuning post. It's not a length issue and we've been unable to determine where the problem is, but until we do, the strings are no longer available in the JazzMando Merchandise Center.
The defect seems to plague the longer scale instruments, either longer fretboard our lower tailpiece, such as the Weber style. The weakness is unpredictable as some of the customers we've polled have not had problems with them, usually the shorter scale mandolas. We actually experienced the problem here in the studio personally.
We are sincere in our efforts to bring you quality, trouble-free products and regret any inconvenience..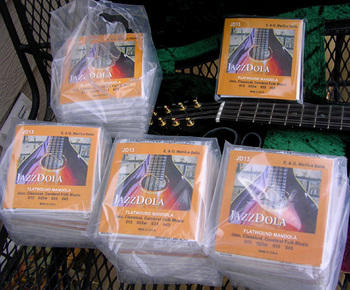 Posted by Ted at August 3, 2012 5:24 AM