« Applied FFcP | Main | Builder Eye Candy »

August 15, 2012 | Mandolin Sessions PDFs
We had a little bit of a scare last week when the archive file library for the Mel Bay Mandolin Sessions articles disappeared. They seem to be back now, but as a precaution, we've uploaded PDF copies of our Jazz Mandology lessons, over 40 of them onto the site here.
If you browse the Jazz Mandology resource page, all are available with the click of a mouse.
If you own an iPad or any tablet capable of reading PDF files, these would be great to load up for your own personal studies. We've covered the gamut of jazz theory, modes, 'ii V7 I' progressions, turnarounds, as well as some healthy playing technique enhancers. The titles are pretty self-explanatory. Click through the links on the page and see if there are treasures you've missed the last 9 years we've been contributing them.
View page: Mel Bay's Mandolin Sessions--Jazz Mandology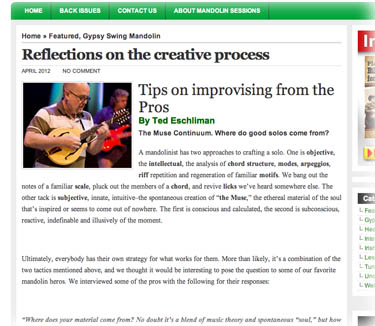 Posted by Ted at August 15, 2012 5:03 AM