« August 2012 | Main | October 2012 »

September 30, 2012 | Minor Fun
The oft neglected Minor scale is a child that demands more attention than we think it deserves. It's easy to lump it in the broader category of the other seven modes, but harmonically, it behaves like a hungry toddler in a quiet restaurant. You know that the 3rd scale degree is lowered from the Major, but you just don't realize it until you start to nail down where to go with the 6th and 7th. They teach you Natural, Harmonic, and Minor modes, but that's all esoteric until you get into the nitty gritty of harmonic progression where the 7th has a specific function. Otherwise, it just doesn't know when and where to sit down in context.
Still it's great to practice exercises in Minor (and Dorian) modes to get the patterns into your fingertips, but it's the arpeggios of a chord progression where the rubber meets the road when it comes to pedagogy. We first introduced this exercise in the October 2009 Mandolin Sessions. The drill there is so good, it's worth repeating here in a PDF format for you to print out and spend some time on, especially if you want to jam away comfortably in any song in a minor key.
Have some fun working this through all twelve keys. Though quite comprehensive traveling the Circle of 5ths, it's only two pages:
Link: Minor Arpeggios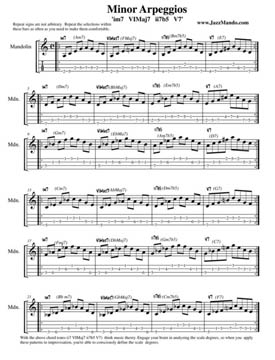 Posted by Ted at 7:40 AM

September 28, 2012 | Mandolin. From the Heart. For the Heart...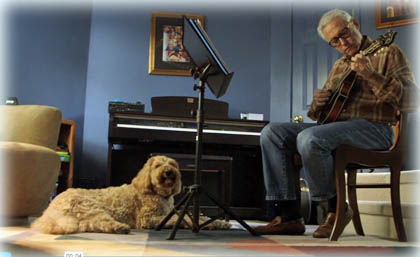 "I listen to heart patients' rhythms. And figure out how to fix them."
Dr. Andrew Merliss, Staff physician of Bryan Health in the LGH Health Services, Lincoln, Nebraska
Our favorite kind of product placement...
Video link: Bryan Health "Known For Heart" - Merliss

Posted by Ted at 5:31 AM

September 26, 2012 | Introducing: Clark JM5 guitar bodied 5-string mandolin!
We've had it in our hands a few weeks now, and finally took the time to put it down long enough to write up a formal review. Boise Idaho wood prodigy Austin Clark took his building chops to a whole new level with the introduction of his JM5 5-string mandolin, and we've had nothing but pleasure with it.
His commercial success with his L5 shaped octave mandolin made the project a natural, although he confesses this is not as simple as shrinking a proven instrument to a smaller size. The tiny area of complex plates make resonant vibration a challenge, but we're pleased to say the outcome is most enjoyable to hear and play.
Read review for more details: Clark JM-5 guitar-bodied 5-string mandolin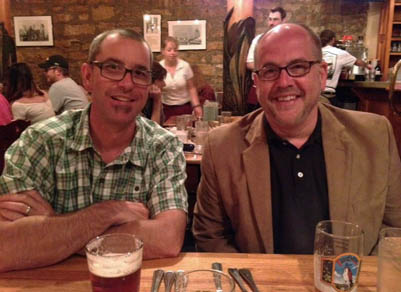 Austin Clark, Ted Eschliman in Lawrence, KS, 9/12
Posted by Ted at 4:18 AM

September 24, 2012 | Sip your coffee. Correctly now...
Yes, we made a mistake in early production of our signature 3-note 7th chord mug in the CafePress JazzMando Logo Store. A few got out before the correction (collector's items?), but the second D Maj7 chord has bee moved down to the proper frets. These really are very useful, and emblazoned on the ceramic, a terrific personal educational tool.
Sip your favorite beverage in style, and enjoy a few chords while you're at it. Major, Minor, and Dominant 7ths--you're all ready to go!
Purchase information: JazzMando 3-note Chord Mug.$15.99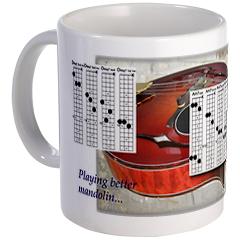 While you're there, how about a matching shirt?
Posted by Ted at 5:29 AM

September 22, 2012 | Five part series on 3-note vamp chords complete!
We've felt one of the most important contributions to the mandolin world has been the FFcP approach to comprehending the fingerboard of the 5th tuned fretted instrument. The impact there is in the horizontal (melody) world, and we've offered voluminous studies throughout the website to help develop the player.
Our next pathway into enlightenment is vertical (chord), and our latest contribution to mando-legacy is 3-note chords, particularly the concept of "Vamps." You've messed with individual chords, starting out with common triads and adding those funky extensions, #11, -9, 13, etc, but you've probably approached them with the intent of chopping at all four courses, all eight strings. The 3-note chord gives you so much more flexibility to build off, these are also the basis for any serious 5-string player. In addition, they open the door for chord melody.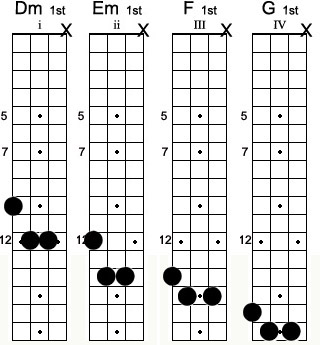 We wanted to introduce these in a series, a set of short patterns. We've already done 7th chord blocks, but recently, we completed a five part study simplifying the 3-note chords to diatonic patterns. They become something you can immediately use, be it jamming, composing, or just a fresh new way to get around the fretboard.
Bite sized, we encourage you to cull the 4th note of the chord and run wild with these.
This is important!
3-note Chord Vamps:
Vamps Pt 1. Creating energy with Diatonic triads
Vamps Pt 2. Expanding the Diatonic triads
Vamps Pt 3. Scurry Dominants
Vamps Pt 4. Circle of fifths
Vamps Pt 5. Minor modal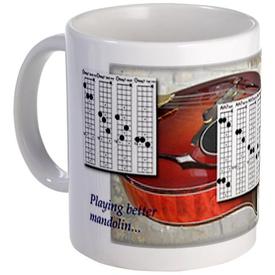 Posted by Ted at 6:22 AM

September 20, 2012 | The Eichers, Dance of the Gypsies
We've mentioned brilliant jazz fret and fingerboard work of Oklahoma educator and National Hall of Fame fiddler Shelby Eicher a few years ago. The former Roy Clark sideman and western swingmaster has teamed up with three of his offspring in an incredible audio collection of acoustic jazz bliss in their release of "Dance of the Gypsies." The band appropriately named "The Eichers," Shelby and his sons Nathan (upright bass), Issac (mandolin), and Paul (rhythm guitar), team up with some talented guests including Rick Bentley (banjo), Bob Mansfield (accordion), Pat Kelly and Ivan Pena (guitars) in a delightful mixture of French Gypsy swing infused with Latin rhythmic abandon. Musette, Monroe, Flamenco, Choro, this recording seems to have it all.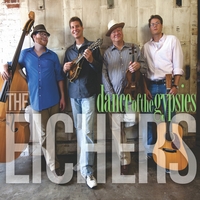 The compilation is all Eicher penned tunes (11 tracks Shelby, 1 Issac), singably crafted, and the boys truly play as a family. Heavily influenced by David Grisman, The "Dawg" style is strong, yet compositionally concise with a little more design and intent. In addition to fiddle and octave violin, there is a healthy variety of mandolin including mandolin, mandola, and a unique nylon string 5th-tuned uke, strongly supported by bass and guitar.
We're happy to hear in addition to the release of this project, the busy Sooner has two others in the oven, including a Western Swing recording and another jazz CD. Meantime, we highly recommend this recording, available at CD Baby (iTunes, soon).
Can't recommend this highly enough for the acoustic string jazz fan!
Tracks:
1. Bethany
2. Bandolin Cafe
3. Mischievous Swing
4. Hot Club Rag
5. Django's Mangos
6. Something Snappy
7. Dance of the Gypsies
8. Gipsy Flamenco
9. Driftwood
10. Blue Choro
11. Shwingin'
12. Opus 60

Track information.
Purchase information: The Eichers, Dance of the Gypsies
Artist website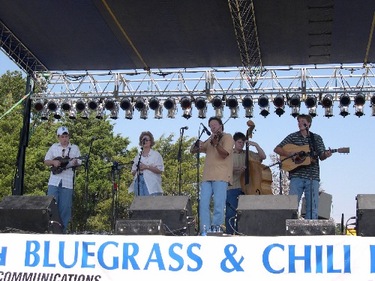 Posted by Ted at 1:59 PM

September 18, 2012 | Lawrence Side Trip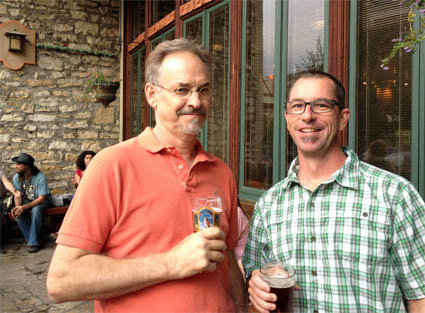 We hooked up with Lawrence Kansas legends Scott Tichenor (proprietor, Mandolin Cafe) and world premier builder Austin Clark for a post-Winfield diversion at the Free State Brewery in the college town. Austin (originally from Lawrence) has recently completed a 5-string beauty for us, one of the "Clark Sisters" that now has permanent residence in the JazzMando Tone Research Lab.
If you want to avoid the nine month plus wait on a new build, one of his highly sought demo F5 mandolins is now hanging at Mass Street Music in Lawrence.
Look forward to a full review on the Clark JM5 later this month.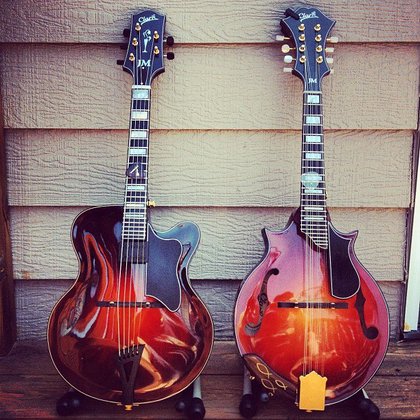 Builder's website: Clark Mandolins
Posted by Ted at 5:52 AM

September 16, 2012 | Back by popular demand, Blue JazzMando V-picks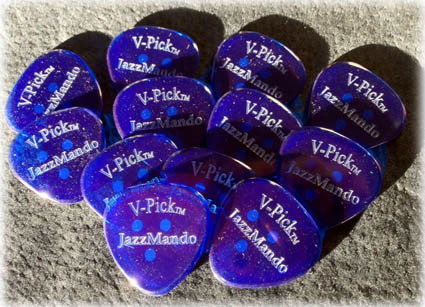 We introduced these as a limited edition pick last winter, and enough demand has made us keep them in permanent stock, the blue version of the JazzMando Signature acrylic V-pick. Handmade in the US (Tennessee), other models of the popular V-picks have been time-tested and proven for guitar and mandolin around the world. Now they've demonstrated their success with you, the tone-hungry JazzMando aficionado, too.
"Similar to the shape and durable rigidity of the acetate cut JazzMando Signature 346 ProPlec, this profile lends a clean, pure attack because of a polished bevel found on more expensive custom-made boutique picks, yet at a fraction of their cost! The 1.5 mm. gauge thickness gives you power and fluid control over rich, meaty tone. Custom etching artwork on both sides gives the added bonus of secure grip and the exclusive geometrically placed 3-point backside reference dots help maintain an intuitive awareness of pick position while playing. The pattern lands on the thumb in a perfect, sensitive fleshy spot, and even though the acrylic packs its own tack stability; the etches yield a confidence the rounded triangle's wider real estate is gripped in the right place. Additionally, the hands of most players warm the acrylic material up in time, for additional tack a few minutes into activity. The JazzMando V-pick grows even more comfortable playing, like a pair of well-worn denim jeans."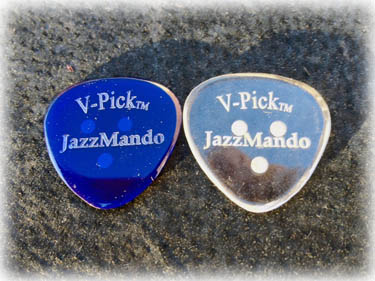 The blue version is handmade of more expensive material so the price is higher than the clear, but they are much easier to find if you drop them. The sound and response is almost identical, but some feel they are ever so slightly thinner, maybe a tad crisper. (We haven't been able to confirm this in a blind test, however.) We've priced them $14.95 singly or $21.95 paired with a clear (includes shipping and handling).
Purchase them here or check out other options in the JazzMando Merchandise Center.
NEW
JazzMando blue V-pick single
1 blue pick $14.95 (including shipping and handling)

---
JazzMando blue V-pick with clear spare
2 picks $21.95, one blue & one clear (including shipping and handling)

---
More options and information: JazzMando Signature V-pick
Posted by Ted at 7:13 AM

September 14, 2012 | New Chordtunes Project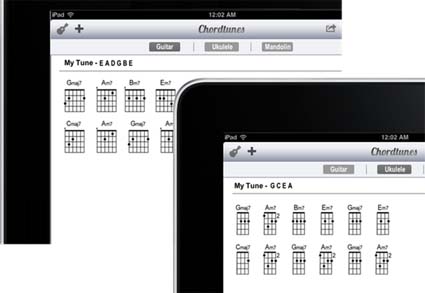 You're probably already familiar with the legacy of John Baxter. His online resource Mandozine archives some of the best information, interviews, and TEF for mandolin available. You might already own his Deluxe Encyclopedia of Mandolin Chords from Mel Bay.
He's pioneering an iPad application that creates chord sheets for guitar, ukulele, mandolin, and other instruments. In order to bring the final product to the market, he's enlisted the help of investors, donors, and customers through a page on the Indiegogo site. $5, $10, $75 and up, you can be a part of fretboard educational history.
Here's an introductory video:

More details: Chordtunes Project
Posted by Ted at 5:24 AM

September 12, 2012 | Sorensen Sprite JM sneak peak
We were pretty impressed with the asymmetrical 2-point mandolin of California builder Steve Sorensen in our hands-on review last spring. So much so, we decided to have him craft one of our own. We've been kept in the loop with the progress from choosing back and sides, bending and as you can see pictured below, the gluing of the body. It's really starting to look like an instrument.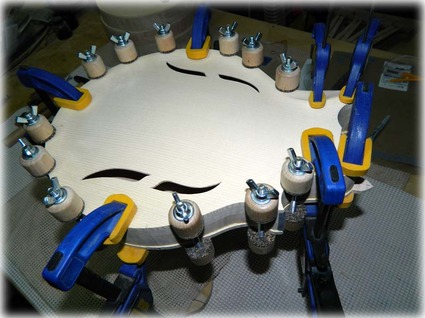 We're giving Steve a long leash, allowing fresh artistic aesthetic on finish (blue-burst), inlay (block fret and custom headstock), and his signature "Slash" sound holes. Of course we're having it voiced for jazz, chord comping and soloing capacity.
We can hardly wait!
Read April review "Sorensen Sprite" Asymmetrical 2-point mandolin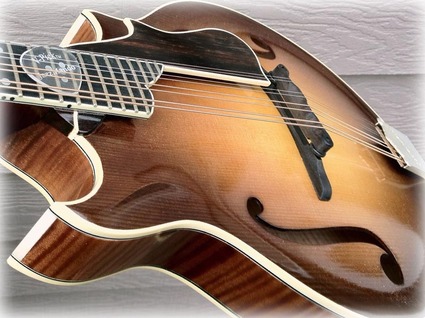 Builders Website: Sorensen Strings
Posted by Ted at 5:05 AM

September 10, 2012 | An Interview with Don Julin, author of Mandolin For Dummies
He's no stranger around here, JazzMando guest writer and celebrated clinician and upper midwest premier mandolinist Don Julin just released his book, Mandolin For Dummies from the prestigious global pubisher Wiley and Sons. This is an important project not only for Don, but the mandolin community, a stamp of legitimacy on the significance of our little instrument.
We had the privilege of interviewing him for a feature article on the Mandolin Cafe website. We're a little biased, but we think this is a terrific story and we hope you not only read it, but purchase a copy for yourself or a friend.
View interview: An Interview with Don Julin
Discussion: Mandolin Cafe Forum
Purchase information: Mandolin For Dummies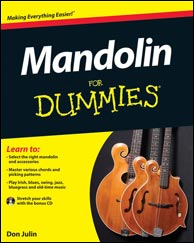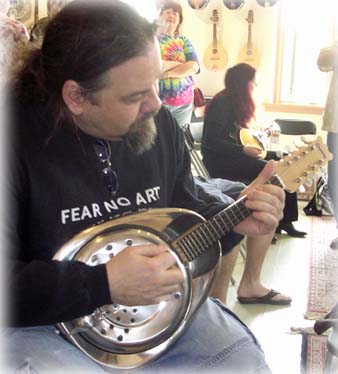 Archive photo, Don Julin Mandofest 2005
Posted by Ted at 5:01 AM

September 8, 2012 | Free 5-string chord template PDF
The question comes up often, "Where can I find a good resource of 5-string chords?" Outside of the JazzCittern Explorer (terrific site, by the way), little is published, especially in the print world. There's an arguable case for why this isn't available in an encyclopedic form. Chords voiced on all five strings at once don't sound that great when you start moving around. You end up duplicating voices that make the harmony imbalanced. It's also pretty impressive how full a 3-note chord can sound--with the right 3 notes. So how do you begin building your own?
The best approach is thinking a sort of "tenor banjo/mandola plus." Start chording on the CGDA side (assuming a CGDAE tuning), with the high E string being bonus material. More importantly, don't limit yourself to 4-note chords. You can do a ton harmonically with 3-note chords, and this gives you a limitless flexibility moving blocks around the fretboard. (See our recent Tips and Tricks columns on Vamps.)
If you want to document these discoveries, we've got just the thing, a blank 5-string chord template.
Start creating!
Download PDF:

Free 5-string chord template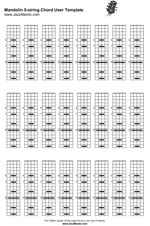 Posted by Ted at 5:42 AM

September 6, 2012 | Weber debuts soprano mandolin line
It was bound to happen. You've seen alto incarnations, tenor, and sometimes an occasional bass, but rarely have you seen the mandolin family expanded in the upper tonal spectrum. A few small builders have produced piccolo mandolins, but we're excited to see a major player, Weber Fine Acoustic Instruments ascend into the soprano register with an intriguing video debut from their YouTube channel.
Video link: Weber soprano mandolin

11 inch scale, 1 1/8 inch nut width, we hope to hear more about these. From co-founder and spokesperson Mary Weber, "Tuned CGDA (octave above mandola), they used mandolin string gauges on this prototype (John Pierce), but Bruce (Weber) said they are still playing with the gauges. Since it uses the regular tailpiece a K&K Pickup will work too."
Also promising, we've heard these can be made in any of the existing Weber models. We hope to bring you more news of these in the future!
Builder Link: Weber Fine Acoustic Instruments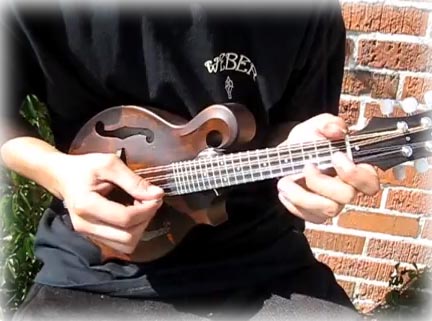 Posted by Ted at 7:34 PM

September 4, 2012 | More Vamps.
The website's charter has always been bringing jazz tricks to the mandolin fretboard in a manner easy to both execute and understand. It may not necessarily happen in that order. At minimum, we hope you take away some ideas that simply sound cool on your instrument.
We continued our series on Vamps last week, and if you happen to miss it in our weekly Tips and Tricks column, check it out, maybe even review the first article on major triad chords. These are so easy to play, but when you execute them in context, you can really make some sophisticated sounds. They are also blocks you can build off later.
Pun intended.
Read article: Vamps. Expanding the Diatonic triads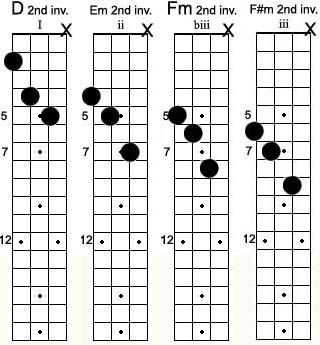 Posted by Ted at 5:22 AM

September 2, 2012 | Logo store new shirt design
We recently introduced a streamlined graphic logo T-shirt in the JazzMando Logo Store. The 100% Authentic Tagless T-Shirt is preshrunk, durable and extremely comfortable. It's also a chance to give back a little to the site, help us cover some of the administrative costs in providing you information on cool equipment, Tips & Tricks, and an occasional m7b5 chord.
Over the Labor Day weekend check out the logo shirt and some of the other specialty gift items, like the 7th Chord Mug or the bottom gusset JM Tote Bag.
Visit Logo Store
Posted by Ted at 6:13 AM