« More Vamps. | Main | Free 5-string chord template PDF »

September 6, 2012 | Weber debuts soprano mandolin line
It was bound to happen. You've seen alto incarnations, tenor, and sometimes an occasional bass, but rarely have you seen the mandolin family expanded in the upper tonal spectrum. A few small builders have produced piccolo mandolins, but we're excited to see a major player, Weber Fine Acoustic Instruments ascend into the soprano register with an intriguing video debut from their YouTube channel.
Video link: Weber soprano mandolin

11 inch scale, 1 1/8 inch nut width, we hope to hear more about these. From co-founder and spokesperson Mary Weber, "Tuned CGDA (octave above mandola), they used mandolin string gauges on this prototype (John Pierce), but Bruce (Weber) said they are still playing with the gauges. Since it uses the regular tailpiece a K&K Pickup will work too."
Also promising, we've heard these can be made in any of the existing Weber models. We hope to bring you more news of these in the future!
Builder Link: Weber Fine Acoustic Instruments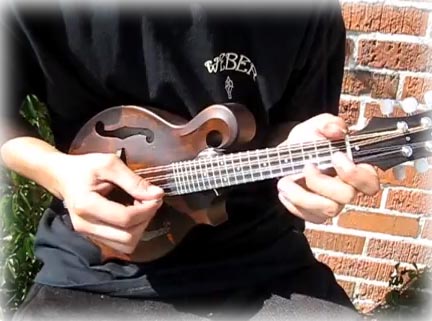 Posted by Ted at September 6, 2012 7:34 PM