« Sip your coffee. Correctly now... | Main | Mandolin. From the Heart. For the Heart... »

September 26, 2012 | Introducing: Clark JM5 guitar bodied 5-string mandolin!
We've had it in our hands a few weeks now, and finally took the time to put it down long enough to write up a formal review. Boise Idaho wood prodigy Austin Clark took his building chops to a whole new level with the introduction of his JM5 5-string mandolin, and we've had nothing but pleasure with it.
His commercial success with his L5 shaped octave mandolin made the project a natural, although he confesses this is not as simple as shrinking a proven instrument to a smaller size. The tiny area of complex plates make resonant vibration a challenge, but we're pleased to say the outcome is most enjoyable to hear and play.
Read review for more details: Clark JM-5 guitar-bodied 5-string mandolin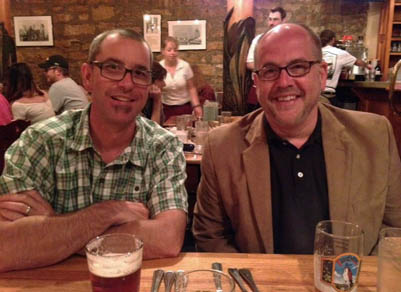 Austin Clark, Ted Eschliman in Lawrence, KS, 9/12
Posted by Ted at September 26, 2012 4:18 AM