« Mike Marshall; Choro Famoso | Main | Logo store new shirt design »

August 31, 2012 | Snark Sale--Final Day
We mentioned this last week and it bears repeating since today is the final day of the sale...
Arguably the hottest all purpose tuner is the new Snark SN8 "Super Tight" clip on. Its big, bold face is boldly clear and the readout extremely responsive. We also need to mention this is a new model, improved over the red or blue one you may already have.
Here's a rundown of the new specs.
Easier to read than other tuners
Tighter, more accurate tuning
Super fast response due to piezo improvements
Unprecedented accuracy
Full color rotating display!
Extended frequency range for all instruments
Stay-put clip
Tap tempo mentronome
Pitch calibration (415-466Hz)
If this is a tuner you'd like to have to use on multiple instruments, today's the last opportunity to get an incredible deal. List price of $39.99, Dietze Music running a limited special of $11.95 on these, but time runs out tonight. Mention JazzMando in the comment field and shipping will be adjusted to $4.75 (slightly more for multiples) or $7.00 for International Postage.
Purchase information: SORRY SALE ENDED 8/31/2012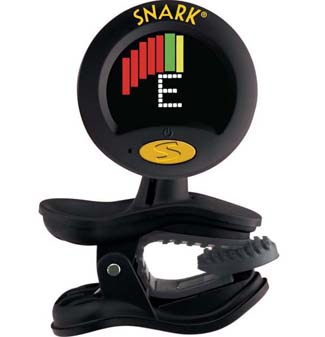 Posted by Ted at August 31, 2012 5:33 AM