« MyRealbook.com | Main | The Beatles thrashed and rehashed. »

August 7, 2012 | Paul Glasse 8 to 5
One of our favorite Mandolin Cafe interviews was from 2009 with legendary Austin-based mandolinist, Paul Glasse. Arguably the only contemporary who can claim time blessed with hands-on experience with the previous generation's triumvirate greats in jazz mandolin, Tiny Moore, Johnny Gimble, and Jethro Burns he's been able to carry their torch and assist in cultivating a new crop of players, as any who have attended his workshops will attest.
Here's an excerpt from one of the questions in regards to his approach to 8-string verses the electric 5-string:
"There's quite a bit that's different between the two instruments, the settings that I play them in and what I've come to believe they both require. Truthfully, at this point, I approach many of these issues intuitively, which serves me well. A few thoughts... Prior to moving to a 5-string electric I'd had most of a year of gigging experience playing on a 1957 Fender electric mandolin, generously loaned to me by fiddler mentor Evan Stover. Through that experience I'd begun to deal with some of the issues: single strings versus double courses, bending notes, picking with a lighter attack, getting away from the bluegrass "motorboat" right hand picking, playing frequently in closed positions, the ups and downs of having more sustain. When I finally moved to a 5-string electric I went through the same issues many of us do. At first I thought of the bottom strings "in another key"--that is "I can move all my G-position stuff down to the bottom four strings and now it's C stuff." While that approach can get you started, you've really got to get past that and see all five strings as a complete thing--an extension of the fingerboard you knew before. At this point, even if I'm just playing the bottom strings, seeing all five strings there helps me conceptualize where I am. Oddly, mandola or 4-string mandola tuning (like Johnny Gimble uses) confuses me more than the 5-string."
Read more: The Paul Glasse Interview

ReverNation website: Paul Glasse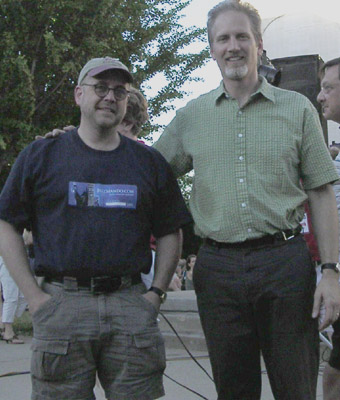 Posted by Ted at August 7, 2012 5:46 AM